Spring 2005 (13.1)
Pages 16-17

Remembering Khojali
Finally Documented in U.S. Congressional Record
by Dan Burton

See articles about Khojali by Thomas Goltz:
Khojali: Eyewitness Account From the Following Day (1992), AI 10.1 (Spring 2001)
Khojali: A Decade of Useless War Remembered, AI 10.1 (Spring 2001)
Khojali: Facts, AI 13.1 (Spring 2005)
Khojali: 13 Years Later: Remember, But Be Sure to Preserve Your Souls, AI 13.1 (Spring 2005)
Khojali: How to Spell "X-O-J-A-L-I"? AI 10.1 (Spring 2001)
Khojali: Quotes: Never Forget Khojali and other Massacres by Photographer Reza (1999)
Khojali: Documenting the Horrors of Karabakh: Chingiz Mustafayev in Action by Vahid Mustafayev (AI 7.3, Autumn 1999)
Running For Our Lives: Massacre and Flight From Khojali - Elman Mammadov, AI 7.3 (Autumn 1999)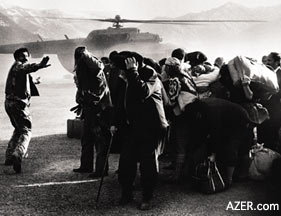 Left: Refugees from mountanious Karabakh, frantic to flee invading Armenian troops. The war left Azerbaijan with nearly 1 million refugees in a country of only 8 million. Photo: Thomas Goltz.

The following speech regarding the tragic 1992 massacre of civilians living in Khojali (sometimes spelled Khojaly), Azerbaijan was delivered by U.S. Representative Dan Burton of Indiana. Thirteen years after the tragic event took place, the massacre is finally entered into the U.S. Congressional record. Burton addressed the House of Representatives on Thursday, February 17, 2005.
Mr. Speaker,
For years a number of distinguished Members of this House have come to the Floor of this Chamber every April to commemorate the so-called "Armenian Genocide" - the exact details of which are still very much under debate today almost 90 years after the events. Ironically and tragically, none of these Members has ever once mentioned the ethnic cleansing carried out by the Armenians during the Armenia-Azerbaijan war, which ended a mere decade ago.

Khojali was a little known small town in Azerbaijan until February 1992. Today it no longer exists, and for people of Azerbaijan and the region, the word "Khojali" has become synonymous with pain, sorrow, and cruelty. On February 26, 1992, the world ended for the people of Khojali when Armenian troops supported by a Russian infantry regiment did not just attack the town but razed it to the ground. In the process the Armenians brutally murdered 613 people, annihilated whole families, captured 1,275 people, left 1,000 civilians maimed or crippled, and another 150 people unaccounted for in their wake.

Memorial, a Russian human rights group, reported that "scores of the corpses bore traces of profanation. Doctors on a hospital train in Aghdam noted no less than four corpses that had been scalped and one that had been beheaded....and one case of live scalping."

Various other witnesses reported horrifying details of the massacre. The late Azerbaijani journalist Chingiz Mustafayev, who was the first to film the aftermath of the massacre, wrote an account of what he saw. He said: "Some children were found with severed ears; the skin had been cut from the left side of an elderly woman's face; and men had been scalped." Human Rights Watch called the tragedy at the time "the largest massacre to date in the conflict". The New York Times wrote about "truckloads of bodies" and described acts of "scalping". [Page: E285]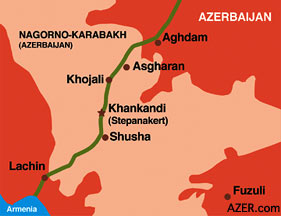 Left: Close-up of map showing Khojali in Nagorno-Karabakh.
This savage cruelty against innocent women, children and the elderly is unfathomable in and of itself, but the senseless brutality did not stop with Khojali. Khojali was simply the first.

In fact, the level of brutality and the unprecedented atrocities committed at Khojali set a pattern of destruction and ethnic cleansing that Armenian troops would adhere to for the remainder of the war. On November 29, 1993, Newsweek quoted a senior US Government official as saying, "What we see now is a systematic destruction of every village in their (the Armenians') way. It's vandalism."

This year, as they have every year since the massacre, the leaders of Azerbaijan's Christian, Jewish, and Muslim communities have issued appeals on the eve of commemoration of the massacre of Khojali urging the international community to condemn the February 26, 1992 bloodshed, facilitate liberation of the occupied territories and repatriation of the displaced communities. And every year, those residents of Khojali, who survived the massacre - many still scattered among one million refugees and displaced persons in camps around Azerbaijan - appeal with pain and hope to the international community to hold Armenia responsible for this crime.

I'm pleased to say that on January 25, 2005, the Parliamentary Assembly of the Council of Europe overwhelmingly adopted a resolution highlighting that "considerable parts of Azerbaijan's territory are still occupied by the Armenian forces and separatist forces are still in control of the Nagorno-Karabakh region." It also expressed concern that the military action between 1988 and 1994 and the widespread ethnic hostilities which preceded it "led to large-scale ethnic expulsion and the creation of mono-ethnic areas which resemble the terrible concept of ethnic cleansing."

Mr. Speaker, this is not the ringing condemnation that the survivors of Khojali deserve, but it is an important first step by an international community that has too long been silent on this issue. Congress should take the next step and I hope my colleagues will join me in standing with Azerbaijanis as they commemorate the tragedy of Khojali. The world should know and remember.
_____
Dan Burton, a Republican from Indiana, was first elected to the U.S. Congress in November 1982. He currently serves on the House Committee for International Relations.


Back to Index AI 13.1 (Spring 2005)
AI Home | Search | Magazine Choice | Topics | AI Store | Contact us

Other Web sites created by Azerbaijan International
AZgallery.org | AZERI.org | HAJIBEYOV.com