Spring 2005 (13.1)
Page 19

Facts About Khojali
by Thomas Goltz

See other articles by Thomas Goltz:
Khojali: Eyewitness Account From the Following Day (1992)
Khojali: A Decade of Useless War Remembered
Khojali: 13 Years Later: Remember, But Be Sure to Preserve Your Souls
Khojali: How to Spell "X-O-J-A-L-I"?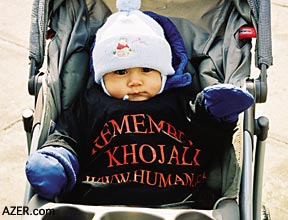 The year 1988 is generally accepted as the beginning of the conflict between Armenia and Azerbaijan over Karabakh. The fighting eventually petered out to a bitter "no war"/"no peace" ceasefire in May 1994.

Left: On February 25, 2005, Azerbaijanis in the Washington, D.C. area demonstrated in front of the Armenian Embassy to protest the 1992 Khojali massacre and to condemn Armenia's continued occupation of Azerbaijan.

Virtually everything since then has been disputed between the two sides - the numbers of those killed or wounded, the number of those forced to flee their homes (and the reasons why), and even the amount of Azerbaijani territory currently under Armenian occupation.

A recent report by the Parliamentary Assembly of the Council of Europe (PACE) urged Armenia to cease its occupation. Armenia responded by denying that it was occupying any Azerbaijani land at all, insisting that local Karabakh Defense Forces were responsible and that Yerevan had no control over them.

Khojali (which has numerous spellings including Khojaly, Xocali, Hojali, Hodjali, etc.) had an official population of about 10,000 in 1992. It was the first major Azerbaijani settlement overrun by Armenian forces in Mountainous Karabakh (Nagorno Karabakh) on February 25-26, 1992. Then followed the towns of Shusha and Lachin, which are outside the administrative borders of the Mountainous Karabakh Autonomous District (often referred to as "NK" in the literature), and then other "valley" Karabakh "rayons", or districts in Azerbaijan proper: Zangilan, Gubadli, Fuzuli, Aghdam and Kalbajar. Altogether, these territories represent some 15 percent of the territory of Azerbaijan.

The official percentage number cited by the authorities in Baku is 20 percent, which is a number that was rounded higher for political reasons and, thus, is disputed by Armenians, who claim that they are "only" occupying some 9 percent of Azerbaijani territory because they exclude "NK" from the total.

Those "valley" Karabakh territories were effectively "ethnically cleansed" of some 800,000 Azerbaijani residents during the course of the war. Recent satellite photography of many towns and settlements in the occupied territories reveal substantial building of new structures in and among the burnt shells of the ruins of war. Such activities are in direct violation of the Geneva Conventions which define what an occupying force may do. The suggestion is that the Armenian authorities are moving in settlers to create a "fait accompli" human rights issue if, and when, an international settlement is ever imposed.
For further reading, see "Azerbaijan Diary" (M.E. Sharpe 1998/99) by Thomas Goltz, or the more recent and Karabakh - specific "Black Garden" by Tom de Waal, New York University Press, 2003.

Goltz's articles about Khojali can be found in Azerbaijan International magazine. "Khojali: Eyewitness Account from the Following Day" and "Khojali: A Decade of Useless War Remembered". Both are published in AI 10.1 (Spring 2001). Search at AZER.com.

Back to Index AI 13.1 (Spring 2005)
AI Home | Search | Magazine Choice | Topics | AI Store | Contact us

Other Web sites created by Azerbaijan International
AZgallery.org | AZERI.org | HAJIBEYOV.com