Summer 2002 (10.2)
Pages 42-49

Stories of Taghiyev
Baku's Most Renowned Oil Baron
by Manaf Suleymanov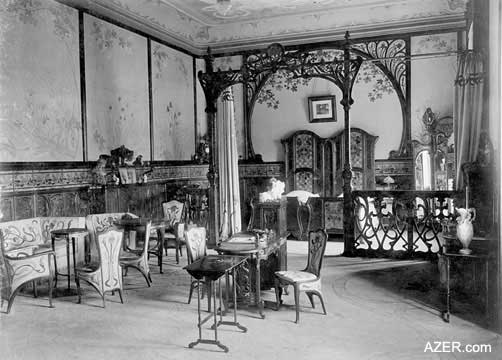 Above: Taghiyev's Bedroom. His palatial residence was constructed in 1895-1896. In 1920 when the Bolsheviks took Baku, they confiscated all property. Taghiyev fled to his summer home in Mardakan. Photo: Taghiyev's personal album from the National History Museum (housed in his residence in Baku).
Other articles related to Zeynalabdin Taghiyev, Baku Oil Philanthropist:
(1) Legacy of the Oil Barons by Fuad Akhundov (AI 2:2, Summer 1994)
(2) Just for Kids: The ABCs of Baku (Monogram of Taghiyev) in (AI 6.4, Winter 1998)
(3) Quote: Education of Women - Haji Zeynalabdin Taghiyev (AI 6:3, Autumn 1998)
(4) Quote: Written Word Brings Happiness - Haji Zeynalabdin Taghiyev (AI 8:1, Spring 2000)
(5) The Taghiyev Museum (AI 8.2, Summer 2000)
(6) Baku's Architecture - Identity of Architects and Financiers Revealed (AI 9: 4, Winter 2001)
(7) Taghiyev's Commitment to the Water Problem by Manaf Suleymanov (AI 10.2, Summer 2002)
(8) Baku's Search for Water: A Brief Chronology by Mammad Mammadov (AI 10.2, Summer 2002)
______
The life of Haji Zeynalabdin Taghiyev (pronounced TAH-gi-yev) is basically a story of rags to riches and back to rags again. Various documents provide different dates for the year of Haji Zeynalabdin Taghiyev's birth. Family members say that he was born in 1838 though rumors still circulate that his date of birth was 1821. [He died on September 1, 1924.]

As the son of a shoemaker, Taghiyev began his life in poverty and had to work from childhood to support his family. At age 35, he bought a plot of land and lucked out when the oil started to gush. Before long, Taghiyev was one of the wealthiest oil barons in Baku. But once the Bolsheviks took control of Baku in 1920, he was stripped of his wealth again.

Taghiyev is remembered not only for his great wealth, but how he chose to spend it. As Baku's best-known philanthropist, he contributed to countless endeavors, especially in the realms of education, health and culture.

The vignettes that follow provide brief glimpses of Taghiyev's life. They were compiled by the late Manaf Suleymanov (1913-2001), who dared to publish them in 1987 in his book in Azeri entitled, "What I Saw, What I Read, What I Heard" (Eshitdiklarim, Okhuduglarim, Gorduklarim). The book quickly became a bestseller. The Russian version, "Bygone Days" (Dni Minuvshiye) followed in 1990, a year prior to the collapse of the Soviet Union.

Suleymanov gleaned his stories from every source possible, so their authenticity cannot always be ascertained. However, it is remarkable that these stories managed even to survive at all during Azerbaijan's 70 years of Soviet domination, when it was considered risky even to mention the name of any Oil Baron. People were even cautious of having a single photo of any of these pre-revolutionary capitalists hidden in their apartments. Few Soviet-era history books mention Taghiyev's name, even though he was an incredibly important figure in Azerbaijan's business, cultural and educational development.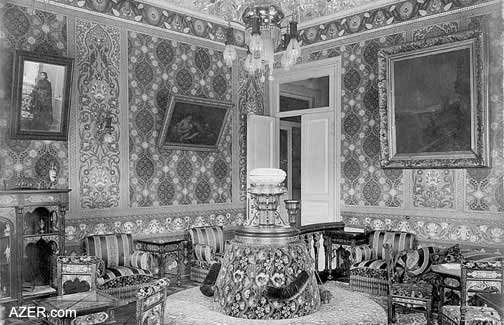 Above: The boudoir (private sitting room) of Taghiyev's wife. All of the moveable furniture and paintings in this room have disappeared. Nothing remains today except the ornate mirrored mosaic ceiling. During the Soviet period, four layers of white paint were applied over the original ornately painted walls. Still in the main halls of the residence, the original paint has withstood the passage of time incredibly well. The paint was made of finely ground egg shell as was the practice of artists of Byzantine icons. Nearly 100 years later, the original colors with their subtlety and sophistication have neither faded or chipped. Photo: Taghiyev's personal album from the National History Museum (housed in his residence in Baku).

When reflecting upon his own life, Taghiyev reputedly said, "I don't know how to explain it, but along with my industrial business, I like to spend time, perhaps even more of my time, dealing with various issues related to my people - their future happiness and the continuation of my nation's existence. Conscious of how much they need enlightenment and nurturing, I've tried to help as much as I could."
______
From Manaf Suleymanov....
Taghiyev's father - the shoemaker Taghi - was originally from the fortified part of Baku [Ichari Shahar - "Inner City" or "Old City", as foreigners usually call it]. His mother, Anakhanim, was from Bilgah, a village on the seacoast of the Absheron Peninsula.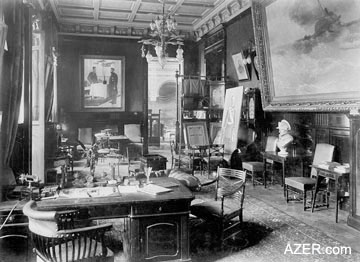 Left: Taghiyev's office on the 2nd floor of his residence may be visited today. Most of the original furniture has disappeared. Note the telephone in foreground and painting of Taghiyev meeting with Iran's Shah at the far end of the room. Photo: Taghiyev's personal album from the National History Museum (housed in his residence in Baku).

Anakhanim died when Taghiyev was still a child. His father remarried and had five daughters from this marriage. As he could barely earn a living from his profession, he had difficulty supporting all of these children. He tried to teach Taghiyev to be a shoemaker, but the young boy refused, saying that he would rather be a mason or a builder.

So his father sent him to one of Baku's masons. There he had to carry construction vats on his shoulders that earned him a mere six kopeks a day. Nevertheless this meager amount rescued his family during those hard times when his father was not able to earn even a single kopek.

Taghi was very pleased to see how hardworking his son was. He would tell him: "Your salary already supports our family. May you always have good money, and may you always benefit from it." Construction work didn't come easy for the young Taghiyev. He was thin but very hardworking and a quick learner. At age 15, he became a stonemason; at 18 he was already a builder. Soon he qualified as a constructor-contractor.

Below: The signature room of the Taghiyev Residence, the Oriental Room as it appeared in Taghiyev's day (1910-1920). This ornately decorated room on the second floor has gilded arches, immense plate glass windows, and is now used to house part of the collection of the National History Museum. There is also a "twin" Occidental Room which presently is not open to the public. Photo: Taghiyev's personal album from the National History Museum (housed in his residence in Baku).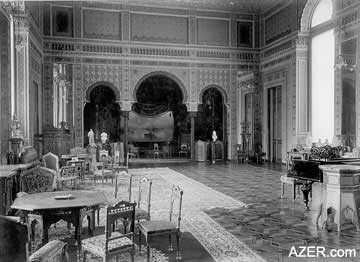 In 1873, along with two partners [the Sarkis Brothers], Taghiyev rented a plot of land in Bibi-Heybat [one of the first places where oil was discovered in the Baku region]. They hired workers, bought the necessary equipment and started drilling for oil. They drilled and drilled, but with no success. His partners gave up hope and rarely appeared at the drilling site. Besides, in the wintertime it was very cold there and in summer, hot and dusty.

Finally his partners decided to sell their shares. Taghiyev purchased them and became the sole owner of the land. But he didn't lose hope. He continued drilling and encouraging the workers. Despite financial difficulties, he paid their salaries on a daily basis.

In the end, his efforts were rewarded with an oil gusher. So this is how Taghiyev, the son of poor shoemaker Taghi, became a millionaire.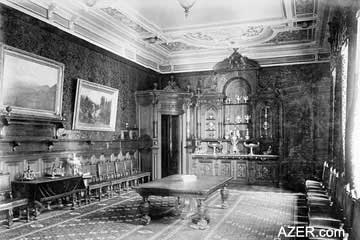 Left: State dining room of Taghiyev's residence. Photo: Taghiyev's personal album from the National History Museum (housed in his residence in Baku)

Taghiyev also spent a great deal of money for charity projects, many of them related to education. He sent talented youHis workers later spoke about how hardworking and patient Taghiyev was. He seemed to work 24 hours a day.

Even in the worst of times, they said, he remained kind and gentle, never raising his voice when he spoke with workers. He forgave their faults and encouraged them to work hard and responsibly. They said he never refused to help disabled people, orphans and widows.

Philanthropist
One of the first things Taghiyev did after becoming wealthy was to surface the road between the city and his oilfield in Bibi-Heybat. He then extended the road on to the Bibi-Heybat mosque.
Taghiyev also spent a great deal of money for charity projects, many of them related to education. He sent talented young people to study in Moscow, Kazan, St. Petersburg and European universities. He built schools and gave financial support to the intelligentsia.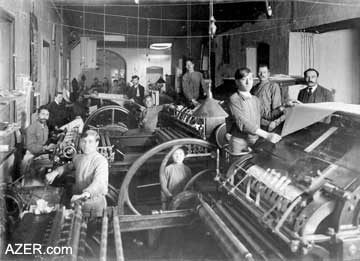 Left (right): Taghiyev, though illiterate himself, was committed to educating the Azerbaijani public through the written word. Here is one of the printing houses that he established. Photos, around 1910. Photo: Taghiyev's personal album from the National History Museum (housed in his residence in Baku).

Seyid Jafar, the son of Azerbaijan's outstanding [progressive] poet Seyid Azim Shirvani, used to tell this story: "Taghiyev wanted to publish the first collection of my father's works in Baku at his own expense, but the clergy and censors wouldn't let him. So Taghiyev sent the manuscript to Tehran and printed it by lithograph there.

He owned a printing house there, where he published newspapers and magazines in Azeri [Arabic script] and Russian [Cyrillic]. At first, Taghiyev would send 10 rubles each month to my father; later he sent 20 rubles. He would often invite my father to Baku, treat him warmly and then send him back with gifts and money. But Taghiyev was good to others, not just my father. For example, the first book of poet Muhammad Hadi was published at the Caspian Printing House at Taghiyev's expense."

In 1883 Taghiyev built the First Drama Theater in Baku. In 1909 reactionaries set fire to the building, but Taghiyev repaired it. The following year, the Theater celebrated the 30th Jubilee of Baku's first theatrical performance. Composer Uzeyir Hajibeyov wrote a solemn march for the occasion. When Taghiyev entered the theater, he was greeted with great respect: the orchestra played the march and the entire audience rose to applaud him.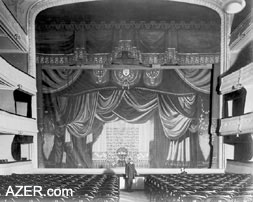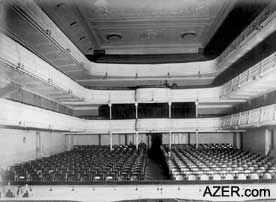 Left: Interior of Baku's first Drama Theater, built by Taghiyev in 1885. View facing the stage. Right: view from the stage. Taghiyev's personal album from the National History Museum (housed in his residence in Baku).

First Muslim Girls' School
From Professor Hadi Aliyev, I found out that when Alexander III was in power, Taghiyev asked his permission to build a school in Baku for Muslim girls. Instruction was to be carried out in their native language - Azeri. But Alexander refused. When Nicholas II came to power, Taghiyev sent a very expensive gift to Nicholas' wife - Alexandra Fyodorovna - and requested her help with this project. She agreed. In appreciation he named the school after her - the Russian Muslim Alexandrian Female Boarding School.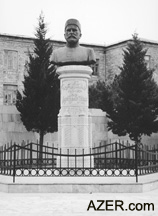 Left: Taghiyev's statue near his grave, in Mardakan where Taghiyev had his summer home.

At the same time, he established an account of 150,000 rubles for the school, with an annual allotment of 7,500 rubles. Two years later, permission was granted to build the school. Construction began in 1898 and was completed in 1900. Altogether the building cost 184,000 rubles. [The building now houses the National Institute of Manuscripts and is located at 8 Istiglaliyyat Street (Independence Avenue) in the heart of Baku.]

That first year, 58 girls were accepted to the school, 35 of them from poor families. Taghiyev covered their board and clothing expenses. The school was set up like a closed boarding school; the girls could visit their parents only once a week, on Fridays from 10 a.m. to 5 p.m.

Classes started on September 7, 1901, and the grand opening ceremony took place on September 9. On this occasion, Taghiyev received many congratulatory telegrams from places like Crimea, Uzbekistan, St. Petersburg and Kazan. In his speech, Taghiyev conveyed this wish: "In the future we'll have to turn this female school into a gymnasium [high school]. This is my cherished dream." Soon more Muslim female schools opened in other places in the Russian Empire, including Tiflis [Tbilisi], Kazan, Bashkiria and Dagestan. By 1915 five girls' schools had been established in Baku. One of them was in Balakhani, which was a district for oil workers.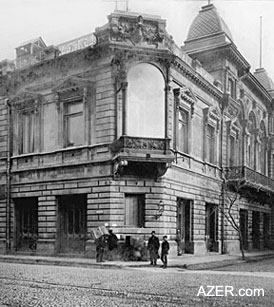 In two years, what had been established as a four-year school was extended to five years, then six, and finally - a seminary. Later, two-year training courses were established for female teachers.

Left: Taghiyev's palatial residence, view from the corner of Alizade and Taghiyev streets. The building takes up the entire block and is currently being restored. During the Soviet period, Taghiyev's monogram, center above the large balcony window, was chipped away. Photo, around 1910. Photo: Taghiyev's personal album from the National History Museum (housed in his residence in Baku).

Taghiyev wanted to send his own daughters - Sara and Leyla - to study at the Smolny Female Institute in St. Petersburg. He sent all of the necessary documents there only to be refused on the grounds that he was neither khan nor bey, and thus could not be considered aristocratic enough for his children to attend.
The institute accepted only the children of counts, grand dukes, khans, beys and emirs. Then Taghiyev's wife, Sona khanim, presented official documents saying that she was the daughter of Arablinsky, an outstanding general of the Russian Army who had been awarded the Golden Gun. Taghiyev's daughters, Sara and Leyla, were grandchildren of a general and, therefore, had certain privileges. So, thanks to the merits of their grandfather, the girls were finally accepted to the institute.

Translating the Koran
Since Azerbaijanis didn't know the Arabic language, they had to learn the Koran by heart, without understanding the meanings of the words. This was to the advantage of illiterate mollas, who could interpret the Koran as they wished.

The clergy were against translating the Koran into the Azeri language. They argued that the content of Koran was holy and of divine origin and that, therefore, no one had the right to translate it. Taghiyev decided to send Mirmahammad Karim, one of his trusted colleagues, to Baghdad to obtain official permission for the translation. Then he ordered an Arabic font from Leipzig, Germany and published the first Azeri version of the Koran. Mirmahammad Karim became the translator.

Taghiyev paid a lot of attention to mosques, since he considered them to be centers for enlightenment, culture, science and the moral upbringing of the nation. He built mosques in Azerbaijan as well as other places. The mosque that he built for Tatars in St. Petersburg is still functioning.

Since Taghiyev was against nationalism and always tried to promote friendship between the various nationalities of people living in Baku, he also built churches for Russians, Georgians and Armenians.

Treasures of Knowledge
Zeynal Salimkhanov: In the evenings, Taghiyev would gather in his room with his relatives, friends and the important people of the city. They would chat, exchange news stories and read newspapers, magazines and books. You could hear Arabic, Persian and Turkish languages being spoken there, and the newspapers were in Russian, French, English and German.

Haji Zeynalabdin valued knowledge very much. He tried to understand everything in depth and didn't tolerate amateurism. He always regretted not having received an education. Maybe that's why he encouraged young people to study. Maybe that's why he helped students, regardless of their nationality or religion.

Generous Nature
Engineer Reza Rezayev told the following story: "In 1919 on the eve of Novruz, we students were collecting money for poor children and orphans. Along with three other students, I was given a box in which to collect money. After going to various offices and stores, we finally went to Haji Zeynalabdin Taghiyev's place. At first the guard didn't want to let us in. Then I asked him to tell Taghiyev that I was Alinagha's grandson. Soon the door opened and we were led to Taghiyev's room.

"Taghiyev looked at me and asked: 'Are you Haji Alinagha's grandson?'
'Yes,' I replied.
Taghiyev pointed to the box and asked: 'Has anybody already put money in it?'
'Yes, Haji.'
'Take this box back to school and bring me an empty one.'

We rushed to the gymnasium and brought an empty box. Haji put a check in it. When we opened the box later, we discovered that Taghiyev had put given us a 5,000-ruble check, which was an enormous amount at that time."

The Fish and the Ring
One day several people met Taghiyev in the street and started complaining that there was no fresh fish in the city. "Please help us, for God's sake!"

Haji answered: "Don't worry, soon the smell of fish will make you sick."

The next day he went down to one of the fishing docks. The manager told him that the catch had been very bad the last few days. Taghiyev took a fish that had just been caught, attached his expensive ring to its tail and threw it back into the sea.

The next day, having heard this news, fishermen swarmed down to the sea hoping to catch that fish. Just as Taghiyev had anticipated, the next day, the city was full of an ample amount of fish. But the ring was never found.

The Old Ax
Taghiyev had an old ax that he had used as a boy when he worked as a mason. He hung the ax on one of his two safes, opposite the door, so that every time he opened it, he would see the ax, remember his hardships and never get spoiled from his wealth.

Wealth Begets Wealth
Sidgi Ruhulla, People's Artist of Azerbaijan Republic, told the following story: "When Taghiyev worked as a mason, he had a friend named Murad. Later Taghiyev became a millionaire, but Murad remained a mason until the end of his life.

"Once the two old friends met each other and started talking. Murad asked: 'Haji, is it true that you can make 50,000 rubles at a time?'
"Haji said: 'Murad, I'm going to Paris in 10 days. Come with me.' Murad hesitated awhile but then in the end agreed.

"They stayed at the Louvre Hotel. Murad thought that he was dreaming; everything was so magnificent - the curtains, mirrors and golden items. The service was also very good, which is why Haji presented all the waitresses and porters with expensive clothes. This became a real sensation in Paris.
"During breakfast he ordered the best caviar available. The waiter brought a metallic dish with Taghiyev's name on it: 'H.Z. Taghiyev'.

"Murad couldn't believe his eyes: 'Oh, Haji, your name is known to the whole world!'
"In the evening, three men came to see Taghiyev. They asked him not to show up at the auction that would take place the following day. 'Please, leave Paris and we'll transfer 100,000 rubles to your account with all the necessary documents. If you come to the auction, it'll ruin all our plans.'

"Haji agreed. The next day, after receiving the check for 100,000 rubles, Taghiyev and Murad left Paris for Rome. 'You see, Murad,' Taghiyev said, 'you didn't believe that I could make 50,000 rubles all at once. But today I got twice that much for doing nothing. Whoever said that money begets money was right."

Cab Driver in Paris
A Russian engineer recalled meeting Taghiyev after his return from Paris. "I asked him to share his impressions about that faraway land. He told me: 'I was riding in a cab, my translator sitting next to me. We asked the cab driver to make a right turn. Instead, he turned left. I nudged him slightly with my umbrella, gesture with my hands that we needed to turn right.

And what do you think he did? He stopped the cab right in the middle of the street, got out and started screaming and carrying on. I asked my translator to explain what had made him so angry. He told me that the driver got insulted when I nudged him with the umbrella. That if I had had anything to say, I should have used words. Only then did I understand the situation and, to tell you the truth, I got embarrassed. In our country, you can push simple people around and insult them, and they continue to bow and even say thank you. But not there. If only our people had such pride, how much happier our nation would be.'

"After that conversation, my respect for Taghiyev grew even more," the engineer said. "Here was a man who could not even read five lines of text and who could hardly speak Russian but when asked to share his impressions about Paris, he didn't tell me about the glamour of the hotels, restaurants, aristocracy and theaters. He spoke about pride, dignity and human rights."

Disciplining His Daughter
Sara, one of Taghiyev's daughters, told the following story: "Father used to give us five rubles [a significant sum] every month for everyday expenses. He had a special notebook where he documented it. We would go to his office, sign and take the money. I think in this way he wanted to teach us to be responsible.

"Once my sister Leyla, my brother Mahammad and I took a walk along the sea accompanied by our servants. We went up on a ship. While the servant was talking to the captain, we went walking along the deck. Mahammad pointed to one of the portholes and said: 'Look, the glass is so thick. Nobody can break it!'

"It was as if the devil got into me and made me say, 'No, I can break it.' So, we made a bet for a box of chocolates. I grabbed a metal bar and hit the window. Of course, it smashed into pieces. I was a little scared, but still I was satisfied because I had won the bet.
"The next day my father called me to his room. 'Who broke the porthole?' he demanded.
"'I did,' I told him. 'I made a bet with Mahammad.'
"'And who will repair it now?'
I shrugged my shoulders.
"'You're so good at breaking things, but you don't know who will repair them?' he asked.
"I said that maybe the glass was not so expensive and we could buy a new one at our own expense.
"'Exactly! Your monthly share will go for the repairs. Your brother and sister will get their usual five rubles, but not you! Go to your room!'"

Taghiyev's Tomb
Taghiyev died on September 1, 1924 at his country house in Mardakan [on the Absheron Peninsula]. On September 4, in accordance with Taghiyev's wishes, he was buried at the foot of the grave of Molla Abuturab, Baku's famous "akhund" [singer of prayers].

Molla Abuturab (Mirza Akhund Abu Turabi) was quite an educated person for his time. He had graduated from the Higher Religion School in Baghdad. He spoke Arabic, Persian, Turkish and Russian. His articles often appeared in Azerbaijani newspapers and magazines. He also wrote several books on philosophy and the history of religion. One of his famous works was called "Reasons for the Schism in Islam", in which he was critical that Muslims had split into two sects - Sunni and Shiite. In general, he was a person who favored progress and enlightenment.

Taghiyev respected him very much and often followed his advice. There are several stories that circulate about Taghiyev and the Molla Abuturab. Taghiyev used to tell this one himself.

"Once on the way to my country house in Mardakan, I saw Molla Abuturab in his old horse carriage. I stopped my cab and invited him to join me. He did. We talked about various things. Then I asked him: 'What do you think? Is it possible that I would ever lose all my wealth?'

"And the Molla replied: 'Haji, you've made the pilgrimage to Mecca. You know all about the hardships of the life. If God wills, He can take away all of your possessions in a split second. So, set your thoughts on things more eternal.'

"In the 1920s, after my factories, oil fields and palaces had been confiscated by the Soviet authorities and I was forced to live in my country house in Mardakan, I often thought about the Molla's words. It reminded me of the saying, 'Even his little finger knew more than my head did.' And that's why I want to be buried at the feet of the Molla."

Taghiyev's Funeral
Crowds of people attended Taghiyev's funeral. The BakRabochy newspaper published the following obituary: "Z.A. Taghiyev dies. Zeynal Abdin Taghiyev, one of the greatest industrialists, financiers and a great philanthropist, died September 1. He was 105."

Philanthropy
If you look through pre-Revolutionary publications, you can see how many useful and noble things Taghiyev did. He not only helped his own countrymen, but he also was involved with the intelligentsia in Iran, India, Egypt and Turkey. For example, when the Hablul Matin newspaper in India experienced financial difficulties and had to temporarily cease publication, Taghiyev gave them a significant amount of money so they could reopen.




Here is a list of some of Taghiyev's donations: construction of the Muslim Charity Society in St. Petersburg - 11,000 rubles; education and rearing of Armenian orphans - 3,000 rubles; Santa Nina Russian Female School - 5,000 rubles; repair of the mosque in Astrakhan - 5,000 rubles; Saadat School - 5,000 rubles; construction of Madraseh school in Tehran - 55,000 rubles; repair of Safa school - 500 rubles; and for a commercial school and the education of Muslim children - 50,000 rubles. The list goes on and on.
Above: Manaf Suleymanov

From Manaf Suleymanov's book, "What I Heard, What I Read, What I Saw," published in 1996 by Azerbaijan Publishing House and translated here by AI staff member Arzu Aghayeva.

Naila Valikhani, Director of the National History Museum housed in the Taghiyev residence, helped to provide rare photos from Taghiyev's personal album.
_
Back to Index AI 10.2 (Summer 2002)
AI Home | Magazine Choice | Topics | AI Store | Contact us

Other Web sites created by Azerbaijan International
AZgallery.org | AZERI.org | HAJIBEYOV.com