Summer 1994 (2.2)
Pages 43-45, 60

Legacy of the Oil Barons - Part I
by Fuad Akhundov

About Taghiyev and Musa Naghiyev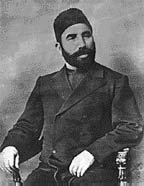 Other articles related to Zeynalabdin Taghiyev, Baku Oil Philanthropist:
(1) Just for Kids: The ABCs of Baku (Monogram of Taghiyev) in (AI 6.4, Winter 1998)
(2) Quote: Education of Women - Haji Zeynalabdin Taghiyev (AI 6:3, Autumn 1998)
(3) Quote: Written Word Brings Happiness - Haji Zeynalabdin Taghiyev (AI 8:1, Spring 2000)
(4) The Taghiyev Museum (AI 8.2, Summer 2000)
(5) Baku's Architecture - Identity of Architects and Financiers Revealed (AI 9: 4, Winter 2001)
(6) Taghiyev's Commitment to the Water Problem by Manaf Suleymanov (AI 10.2, Summer 2002)
(7) Baku's Search for Water: A Brief Chronology by Mammad Mammadov (AI 10.2, Summer 2002)
Photo: Haji Zeynalabedin Taghiyev, Oil Baron (1823-1924).

All old photos are courtesy of Azerbaijan State Archives of Photo and Cinema Documents in Baku. All contemporary scenes photographed by Oleg Litvin, 1994.

The impact of the Oil Boom at the turn of the last century has left an indelible imprint on the architecture of Old Baku. In a series of articles, Fuad Akhundov, describes some of these great monuments, focusing on the benefactors who created them. Much of his information has been gathered in interviews from the few remaining descendants of these oil barons who lived a hundred years ago.

Right: Sona khanum, wife and assistant of Taghiyev.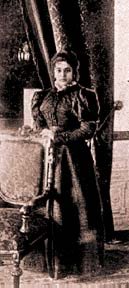 The marvelous image of old Baku which exists today is a legacy of the unique synthesis that occurred between the European and Oriental culture and styles during the "Oil Boom" at the turn of last century.

Walking along these streets, both wide and narrow, silent and bustling, one becomes immersed in that wonderful epoch which created a phenomenon that rapidly changed the appearance of what had been for ages a little ancient fortress city into the oil capital of the world. The magnificent palaces and residences built at that time still compete with each other today by their impressive grandeur and splendid decorative facades which have been hewn into limestone.

But the epoch, itself, is personified not only by its architectural monuments, but first and foremost by the individuals who appeared on the wave of the "Oil Fever" and built these masterpieces gifting them to the City and to History. An interesting detail worth mentioning is that most of these oil-millionaires of the old city were born among the poorest families, many of whom had little chance to receive formal education. Their only fortune was having been born at a unique time in history when an ordinary worker, toiling in the oil-fields all day could become a prosperous industrialist thanks to the extraordinary voluminous oil gushers in Baku.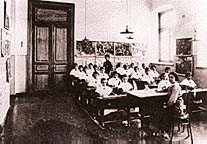 Due to the generosity of these oil barons, the image of Baku (which we are still immensely proud of today) was created and the best traditions of philanthropy were established within a very short period of time. And this, despite the fact that for many years during the Soviet period, the names of these philanthropic millionaires were prohibited. The Soviet regime did its best to consign the memory of these oil barons and their families to oblivion but still their presence lingers on in the wonderful buildings they built.

Photo: Classes at first secular female boarding school founded by H. Z. Taghiyev.
Taghiyev: Founder of Famous Educational Institutes
One of the most famous of all these oil philanthropists was Hadji Zeynalabadin Taghiyev (1823-1924). It wasn't just because of his wealth and influence among businessmen that he is remembered today. He is venerated as much for his astuteness and foresight - especially in the field of education. Taghiyev's father was a boot-maker. He, himself, apprenticed as a bricklayer at the age of six.

Although he would go on to make millions later on, during his entire life, it is said that he treasured this first salary of a few kopecks the most as it enabled him to buy bread and cheese to feed his father's large family. Taghiyev became an oil-millionaire when he was about 55, having been a stone mason, freight-handler, builder and finally contractor. Later on, he went on to found the first weaving mill in the Caucuses which still exists today.

Right: A Molla's tomb built by Taghiyev next to where he himself was later buried. The Molla had warned Taghiyev that the Bolsheviks would take everything. Taghiyev had not believed him. See story by Manaf Suleymanov.
Of course, there were industrialists much richer than Taghiyev, but no one's generosity matched his. He

donated one of his buildings to the actors which became the first, and for many years the best, theater in Baku.

Having received no formal education, himself, and barely able to read and write, Taghiyev conceived and realized a plan that was inconceivable for his era-that of building a female school for Muslim (Azeri) girls, modeled on European boarding schools. He often used to note regretfully that "an uneducated woman is an uneducated mother and as such unable to provide her children with a broad outlook. Essentially, she was the source of uneducatedness for the entire nation as a whole."
Convincing Czarists and Mullahs to Build Girls' School
To establish a special school for girls became his first priority. Besides the considerable sums of money it required, Taghiyev had to spend a great deal of energy and resources to overcome both the concealed reluctance by Czarist authorities on one hand, and furious resistance of the local Muslim clergy on the other.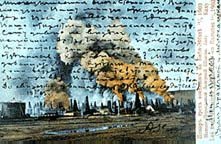 Postcards at the turn of the century from Baku often depicted scenes related to oil. Courtesy Yagub Karimov, private collection.

He very cleverly succeeded on both counts. First, he promised to name the school after Her Majesty Alexandra Fyodorovna, wife of the late Russian Czar, Nicholas the Second. To resolve the second problem, he sent a trusted colleague to all the Muslim centers seeking written certification from all major theologists and authorities that the Holy Quran did not include a single word prohibiting women from getting an education.

To finance the school, Taghiyev invested 125 golden rubles (a fantastic sum for that time) in the bank as untouchable capital from which the annual interest provided the budget for the school. He then set about to hire the best educated women from all over Russia to staff it.

He brought in an extremely talented Polish architect, Yosif Goslavsky, to design a superb building. Finally, in October 1901, the Alexandrian Russian-Muslim Female Boarding School opened its doors for Azeri girls. Not only was it the first secular European-style female school in the city of Baku and Azerbaijan, but it was also a first for the entire Muslim world.

Taghiyev's wife, Sona-Khanum Taghiyeva-Arablinsraya, was very much involved with the project as well as she directed and managed the school. She was respected as the wonderful lady of Old Baku so famous for her great philanthropy.
Educating Women First
The goal of the school was not to develop scientists or stateswomen but to enable women to become smart and educated mothers first of all. Many of those who graduated became the mothers of prominent and famous people, such as Qara Qarayev, the great composer, and Agabek Sultanov, the well-known psychiatrist.

The school continued operating for nearly 18 years. Numerous schools modeling the Taghiyevs' begin appearing throughout Transcaucasia, spreading the seeds of culture and education that Taghiyev had first sowed.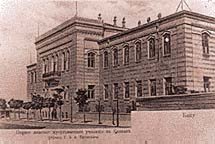 Left: Institute of Manuscripts which served as the first school for girls. Built by Taghiyev

Today, the school houses one of Baku's greatest prides, the Manuscript Institute. It is considered among the most immaculate building in the city. Inside, it is extremely decorative and maintained. Prior to becoming the reposit for ancient manuscripts, it was the residence of the Parliament of Azerbaijan Democratic Republic, 1918-1920, another first in the Islamic world.

According to historical data of 1913, the Taghiyevs held guardianship over three other large schools of the city, including the Commercial School (now the Pedagogical Institute of N. Tusy), and the Mechanical and Technical School (now the Oil Academy) and the school of St. Nina, from which Sona-Khanum, herself, had graduated.
Naghiyev: Known as "Stingiest" Millionaire
Agha Musa Naghiyev (1849-1919) became another name very familiar to the people of Baku at the turn of the century. He, too, was born into a poor peasant family but managed to become the richest Azeri oil-industrialists of the pre-revolutionary city. He accumulated his wealth unimaginably fast, although like many of his contemporaries, he began as a cargo handler.

He also gained a reputation for being one of the most "close-fisted" and "greediest" of all businessmen. Some of the stories about his stinginess have become legends. One incident is often told about a charitable evening party at which Sona-Khanum (Taghiyev) approached him and another man standing nearby and invited them to make a donation for the poor people of the city.
Right: Musa Naghiyev - wealthiest oil baron in Baku at turn of the century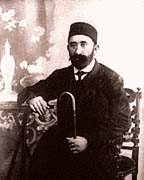 The bystander was so deeply impressed by Sona-Khanum's beauty and charm that he offered a sum greater than he had originally intended as he was not such a rich man. Naghiyev's face immediately dropped and he, reluctantly, started looking for something in his pockets and finally offered three miserly rubles.

As the story goes, Sona-Khanum was astonished and replied, "But, Mr. Musa, "this man has just offered a hundred rubles here. What about you?" To which Naghiyev replied, "But look whose son he is? He's the son of the millionaire! But me? Whose son am I? I'm merely the son of a poor peasant!"

Despite all these stories, it was Agha Musa Naghiyev who built one of the most wonderful palaces in the entire city and offered it as a gift to the Muslim Charity Society.
Palace Built to Son's Memory
It seems it was Taghiyev's insistence that led to Naghiyev's final decision to build a huge palace dedicated to the memory of his only son, Ismail, who had died from tuberculosis as even all his millions could not save the life of the child. The building, which later became known as "Ismailiye" was constructed right next to Taghiyev's Female Boarding School.

It took the gifted Polish engineer, I.K. Ploshko, almost six years to complete this masterpiece. Based on architecture of the Venetian Gothic style, it is strikingly similar to the Palazzo Cantarini in Venice as it skillfully combines the European style with decorative Oriental tradition, thus preserving a little piece of Venice in Baku that is unparalleled in its beauty.

"Ismailiye" witnessed many of the disasters that Baku has suffered during the beginning of revolutions, as well as the social and ethnic clashes that followed later on. In March 1918 during an tragic massacre carried out against Azerbaijanis, the palace was barbarically burnt down by Armenian dashnaks (nationalist revolutionaries) who were supported by the Bolsheviks (Communists).
The Academy of Sciences Building Today
Only after the Soviets came to power in Baku was the monument restored. It was during the restoration that the original Oriental ornamentation and inscriptions from the Quran were replaced with Communist symbols on the front facades of the building.

Despite this disaster, "Ismailiye" palace lives on and continues to symbolize the spirit of Baku. Today, this building serves as the primary office of Azerbaijan's Academy of Sciences. One would be hard pressed to find another building more gorgeous and impressive.

Another gift from Baku's "greediest" oil - millionaire was the city's largest hospital which was built in 1912 and still functions today. The building is designed in the shape of an "H" (Cyrillic "N") for Naghiyev's name.

As well Naghiyev was the basic sponsor and trustee of one of the largest male technical schools, Real School, which today has become the State Economic Institute.

The phenomenon of Naghiyev deserves special study. He became a millionaire unimaginably fast through oil. Fearing that he would lose his wealth as quickly as he had gained it, he began investing in real estate so as to guarantee himself a source of regular income. He built many buildings, each one more elaborate than the next, and became Baku's largest landholder. Although most of his buildings were not gestures of philanthropy, today it would be impossible to imagine Baku without these magnificent architectural landmarks all built by I.K. Ploshko.

And so it is with great nostalgia that we look back at these times during the great Oil Boom in Baku when people, even those who selfishly looked out mostly for their own interests, created such great tributes to the minds and aspirations of men who lived during the last century and of which we are beneficiaries today.

From Azerbaijan International (2.2) Summer 1994.
© Azerbaijan International 1994. All rights reserved.
Back to Index AI 2.2 (Summer 1994)
AI Home Page | Magazine Choice | Topics | Store | Contact us