Spring 2006 (14.1)
Pages 31-33
"Hey Yusif!"
Poetry of Consciousness
by Ahmad Jafarzade (1929-2000)




Unlike millions of others who were arrested and sent into exile during Stalin's era, the government did have ample excuse to arrest Ahmad Jafarzade because of his outspokenness and protest.

Arrested in 1953, he was exiled for a seven-year term to Kolyma; however due to Stalin's death, he was released earlier. Some of these poems were found in the KGB files and obviously are some of the reason why they arrested him. This is the first time they have been published in English.

Photo: Ahmad Jafarzade before his arrest in 1953.
Hey Yusif...
This poem is addressed to Yusif (Joseph Stalin)
Our Azeri lands have become empty and hungry
Since you came, hey Yusif .
The people's backs are bent from working
People have become strangers to each other, hey Yusif.
You've taken away our crops,
Like lightening, you've struck down our heads,
You've locked us in prison before we even said anything.
Our oil is the crown on your head, hey Yusif.
First you gave us wings and we flew to the heavens,
Then you severed our tongues.
You stole our girls and women.
Where is so much tax ever levied, hey Yusif.
"You've thrown a rock at our heads."
You've made us shed tears.
You've taken away our meat and pilaf.
All we eat is "umaj"*, hey Yusif.
Now you can do whatever you want.
You can set forth a decree to kill Ahmad.
But time will pass, and the day will come
When your throne will be plundered, hey Yusif.
* Umaj: A poor man's simple meal: flour mixed with water.
Published September 2002 in "Bizim Asr" (Our Century) newspaper.

I Don't Know
The nights are long and cold,
I can't sleep well, thinking about the future.
The doors are locked; the guards are on duty,
My enemy is strong, I cannot overcome him.
There is no comfort for anyone here,
I'm sick with grief and sorrow,
Happiness has turned into a gazelle,
Which I keep pursuing, but can never grasp.
You've taken away Ahmad's belief and religion
For no reason.
You've shed Ahmad's blood in vain,
But believe me, even if you take away Ahmad's life
He'll never give up his quest for freedom.

I'm In A Daze
I'm in a daze.
When I look around
It seems to me that I'm in a daze.
When these times trouble and burn me inside out
It seems to me that I'm in a daze.
When foreign oppressors beat poor us,
When the poor nation eats black bread,
When the naive speaker says: "We have freedom!"
It seems to me I'm in a daze.

There is no such cruelty in India or Aden
The one who separates Hadi* from us sins greatly.
When Nabati*, and Mashati* leave us,
It seems to me I'm in a daze.
They deceive and rob the people and the nation,
Every hour brings thousands of deaths.
They make soldiers work as servants,
It seems to me I'm in a daze.
We mourn inwardly and celebrate outwardly.
Ahmad is shocked
When they say: "The national press is free,"
It seems to me I'm in a daze.

This poem was first published in Azeri in "Bizim Asr" newspaper, September 2002.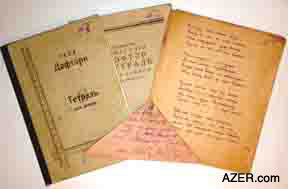 *Mahammad Hadi was a poet of the early 20th century who wrote poems in classical style. Basically, his poems deal with the idea of independence for Azerbaijan. He died in Ganja in 1918. His works were banned because he advocated independence.

*Nabati was an Azerbaijani poet from 19th century.

* Mashati Ganjavi was a poetess of the 12th century from Ganja in Azerbaijan. The author laments the fact that classical literature is no longer esteemed. New literary forms have replaced the old genres and the wisdom of the past.


Photo: Notebooks containing his poetry were from the KGB files. They were used to convict him of anti-government activities. Note the triangular letter commonly sent from prison because envelopes were not usually available.

Evil Rules Instead of Truth
We've been in trouble for so many years,
No health, no strength, no life remains.
We despair from stress and grief,
No wealth, no fame, no glory remains,
No desire, no wish, no will.
They have wounded the heart with distress,
Mothers only wear black now.
Even though troubles have multiplied,
There is no solution.
No medicine, no remedy, no cure remains,
No solution, no health, no doctor.
Many have been forced to leave the Motherland.
Evil rules instead of Truth.
Loyalty and love have turned into gold,
No sage, no justice, no humanity remains,
No scientist, no Mufti, no wisdom.
Neither gardens, nor flowers blossom,
It's been so long since the lovely nightingales sang.
Miserable hearts always suffer,
No fight, no fighting ground remains,
No organization, no rebel.
Most people rot in Siberia now.
Their lives pass in cruelty and suffering,
Maybe we'll find comfort in the grave if we die
No freedom, no order remains,
No comfort, no judge, no king.
Stalin has crushed our hearts,
His tyranny and oppression increases each day,
The light of hope has been extinguished.
No Talmud, no Bible, No Koran remains
No believer, no Muslim.
All wealth is gone; nothing remains.
Longing and anxiety swell in our hearts,
Our rights, the will that once used to be, no longer exist.
No fame remains, no Afghan [Ahmad's pen name].
No person is left to feel and think.
Nothing remains.
(June 7, 1949)
Poetry translated by Gulnar Aydamirova and edited by Betty Blair.


Back to Index AI 14.1 (Spring 2006)
AI Home | Search | Magazine Choice | Topics | AI Store | Contact us

Other Web sites created by Azerbaijan International
AZgallery.org | AZERI.org | HAJIBEYOV.com