Spring 2004 (12.1)
Pages 108-111

Yusif Samadoghlu
Flowers




These short stories are also available in Azeri (Latin script) at AZERI.org along with "Room No. 220" (220 N-li Otaq).
The book, "Yusif Samadoghlu: Major Works," is available at the AI Store at AZER.com. It includes his famous novel, "Day of Inquisition". Hardbound (Azeri Latin), 334 pages, XXI Yeni Nashrlar Evi: Baku and Ankara, 1999.




Writer Yusif Samad Vurghun oghlu Vakilov was born in Baku on December 25, 1935, and died on August 16,1998. He was the son of the famous poet Samad Vurghun. Like his brother Vagif (born 1939), Yusif was a member of Azerbaijan's Parliament (Milli Majlis). There he served as Chair of the Department of International Relations.

Yusif's honors include: Laureate of Lenin Komsomol Award (1970), Honored Art Worker of SSR Azerbaijan (1980) and the Glory Order. He was recognized on the State level as National Writer (1998).

Yusif graduated from the Institute of Literature named after Maxim Gorki. He worked at Azerbaijanfilm Studio and latter became editor of "Ulduz" magazine (1976-1987) and later, editor of "Azerbaijan" (Literature) magazine (1987-1997).

Yusif is the author of several novels including: "Room No. 220" (1960), "Galactic" (1973), "Execution Day" (1987), "Doorway". At the time of his death in 1998, he was working on, but had not finished the novel, "Predictions Came True ".
He also wrote film scripts, three of which became very famous: "I Want Seven Sons" (Yeddi Oghul Istaram), "Execution Day" (Gatl gunu), and "Wind from the Region" (Samt kulayi).
(See also poetry by Vagif Samadoghlu and the reminisces of Samad Vurghun by his daughter Aybaniz in this issue).
"Flowers" was translated from Azeri into English by Gulnar Aydamirova and edited by Betty Blair. Yusif dedicated this short story to his brother, Vagif.
· · ·
Art: Vugar Muradov. Visit AZgallery.org for contacts.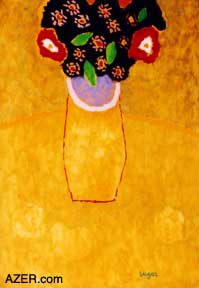 Only a little time was left before the concert would begin. The performers were gathered in the room adjacent to the stage. Most of them appeared to be only 16 or 17 years old. Some were standing beside their teachers, heeding their advice for the one last time. Some were tuning their violins; others, their tars. Everyone spoke in hushed tones. And everyone was trying to be so calm. But in such situations, anxiety is always greater than the pretentious composure. They couldn't help being nervous: this was their first concert!

Tahir was sitting near the door. The stage was just on the other side. He was blowing on his hands to warm them. All the pianists had this habit.

It seemed the dark black suit that he was wearing was tight on his plump body. He turned the collar of his white silk shirt neatly down over the lapels of his jacket. Though the lines of his face were not refined, he was a good-looking boy. The thin wrinkles on his wide forehead always gave the appearance of his being thoughtful.

But the fixed smile veiled the secret feelings of his heart-his devastating grief!

What anguish could such a 16-year-old youth have?

Up until then, life had been happy for him. He used to think that he would never experience a bad day in his life, that he would always enjoy a happy life. So far everything he had experienced had not just remained in its simple, natural way, but had become larger and more beautiful. Every person he had met was the embodiment of talent and honesty for him.

Up until then, those 16 years had seemed like a river, flowing unperturbed in an boundless meadow. This river had never been muddied, never hit up against rocks or met a single obstacle along the way.

But this merciless grief churned up his life as a drop of dark ink staining calm water. At first Tahir was shaken, but later he realized that grief was a natural feeling, just as love and joy is...

Tahir stood up and looked at his friends. They looked so happy! Everybody was thinking about one thing-the concert. But Tahir wasn't thinking about the concert that much. He was preoccupied by another world.

Suddenly, someone pulled Tahir by the hand. It was his friend from school, Hasan, who had the nickname, "Tarzan" (a person who plays "tar", a traditional stringed instrument). Hasan put his tar, decorated with mother-of-pearl inlay, on the table next to him, and turned to Tahir: "Hey Tahir, I'm so excited! My heart is about to burst," he said, pulling the curtain a bit aside to look out at the audience. Then he continued, "Oh my God, is it possible to play in front of so many people?"

Tahir smiled and tweaked Hasan's nose: "Don't worry, Baku boy," he said. "Play your Zabul1 and you'll see how they applaud."

"We'll see," replied Hasan. "Oh, my gosh," he said again as he took his tar and went to the other side of the room. Tahir peaked out from behind the curtain to catch a glimpse of the audience.

The marble columns of the hall shone under the bright lights of the chandelier. Everyone was talking; incomprehensible drone permeated through the hall. Tahir knew most of the people who were sitting there.

Hasan's father and mother, Uncle Bakir and Aunt Gulnaz, were sitting on the second row. They had brought Hasan's younger sister Solmaz to the concert, too. Uncle Bakir was glancing at his watch, and then saying something to his wife, who responded by slowly shaking her head.

He also knew some of the other people who were sitting two rows back. Most of the audience was made up of parents. Everybody seemed as eager for the concert to begin as Uncle Bakir and Aunt Gulnaz did.

Tahir's eyes were fixed on two empty seats on the first row. It would have been so wonderful if his own parents were sitting there now!

Suddenly, Tahir felt like crying. His dark brows knit together. Those seated in the hall appeared to him as if in a dense cloud. He leaned against the wall in order not to lose his balance. A tear streaked down his cheek. His thoughts were on his family.

His mind focused on his family: his mother, who had not had the chance to sleep like a normal human being for the past eight months, was lifting his father's head up off the pillow, as she tried to persuade him to drink water from a spoon. "Drink, drink. Drink, my dear."

The sick man opens his eyes and in a hoarse voice, replied: "But, I can't drink..."

His mother begged, showered him with praises and, finally, his father drank a spoonful of water with great difficulty. His mother was so happy. She had secretly added sugar to the water although his father didn't realize it.

Tahir came back to his senses. He stared off into the distance, his arms folded across her chest. For some reason, the situation reminded him of the discussion he had had with his teacher the day before.

After the lesson was over, his teacher had broached the subject, asking Tahir to perform in the concert with another group that would be playing the following week, rather than one scheduled for today. When Tahir asked the reason, the teacher had replied: "Son, I want your father to be able to see you at your first official performance. I want him to listen to you because he's not just a father to you. Do you understand what I mean?"

"I understand very well, teacher."

"So, you see, that's why I want you to perform with the second group. By that time, your father will be better."
But Tahir replied: "No, teacher, it would be better if I perform tomorrow."

He knew the situation very well. It didn't make any difference-tomorrow or a week later, it was all the same. But Tahir couldn't bring himself to say these words to his teacher.

He had understood the meaning of these words a long time ago. They were written in his soul and brain by many sleepless nights. He knew what chronic, incurable disease meant. He knew that his father would not recover. Tahir was involved with doing so many things that a son does for his father-that intelligent and good-natured person. He often washed his feet with a warm, wet towel, arranged his pillow and, in general, did his best for him.

One day, two days, three days...Eventually, his father would disappear forever as a human being-laughing, speaking, walking. Father! This word now sounded dearer and sweeter to him than ever before. Now Tahir felt very sorry that his father would not be attending the concert because, first of all, he wanted to show his father what he had accomplished over the years!

The sound of the bell, ringing in the foyer for the third time, interrupted Tahir from his painful thoughts. Somebody shouted in the room: "The concert is beginning!"

An elderly lady entered and looked around at everybody. With a tender, kind look, she asked: "Well, are you afraid?"
Not waiting for an answer, she headed for the door, glancing over the program in her hand. Then she disappeared between the black cloth curtains. A few seconds later, her voice was heard onstage: "We begin our concert with the performance of Segahi-Zabul performed by one of our graduates of this 10-year music school,2 Hasan Alizade, playing tar..."

The woman left the stage and hurried Hasan along, saying, "Hurry up, hurry up".

Tahir heard "Tarzan" Hasan's voice once again as he walked quickly towards the door with his tar in hand: "Oh, my God!"
He began to play. Tahir watched from behind the curtain, listening to his performance of the mugham.

As soon as Hasan finished, the audience cheered. Everybody was applauding. Uncle Bakir's eyes, beaming with happiness, seemed like they were saying: "Pay attention, that's my son!" Aunt Gulnaz had been her head so that no one could see that she was wiping tears from her eyes.

For some reason, the vision of his mother appeared in front of Tahir's eyes, when he saw Aunt Gulnaz like that. She, too, had tears in her eyes, handkerchief in her hand. Lately Tahir was not able to imagine his mother any other way. But there was such a huge difference between the reasons for the tears of these two women!

It was Tahir's turn after Hasan. He hesitated as he went on stage. The bright lights from the big projector lamps blinded him for a moment. Tahir could hardly see the black piano onstage. Looking out at the big concert hall, he began walking towards the piano. His eyes were fixed on those two empty seats. It saddened him. Finally, he pulled himself together and sat down.

Tahir played the first chord. It sounded terrible to his ears. It wasn't supposed to sound so hopeless and tired! His fingers seemed exhausted. His heart started to beat so fast-like it was struggling to burst out of his chest. Then the second chord. People in the audience started whispering...

Tahir felt that the piece that he was trying to play sounded so strange. It was so different than it was supposed to be. What was going on? The two empty seats were clouding Tahir's mind. Had grief shaken him so deeply these past days? He was at a loss. He felt dizzy from worry and his hands were sweating.

And at that very moment...it was as if Tahir saw his father lying down on top of the strings inside the grand piano. He heard his dear voice: "Son, don't worry, I'm with you, my dear! Don't worry, play, I'm listening..."

His father was speaking to him this with opened eyes; the image was so vivid in his mind that Tahir forgot everything-the concert, the audience. He started playing and playing, without taking his eyes off this apparition. His heart was in sync with the rhythm of the composition. And his father, it seems, was lifting his head from the pillow, looking at him with a loving smile and saying in a cheerful voice-not his actual sick, hoarse voice: "Thanks, dear son! Yes, like this, don't worry, play!"

Tahir was playing. He was playing for the love of his father-for the love of life. Now the piece sounded so different. It was expressing the greatness of life and youth-life's invincibility. He was playing and the vision remained...What was this? It seems his father was standing up? Yes, that's right. He was standing up on his feet. He appeared to have gotten dressed, and was looking at his son, laughing and walking about the house. He didn't look like a sick person. Then he approached his writing table with heavy steps and sat down, then he picked up his pen-his closest friend-that had been covered with dust because of its loneliness.

Tahir heard his father's voice again: "See, my dear son, no doctor, no medicine helped me. It was love for art that enabled me to rise up on my feet again. Play, my dear one, play, always play. I see the results of my efforts as a father.

You have made me very happy. Thank you, dear son, thanks!"

Then his father leaned over the table; he seemed to be writing.

Tahir had tears of happiness on his eyes. Tahir had succeeded. He had overcome his grief and mourning!

As soon as Tahir's fingers played the final chord, the vision immediately disappeared.

Tahir stood up. Nobody in the audience even breathed. Everybody was looking at him. "What's wrong? Why is everybody so quiet? Maybe I played badly?" Tahir thought. Then he realized that his face was wet; tears had been streaming down his cheeks while he was performing. He wanted to leave the stage right away. Just as he was turning around to walk offstage, applause rose from the great hall. And the very next moment, he heard the trembling voice of a young girl say, "Here, Tahir."

When Tahir turned towards the voice, he saw his classmate Shafiga, wearing her school uniform. She blushed. The girl held out a bunch of flowers to give to Tahir and waited for him to accept it. He hesitated a moment and then took the flowers, shook her hand and said, "Thank you very much". Shafiga left the stage.

The people couldn't stop applauding. They looked at Tahir with great admiration. Finally, he bowed, walked towards the door and went into the waiting room. His friends gathered around. Everybody congratulated him. But Tahir didn't see or hear anything. Now all his thoughts were concentrated on this little bunch of flowers. These flowers enabled Tahir to breathe with all of his heart and soul.

"I remember so clearly," Tahir was thinking, "Father used to bring so many flowers home after reading his poems. We were all so happy-my mom, brother, sister and me. I must make him happy, too. Dear father, now, right now!"

Tahir can't remember how he left the room, put on his coat and headed out into street. He only came to himself when he reached home out of breath. He flew to the third floor, rang the doorbell, entered as soon as the door opened, threw off his coat, raced down the narrow corridor and opened the door of the room where he discovered his father sleeping.

He was lying there with his eyes closed. His mom stood there with her arms folded across her chest. Tahir's white-haired uncle, stooped with grief, was standing near the head of the bed. Tahir whispered: "How's Father?"
His mom lied again: "He's good, he's much better now," she said and then turned silent.

She wiped the forehead of the sick person that was covered with cold sweat and asked:
"How did you play, son?"

Tahir smiled and showed the bunch of flowers that he had been hiding behind his back. Tahir wanted everybody-his mother, father and uncle-to laugh, talk and congratulate him now. But...

The next moment his father's opened his eyes.

"Father, look, I got these flowers for playing at the concert today," Tahir said and stepped forward to show them to his father.

The sick person looked at the flowers with indifference, moved his bluish lips and spoke in a very weak voice: "Congratulations, dear one. I hope you'll get so many flowers like these so often." He paused. He couldn't continue his words. Only after taking a deep breath was he able to go on.

"But keep these flowers, dear, you may need them...keep...keep..."

And yes, it was true. Tahir did need those flowers. The following day, Tahir's was the first flowers to be laid atop the coffin of his father. They had faded quite a bit during that one night. Maybe Tahir's grief had made them wilt.

Friends and acquaintances, passing in front of the coffin, didn't pay much attention to his flowers; in the midst of the countless wreaths, his didn't stand out at all. Tahir was the only one looking at them. He didn't take his eyes off what had become the great tragedy of these flowers.

Time will pass and the simplest rule of life-the rule of living will probably cause Tahir to forget his great grief. But for as long as he lives, he won't be able to forget his first concert and that little bunch of flowers. Every spring, looking at the beautifully collared flowers that adorn nature, Tahir will say: "Oh, flowers, flowers! What things you remind me of!"
Editor's note: The plot for Yusif Samadoghlu's short story, "Flowers" is based on the graduation recital of his own brother, Vagif, from Bulbul School of Music in Baku. Their father, the well-known poet Samad Vurghun, died the following day (May 27, 1956).
End Notes:

1 Zabul segah is one of the mughams, traditional modal music performed on the tar.

2 This story is based on fact. The 10-year music school was Bulbul School of Music. These days since Azerbaijan gained its indepen dence, it takes 11 years to graduate, instead of 10.
More Works:

Other works by Yusif Samadoghlu that have been published in Azerbaijan International include: "Children's Game of 1946" (1946-ci Ilin Oyunlari) and "My Destiny" (Bayati Shiraz in Azeri). Both appeared in AI 7.1 (Spring 1999).


Back to Index AI 12.1 (Spring 2004)
AI Home | Search | Magazine Choice | Topics | AI Store | Contact us

Other Web sites created by Azerbaijan International
AZgallery.org | AZERI.org | HAJIBEYOV.com