Spring 2004 (12.1)
Pages 90-93

Magsud Ibrahimbeyov
Goodbye, "Milady"! (1962)
Proshay, "Miledi"! (in Russian)

Magsud Ibrahimbeyov's short story, "The Pistachio Tree" was published in Azerbaijan International in our previous literary issue, AI 7.1 (Spring 1999). The Azeri version of "Pistachio Tree" along with these stories published here are also available in Azeri Latin script. Search at AZERI.org.




Magsud Ibrahimbeyov was born in Baku on May 11, 1935. He is recognized as writer, dramatist and scriptwriter. In 1960, he graduated from the Construction Department of the Politechnical Institute. But in 1964, he began focusing on literary studies and writing and attended Master courses for screenwriters and directors in Moscow in 1964. Since then, he has written many novels as well as screenplays for 12 feature-length movies and 11 documentary films.

Ibrahimbeyov has been a member of Azerbaijan's Parliament (Milli Majlis) since 1985. He is President of the PEN (Writers') Association in Azerbaijan. He has been awarded The Order of the Red Banner (USSR), The Order of Glory (Azerbaijan), and an award from the Pope at the Vatican (2002).

His major novels and stories include: Wish He Would Stay with Us, To All That is Good-Death!, Story with a Happy Ending, Bit of A Spring Holiday, and A Comfortable Place in the Square.

His novel There Was Never a Better Brother along with An Owl Flew By and Love Song for Baritone and Orchestra, are available in English in paperback, published by AZ&S Company: Baku, 1997 (414 pp, small format).

Magsud also is known for his stage plays such as Mesozoic Story, A Man for a Young Woman, To All That is Good-Death! His new play The Oil Boom is Smiling at Everyone has recently been staged at the Baku Drama Theater.
"Milady" was translated from Russian by Arzu Aghayeva and edited by Betty Blair.
· · ·
Art: Vugar Muradov. Visit AZgallery.org for contacts.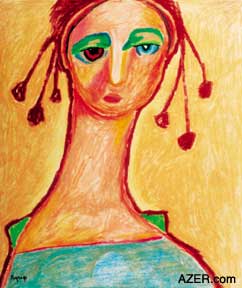 That summer everybody was reading, "The Three Musketeers". In fact, at first we didn't know that such a book existed. First, the movie was shown at the BakKommuna Cinema and everybody on our street kept singing, "var-var-var-var-vara". I still don't know what "var-var-var-var-vara" means; but back then, everybody sang this wonderful song by D'Artagnan and they sang it quite well, especially together in chorus. Then Uncle Jabrayil came and told us that there was a book called, "The Three Musketeers" which had been written by the French writer Dumas.

Uncle Jabrayil knew about issues that related to France very well because he had graduated from the Textile University in Paris. Many years have since passed, but all of our relatives and friends are still convinced that Uncle Jabrayil speaks fluent French. Maybe that's true, but back then I, myself, had only heard him speak one French word: "Silence" which, in French, means silence. Whenever someone would interrupt him, he would say, "Silence", in an impressive voice, and then he would continue in his usual way, without speaking a single word of French. But, the fact is, there was not a single person in our courtyard with whom he could speak French.

When Uncle Jabrayil was invited to some birthday party (and, invariably, he was), he would always bring the same gift: sports shorts, t-shirt or sports shoes-regardless of the person's gender or age.

Uncle Jabrayil considered himself to be a great sports figure because he taught at Physical Culture Institute. I still can't figure out what he taught there, nevertheless, the truth is that he always promoted sports in every possible way.

At that time, we all dreamed of becoming boxers or soccer players. But this all was before Uncle Jabrayil brought us the old worn-out book, and told us that the movie was based almost entirely on that book and that, of course, the book could not be compared with the movie. We first thought that he liked the movie better, but when we understood that he meant the opposite, we immediately started reading the book. First, we read it aloud together, and then for the second time, we read it by turns, each one for himself. We read it very fast and since then, I've been very jealous of people who read this book for the first time.

None of us dreamed of becoming a pilot, a fire fighter or a boxer after that. Ever since that day, not a single shabby kite, not even one with a single tail made of bandages, flew above the roof of our house.

Instead, everybody became "Musketeers". The Musketeers were quite ordinary-with pistols and swords, wearing hats decorated with ostrich feathers. But, to tell you the truth, those feathers became ostrich feathers only after being placed on our hats. Prior to that, they were growing undisturbed on the turkeys of Lafruz khanim (Mrs. Lafruz). The birds took the loss of their property without a murmur-something that couldn't be said about Lafruz khanim.

Equipping each new Musketeer came with such yelling and screaming that someone might have thought that the feathers were being plucked from Lafruz khanim herself or from some of her very close relatives. She would curse us and, for some reason, our parents as well.

But, in such cases, most blame would be directed against God. The thing is Lafruz khanim was a deeply religious person. Apart from her, never in my life have I met such a devoted person. She was sure that God existed. She blindly believed in Him and, for this reason, she would take any worldly trouble as an attack against herself personally. Her relations with God were based on conditions of mutual understanding and equality. She demanded basic attention and respect to herself, not more than that. And if God abided by these conditions, then Lafruz khanim would treat Him with all signs of attention that any, even the most conceited God of all times and peoples, could expect.

Art: Vugar Muradov. Visit AZgallery.org for contacts.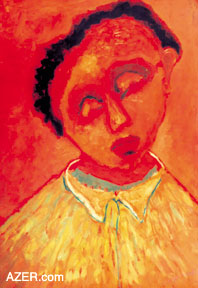 But, if God, apparently busy with some secondary things (at least, in Lafruz khanim's mind), forgot about her for some time and, if in that interim, something happened that didn't suit her plans or tastes, then she would come out into the middle of the courtyard. She would raise her hands up to the heavens and start yelling out everything she thought of her yesterday's idol-of God and his closest companions. She would wail out such things that even in the worst heat of July, the windows and doors of all the apartments would get closed immediately, and all the kids of the building would be called back inside.

But, in general, I think she scolded God unjustly. He treated her and her family very well. They were the richest people in our courtyard. Lafruz khanim's husband was a manager of a store. It must have been that in their store they were paid very good salaries because they lived better than any of our neighbors, not only in the courtyard, but on the whole street.1 I remember once Uncle Jabrayil told us that Lafruz khanim's husband was earning more per month than the President of the Academy of Sciences2. Uncle Jabrayil also said that nobody cares about how much the President earns per month; whereas, the size of the salary of Lafruz khanim's husband was always of great interest to the militia.3 And he also said that it was not even about the salary, but that both Lafruz khanim and her husband were mean people, regardless of how much they earned, and that's why he forbade us to have anything to do with them.

Besides, we didn't care about Lafruz khanim at that time-we were busy playing Musketeers. Or, to be more exact, we didn't play, but we actually were Musketeers.

Now in our courtyard, we didn't fight just like that, but we would challenge each other to a duel. It was so wonderful to be a Musketeer. It was the best profession in the world. Back then, we were all in love with the queen of France-Anna from Austria. Because of her, we had several duels in the courtyard, which ended "lethally". That was the only time in our lives when we were in love with a queen.

On that day, we were supposed to have another duel in her honor. Our adversaries from house No. 151 had already unsheathed their swords and those who were observing the dual had no sooner given the signal to start battle than Lafruz khanim started making a fuss about the ostrich feathers.

First, with her loud blood-curdling scream, she wished that the hands of anyone who had ever pulled out feathers from her turkeys would shrivel and dry up. Then, in careful detail she described how the parents of such future handicaps would sob and moan. And after that, she proceeded to accuse God who saw how others were taunting her defenseless birds-his own creatures-and how they mocked her, and He didn't interfere. She carried on, louder and louder, but God kept silent. It seems he decided to get even with us later when we grew up.

The turkeys looked nonchalantly at Lafruz khanim as if all this stir had nothing to do with them and, of course, we also kept silent. These turkeys didn't live such a bad life. I would even say they had a good life. They were taken good care of, as if they were very good people. As for killing them and making soup-that was out of the question. And besides, why would it be necessary.

Fresh meat and poultry in unlimited quantities was delivered to the house of Lafruz khanim once a day, according to a strict timetable. That is, Lafruz khanim kept those turkeys just for enjoyment, much like other people keep fish in aquariums, or canaries or even simply parrots.

Well, the truth is that because of her turkeys, there was always a bad smell and lots of flies in our courtyard. But I would very much like to have seen the person who would dare to tell Lafruz khanim that he didn't like such smells or flies...

I never saw such a person in our courtyard. WellLafruz khanim kept yelling with her loud voice and we stood, listened and waited for her to finishAnd suddenly she became silent. Silence immediately came to the courtyard and in this silence we heard weird smacking sounds-Lafruz khanim was kissing her daughter who had just come back from their dacha4. Her daughter's name was Saida. She broke away from the arms of her mother and now was tying a ribbon in her hair.

"You messed up my hair!" she complained to her mother in a weak voice.

But Lafruz khanim kept looking at her with loving eyes. We stood there, watched and couldn't recognize Saidka [diminutive for "Saida"]. Only one and a half months had passed, and we hadn't even noticed how time passed, but Saidka had changed immensely. She had become beautiful. Very beautiful! It struck us how suntanned and beautiful Saidka was. We were all standing and watching her in silence. She also kept silent.

"Don't play with them!" Lafruz khanim said. "They're not good, they taunt our turkeys.

"No, I will play with them!" Saida said, pouting her lips.

They went inside their house, and we followed them with our eyes, thinking how beautiful Saida had become. We all thought about it at the same time, thought for several hours in a row and that same evening, we all fell in love with her.

We even started treating Lafruz khanim a little better. As for pulling feathers out of her turkeys-we didn't even think about it anymore. And due to the lack of ostrich feathers, all the newly indoctrinated kids had to become ordinary guardsmen, not Musketeers.

We sat down and together wrote a letter to Saidka in which each of us told her how we all loved her. And we really did love her. She and D'Artagnan's sweetheart, Constance Bonacieux, were just like two peas in a pod. In my opinion, Saidka liked it all very much and she even started putting on little airs. Now she played with us from morning to evening. She became Madame Bonacieux, and every day we fought and died for her at the front door of our house. Now Lafruz khanim was treating us much better and, in general, she very rarely bawled us out.

I remember that evening when Uncle Jabrayil came back from Tbilisi where they had been holding a competition of the three [Caucasian] republics. He was sitting and telling us about the match, about the great sportswoman and discus-thrower Nina Dumbadze, and about two incredibly talented jumpers-Khandadash and Baladadash Madatovs. Uncle Jabrayil said he was sure that in the future, one of us would become a world champion or record-breaker.

I'm very glad that Uncle Jabrayil never found out how badly mistaken he was about us. He said that sports was an activity of nobility and he just wanted to say something about the irreparable harm that smoking caused to kids our age, when Saida walked in. Probably, Uncle Jabrayil also noticed immediately how much Saidka resembled Constance Bonacieux. In any case, he greeted her very warmly.

We told Saidka: "This is Uncle Jabrayil."

And Uncle Jabrayil said a whole phrase in French: "Les amis de mes amis sont mes amis", which means, "The friends of my friends are my friends."

We squeezed together to make room for her on one of the steps. She sat down opposite Uncle Jabrayil, and now it seemed that he was relating only to her and that we didn't count.

It always was like that: she needed only to appear somewhere and everybody started fussing over her. Both at their house as well as everywhere else, everything was all for Saida. But it was pleasant to us because we all were in love with her, back then

We were sitting and listening to Uncle Jabrayil. He was telling us very interesting things when we suddenly heard the
screeching sound of brakes and shouting in the street. We all rushed out to the street. Right in front of our gates, we saw a car which had careened and stopped with its side turned towards the traffic. A crowd had gathered. And we, of course, immediately pushed everybody aside, made our way to the car and saw a dog lying under it. It was a big black dog that was moaning. And nobody knew what to do. Somebody suggested shooting the dog so that it wouldn't suffer needlessly.

Always in cases like that, you find someone who says that the animal needs to be shot in order not to suffer in vain. It's as if he had seen dogs, cats or horses being killed. I don't even know where this expression comes from.

The dog was lying under the car and was moaning and then it stopped. At that moment the driver, who had being walking around the car, said that he needed to get on with his business. Then he got back into the car and left. And the dog remained in the middle of the street. Gradually, the crowd started to disperse and people stopped looking out of the windows.

We pulled the dog onto the sidewalk so that no other car would run over it again. Then we started thinking what to do with it. Somebody said that the dog should be taken to the countryside and buried there in a special cemetery for dogs. The manager of the building had told him about that. Everybody started arguing if there was a special cemetery for dogs or not, when suddenly the dog opened its eyes. But we had thought that it was dead.

It looked at us very seriously as if wanting to ask something. Maybe it was wondering what happened after it had crossed the street and in that split second had collided with that car. Because dogs usually don't know about that, and when they do find out, it's usually too late. Indeed, how can an ordinary dog, which is not even a thoroughbred, know what is going on when several tons of automobile run into a dog weighing merely a few kilograms at a speed of 60 kilometers an hour?

In my opinion, not a single dog in the world knows about it. They simply suspect that nothing good would come out of such collision and that's why they try to maintain a distance from cars. But this dog didn't have any luck. It didn't yelp or whimper, it was just lying there and looking up at us. It was looking at us somewhat pensively.

We took the dog and brought it to our courtyard. While carrying it, we kept worrying that it would bite us, not out of anger, but out of pain, because all of its bones seemed to be broken. But it didn't bite us, it just kept breathing heavily and that was all.

Saidka was walking behind us, saying that we would get in trouble at home because we were covered in blood from head to foot. We laid the dog in a basement and stayed busy with it till late at night. And yes, we all did get into big trouble at home.

In the morning at dawn, we rushed to the basement afraid that the dog had died. The dog could hardly breathe, but it was still alive. We put some streptomycin ointment on its wounds and then those of us who studied during the first shift left for school and the rest stayed in the basement.

After classes, we headed to 4th Parallel Street, to Banian Vetinarian hospital and asked for a doctor to take a look at our dog. We were told to bring the dog there, but that was before we told them what was wrong. But when we told them, a doctor with glasses, who looked very much like Doctor Aybolit [a Russian cartoon and kids' story character] laughed, grabbed his doctor's case and came with us. We took him down to the basement and led him to the dog. He examined the dog and said he was surprised how it could still be alive. He said he very much doubted that it would survive, and if it did, it would be pure miracle. He gave us medications, explained what to do with them, and left. As he left us, he told us that if in the next two or three days the dog didn't die, one of us should inform him about it and he would come again.

The dog didn't die during those three days. By then, it could already raise its head. When one of us would come to the basement, it would even try to wag its tail. All the neighbors of our courtyard would send leftovers of soup or broth. The dog couldn't eat anything except for soup, because her jaws were broken. Three times a day we would rub her wounds with the medications that the doctor had left us. We tried to do that very carefully, but still I think it hurt her very much because she would start to yelp quietly and try to lick our hands.

On the third day, the doctor returned and was so surprised at seeing that our dog had survived. He said we had done a good job and that now she would definitely survive. He left and we started thinking of what to name the dog after she recovered. We suggested various nicknames but none of us liked any of them.

We asked Saidka what she thought we should call our dog. Saidka said she didn't care, because the dog was disgusting. It smelled badly and it might even have fleas. Besides she was not interested in seeing the dog.

It's true, the dog-or rather the medications that we put on her-didn't smell very good, and it seems she did have fleas, but that was not the dog's fault. We told Saidka that we would bathe her as soon as she recovered, but Saidka didn't reply anything. She just looked very discontented. Uncle Jabrayil watched her very carefully but didn't say anything.

We didn't choose a nickname for our dog. And then, as usual, we continued playing Musketeers and as usual Saidka was Constance Bonacieux, and we all took turns being D'Artagnan that evening, and each of us, in turn, defeated everybody
else for the sake of Saidka.

Another half month passed, and the dog already had started walking. It would take a few steps in the basement and then immediately lie down, either from fatigue or pain. She could already eat both meat and bread and, upon seeing us, she would immediately start wagging her tail, letting us know how happy she was to see us. She was a big black dog. None of the kids on our street had such a dog.

We kept trying to persuade Saidka to come down to the basement with us, but she would never agree; she was afraid of getting dirty.

We couldn't figure out what breed our dog was, and we had forgotten to ask the doctor. Uncle Jabrayil said that the cleverest dogs in the world were Newfoundlanders and that maybe our dog was just a Newfoundlander, but he doubted it because as far as he knew, there were only German shepherds, a breed called Dog and one bulldog. He had never heard of the existence of Newfoundlanders in Baku.

"But that doesn't mean anything," he added. "Quite possibly our dog was the first Newfoundlander."

Once again, we went down to the basement to make sure. The dog was big, black and clever-a genuine Newfoundlander. That's what we concluded and Uncle Jabrayil just kept smiling.

Finally, the day came when the dog, without our help, independently made its way upstairs out of the basement. It kept walking around the courtyard and narrowed its eyes from the bright sun, and we kept following it very happily. It limped slightly, but Uncle Jabrayil said that that would pass and that in about two weeks, we could take our dog to the beach. He wanted to add something else, but at that moment the dog entered Lafruz khanim's apartment through the open door where Saidka happened to be sitting at the table in the corridor having breakfast. The dog came up to her and licked her leg, and we all stood at the door watching how our dog was getting acquainted with Saidka.

"Mom," she cried, "this disgusting dog licked me!

Lafruz khanim came out of the room. She had a stick in her hand and before we could say anything, Lafruz khanim hit the dog with that stick. She hit it twice although not too hard. The dog left their apartment and headed down to the basement and Lafruz khanim kept shouting behind it that the only thing she had never seen was a dog entering her house. Saidka was also saying something, but we didn't hear, we ran to the basement. In the evening, our dog died.

Ever since that day, everybody in our yard-even those who had never read "The Three Musketeers," called Saidka, "Milady".5 And even many years later, after Uncle Jabrayil died, after we had all grown up and moved out of our courtyard, and after the house in which the Musketeers had all grown up got demolished, Saidka remained Milady for all of us.
End Notes:

1 The author seems to imply that during the Soviet times, managers of stores, briefly called ZavMag, were very well off because they did not register all the goods and, thus, earned money "illegally".

2 Academicians were among the highest paid people in the Soviet Union. Officially, they even made more money that the Communist leaders.

3 Meaning the militia often came to "check" his store and in order not to get in trouble, he bribed them and continued doing his illegal business.

4 Dacha is Russian for country home which in Azeri is known as "bagh" .

5 Milady is the despicable character whom everyone hates in "The Three Musketeers". She's the one who poisoned D'Artagnan's beloved Constance Bonacieux.


Back to Index AI 12.1 (Spring 2004)
AI Home | Search | Magazine Choice | Topics | AI Store | Contact us

Other Web sites created by Azerbaijan International
AZgallery.org | AZERI.org | HAJIBEYOV.com