Spring 2004 (12.1)
Pages 66-75

Chingiz Abdullayev
Retaliatory Blow (1991)
Otvetniy Udar (in Russian)



Chingiz Abdullayev - masterful storyteller - is brilliant in creating suspenseful plots that captivate his readers. Here in "The Retaliatory Blow", Drongo reveals the inner workings of a detective's mind, and successfully unravels the mystery surrounding a murder that has been puzzling family and friends for the past five years. Abdullayev weaves a compelling plot that lingers in your mind long after you finish reading the last word.
Chingiz Akif oghlu Abdullayev was born in Baku on April 7, 1959. Unlike many other Azerbaijani writers who studied philology, Abdullayev has a Doctorate in Law from Azerbaijan State University (1991).

He is known mostly for his detective novels, which became extremely popular throughout the former Soviet Union and continue to attract readers not only in the CIS but also throughout the world.

Chingiz has been published more than any other Azerbaijani writer. Copies of his books exceed 20 million copies - mostly in the genre of detective novels and short stories in the Russian language.

He has authored more than 86 works, including novels and short stories, which have been published in 16 languages in 23 countries including the countries of the Former Soviet Union, France, Israel, Sweden, Norway, Turkey and Bulgaria.
His detective novels that are listed in The Golden Fund of World Detective Literature include: Blue Angels, The Law of Scoundrels, Better to Be Holy, The Shadow of Herod, and Three Colors of Blood.

Some of his characters, such as Drongo, have become so well known and beloved by the general public that they have become woven into legends and parodies.
Retaliatory Blow was translated from Russian by Gulnar Aydamirova and edited by Betty Blair.
· · ·
Art: Vugar Muradov. Visit AZgallery.org for contacts.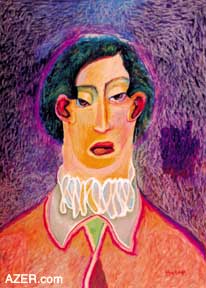 There were only three days left until his departure. In a few days he would be leaving these quiet shores, and again immerse himself in the atmosphere of plots, mutinies and endless wars. He would again be living in what could almost be considered a military zone, watching how a group of people takes power from another.

After the collapse of the empire of which he had been a citizen, his former small province had become an independent state - a so-called "Banana Republic". True, once English papers had noted that, not bananas, but eggplants, grew in his small state but it didn't make it less shameful or less painful.

So he had three more days. And he was trying to fill every hour to the maximum.

From the first glance, he had not liked this old woman.

Even though the notion of "old" doesn't exist in France, still this lady had long stepped beyond her "Balzac age".1

The most annoying thing was that on seeing him, she immediately moved with a steadier gait and had not changed direction. He was the one that this old crow was looking for. She was tall, wearing a dark dress and a big hat. He couldn't make out her face. He only noticed her lips pressed together in stubborn resolve.

It was too late to run away. He let her approach rather closely and only then turned his head.

Even this cold look didn't confuse her. It was obvious that she was planning on getting what she wanted. He had to get up
from such a comfortable chair.

"Good afternoon, madam."

"Polonskaya." She sat down in front of him, waving away the waiter who was approaching them.

He sat down, understanding that he wouldn't easily get rid of this sad, old woman with the stern look in her eyes.

"It's a nice day today, madam," he smiled, trying to gain the favor of his uninvited guest.

"Are you Monsieur Legivre?" she asked in French. Up until now, the conversation had been carried out in English.
He understood her but still said:

"I'm sorry, madam, I don't speak French well. If you don't mind, could we speak in English?"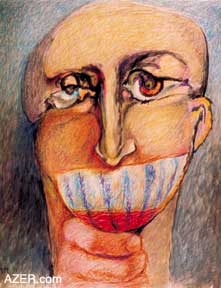 Art: Vugar Muradov. Visit AZgallery.org for contacts.

"What about Russian?" she suddenly asked in Russian. You're a former citizen of the Soviet Union. You should know this language."


She spoke Russian with a clear French accent, though quite accurately.

"Are you my former fellow countrywoman?" asked Drongo 2.

"God forbid," the woman began. "I've been a citizen of France for half a century already. My parents fled here in 1919. I thought you might have heard of our last name - Polonski. My uncle Nikolay Polonski was a valet of His Excellency Cyril Petrovich."

"Old fool," thought Drongo, irritated, "now she will start expanding upon her whole genealogy. Only this was missing."

"I'm sorry, madam, I didn't realize you were of those Polonskis," he tried to smile again. "How can I help you?"

"Are you the Monsieur Legivre who held the investigation about the Harrison Villa?"

That's what he thought. And there were only three days left. It was useless to deny it: some journalists had included his photo in the newspaper.

"I didn't hold the investigation," answered Drongo in as serious a demeanor as possible, "the famous scientist and specialist in crime detection, Mr. Steven Ross, conducted it. I was just helping him. If you need some help, talk with him. I can even give you his phone number in London," Drongo added with self-satisfaction.

"No, I need you," objected the stubborn old woman.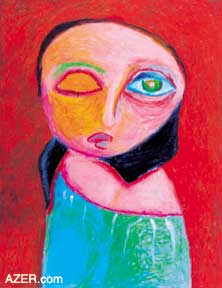 Art: Vugar Muradov. Visit AZgallery.org for contacts.

"My visa expires in three days," he said calmly, "and I won't be able to stay any longer in France."

"I need you only for a day."

"Damn you," thought Drongo. "I won't be able to get rid of her easily."

"How can I help you?"

"My grandson is lost."

Of course, he could have anticipated such a subject.

"Since when?" he asked, already with a hopeless voice.

"Five years ago," Madam Polonskaya replied calmly.

He could hardly keep himself from laughing out loud.

"And you decided to look for him now? I'm sorry, madam, but don't you think that you're a bit late in your search?

Probably she didn't catch the irony in his voice.

"I'm not crazy," she said in a hoarse voice, "my grandson Serge Polonskiy disappeared exactly five years ago. At first we thought that he had just left home and we didn't contact the police. Besides, we soon got a letter from him. But then there was silence. We started worrying and hired private detectives. But he wasn't found. It has already been five years since I last saw my grandson. That's why I'm asking for your help."

"Do you really think that in one day I can find a person who disappeared five years ago?" Drongo was amazed. "To find your grandson whom even the private detectives and the police couldn't find? This is not realistic, Madam Polonskaya, and I'm afraid you have a rather exaggerated opinion about me after reading that newspaper article."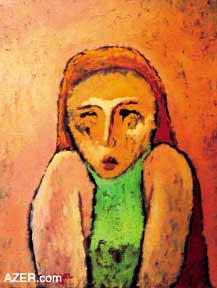 Art: Vugar Muradov. Visit AZgallery.org for contacts.

"I had a vision," she answered with patience. "I know that you can help me."

"Actually, that's not my expertise. Visions are not my expertise, Madam Polonskaya."

"They will gather at my place tomorrow," the woman continued quietly as if nothing happened. "They will all gather. You can find the killer among them. And I will die with a calm heart. Serge was the last Polonski in this world. His parents died in an accident in Avallon. Help me, Mr. Legivre."

She was almost in trance.

Drongo was not pleased with the idea of undertaking an investigation for a crime that had been committed five years ago.

"Who are they," he asked, "your friends, acquaintances or the ghosts of your acquaintances?"

"Don't poke fun," Polonskaya flashed her eyes angrily, "all of those who were at our place on that fatal day will be there. You have only to choose. I want to know which of them could have killed Serge and why."

"I'm sorry, Madam Polonskaya, but I think you're inconsistent. At the beginning of your conversation, you told me that your grandson had left for some place himself after which you had even received a letter from him. And now you claim that he was killed. Would it be tactless if I pointed out this discrepancy?

"He was killed. Now I know that for sure. We sent the letter to experts. The letter had been forged. And I know about the murder because Serge always wore the cross of St. Andrey Pervozvanni around his neck. The cross was a Faberge. There were 15 rubies and diamonds embedded in it. They were very small, but carefully chosen. That was my son's cross. It would be impossible for me ever to have confused it; one of the stones had a small defect."

Polonskaya lifted her head.

"She had been very beautiful in her youth," thought Drongo for the first time.

The cross sparkled in the woman's hands.

Art: Vugar Muradov. Visit AZgallery.org for contacts.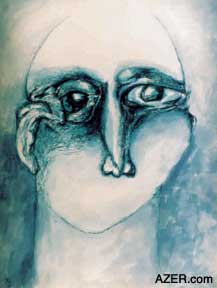 "Where did you get it?" asked Drongo calmly. The case was becoming interesting.

"I bought it in a store in Marseilles. I went there quite by accident and discovered this cross."

"When?"

"Half a year ago."

"And you didn't inform the police?"

"They responded just like you've done today. They promised to help a crazy woman. And that was it, no one even called again."

"I'm sorry. Did you find out how this thing happened to be in the store?"

"It had been sold to them three years earlier. Nobody remembered anything. And the old owner had passed away."

"You said, 'We checked the letter.' Who do you mean by 'we'?"

"Me" she hesitated for a second, "and my friend. We've known each other for many years and he has always helped me."

"What's his name?"

"I wouldn't want"

"I asked what his name was?"

"He's a Frenchman. Count George de Rouvroit."

"Is he a relative or a descendant of Duke Saint-Simon?"

"What makes you think so?" Polonskaya asked, surprised.

"Louis de Rouvroit, Duke de Saint-Simon, was one of the most famous French writers of the 18th century."

"I've never heard of him. However, you know the genealogies of French aristocracy so well. Really, you've been sent to me by God."

"I don't know their genealogy. It's just that I love French literature. Let's get back to our problems.

What was written in that letter? Do you have it with you?"

"Of course." Opening her bag, she handed him an envelope, already yellowed.

"Where did the letter come from?"

"From South America - Argentina."

"The sender, of course, is unknown."

The sad woman remained silent.

Drongo opened the folded piece of paper and read the letter.

"Dear Kate, All is fine with me. Don't worry. I'll stay for a while in ArgentinaBrazil. I have money so far. Take care of yourself. Your Serge."

"To whom was it addressed?"

"Me," sighed the woman, "everybody in the house knew that he called me 'Kate'. My name is Yekaterina Grigoryevna."

"Glad to meet you," he stood up, and kissed the woman's hand. In any case, she was suffering such grief. "Let's make a
deal at once," Drongo suggested. "I'm not a magician and I don't have visions. I can't do wonders. You tell me who was at your place five years ago and who will be there tomorrow. I'll accept your invitation and come to dinner. But I must warn you. I'm very skeptical about breaking this case. Your grandson could have disappeared anywhere."

"What about the cross?" objected Polonskaya. "What about the fake letter?"

"That's why I'm coming to your place tomorrow. Do you have a private house? Where do you live?"

"It's the house of my parents. It was bought with half of those valuable things that my late mother was able to take out of the country. We have a whole estate."

"A big one?"

"About ten hectares."

It seems the job was becoming more difficult, thought Drongo. It would be nigh impossible to detect anything on such a large estate.

"Does anybody else, except your friend, know about this cross?"

"No one else. I didn't want to say anything beforehand. Besides, we get together only a few times a year."

"So, if I understood you correctly, tomorrow absolutely all those people who were there five years ago will gather at your place?"

"Yes, almost."

"What do you mean 'almost'?"

"Our cook won't be here. He passed away last year. And one of our maids has been changed."

"How many servants do you have at home?"

"Only five. The driver, watchman, cook and two maids."

"Didn't the watchman see Serge leave then? By the way, did he leave by car or on foot?"

"That's the thing. He left by car. But at the first gas station, his car broke down. It's true that the workers saw him catch a taxi. But they didn't remember the license plate numbers."

"Did he go in the direction of the city?"

"Yes, but nobody saw him after that. And the car was brought to our place two days later."

"Is it still there?"

"It's in the garage. Nobody has driven it since Serge disappeared."

"What kind of car is it?"

"I think it's a Chevrolet. I'm not good with car models."

"Now think before answering. Could your grandson have returned to the estate unseen?"

"Of course, he could have," she took out a handkerchief and wiped her face. "We don't have such a high fence. He loved
climbing everywhere."

"Now, state in order those who will be at your place tomorrow."

"My friend whom I was speaking about. We've known each other for a long time. He knows all of our family secrets."

"How old is he?"

"Old," blushed the woman, "Just like me. We're almost the same age."

"Go on."

"My elder daughter, Maria. She's a botanist. She works at a scientific center in Paris. Her husband Mikhail Dolski is an entrepreneur of the very famous Dolski family. Her mother"

"Madam Polonskaya, let's first just state all of those who will be present," Drongo interrupted, somewhat rudely.

"Yes, yes, of course. I'm sorry. Then there's our neighbor Maurice Lepelliet and his wife Theresa. They live close by; we've long been friends."

"How old are they?"

"Maurice is more than 50. Theresa is 10 years younger. Why do you ask their age?"

"If I take up your case and come to dine at your house tomorrow, I have to know all of the details beforehand that interest me. That's why I'm asking. Continue, please."

"Then there was my nephew Igor. He's about 30. He was very friendly with my grandson, they almost grew up together. His mother is my younger sister who passed away two years ago."

"Was she there that last day when Serge disappeared?"

"No. She was sick at that time. Her house is in Normandy. They had been living there for almost 40 years. Then there
was the manager of our family affairs," Jigunov Ilya Ustinovich. His family is from Tersk Kazaks. They left Crimea with the army of Vrangel. Jigunov has been working at our place for a long time. I've known him for about 20 years. And that's it."

"So, together with you, it makes eight and if we count the servants, then plus three. Is that right?"

"Yes. But the watchman sat all night long in the hall. They were broadcasting some football match and his friends stopped by his place."

"Did you check that?"

"Of course. His team was losing and they drank all night long from disappointment. I remember it well. And the second servant had asked off on leave that night."

"What about the driver?"

"He was in the garage."

"In any case, none of those three have a good alibi," said Drongo confidently. "We'll have to check everything. Is the house far from the garage?"

"Yes, quite far. About 500 meters away. The garage can't be seen. It's behind the trees."

"Do you have many plants in the park?"

"A lot. We need to keep a gardener and workers to take care of the garden. But we don't have money for that anymore."

"Is the house big?"

"Not really. Two floors. Only 10 rooms. There are six rooms for guests upstairs, my bedroom and the study of my late husband on the left side, downstairs. On the right side, there's a big living room. A library. The kitchen and storerooms are built onto the house. Their doors lead to the corridor at the back of the house."

"Do you have a basement?"

"A very small one. My husband liked to keep all sorts of French wine there. Will you take this case?"

"Madam Polonskaya, what exactly do you want?"

"I want to know for sure that my grandson SergeWell, I'm sick, very sick. I need to organize my will."

"Does your daughter have children?"

"She has two. They are already quite grown up. Boris, the elder is already 22. He's finishing Harvard. A very clever young boy, but he is not a Polonski. He's a Dolski; I don't have any other immediate relatives. So will you take the case?"

"Do you seriously think that by having dinner in your company that I will be able to determine where your grandson disappeared five years ago and who his supposed killer is?"

"Do you believe in God?" the woman suddenly asked.

"Does it have anything to do with our case?"

"It does," answered Polonskaya seriously. "God sees everything. You can't steal a cross from a dead person. You'll tell me tomorrow who killed Serge."

"Why do you think that it's somebody among your close people?"

"It can't be otherwise," answered Polonskaya decisively. "Serge was drunk that night, a little bit excited. He quarreled with everybody and then went to his car. We haven't seen him since."

"Why did he quarrel?"

"I don't remember now. At first he said some obscene things to George, and then he started a loud argument with Maurice. Jigunov tried to stop him, but he snapped at him sharply, too. Then he went out to his car. Igor ran after him trying to get him to return, but it was all useless. We haven't seen him since."

"Did he ever leave like that before?"

"Yes. He had a nervous breakdown after his parents' death. So are you coming to my place tomorrow evening?"

"Yes," he finally made himself say. Write down your exact address for the taxi."

She handed him her card and got up. He rose, following her.

"One last question," said Drongo. "Does your will change drastically in case I'm able to confirm the murderer of your grandson?

She appeared scared; yes, more scared than surprised.

"Of course," said Polonskaya, quickly walking away from his table.

Alone, he realized with horror that he had just agreed to tomorrow's dinner. I'm sorry for the old woman, thought Drongo, but I can hardly help her. She's just got this crazy idea in her head.

On the other hand, it would be interesting to see all these guests. Maybe something would really develop from it.
He sat for a long time - for a very long time - until the waiter finally approached him. This was the waiter who had already served him tea eight times. This waiter came up to him and reminded him, rather apologetically, that they were closing.

By that time, he had a plan worked out for the following day.

The taxi came on time to pick him up. However, it's true that they had to search for two hours for the quite neglected estate of Polonskis. Nobody knew where the house was located until Drongo finally remembered their neighbors - the Lepelliets. The taxi driver recalled rather quickly where the Lepelliets lived via the radio, and only then did he finally find the Polonski house. He drove into a rather neglected park and then the old watchman, who had obviously been notified beforehand, opened the gate for them.

The gates, old and covered with rust, had to be opened manually. The whole estate looked so neglected and desolate.
It differed greatly from the neighboring parks that were looked after and which resembled a beautiful golf course surrounded by gardens.

A quiet old woman of about 50 years of age met Drongo at the house. She waited in silence for the guest to get out of the car, nodded her head in silence, and saw the guest to the living room with the same silence.

Polonskaya, who was dressed in a dark green long dress, was waiting for him.

"I thank you," she said simply. "How shall I introduce you?"

"Henri Legivre. Just tell them that I don't speak French."

"Sure. They've all arrived - all who were there that night. We'll be eight. Nine, together with you."

"Twelve," Drongo reminded her. "Never forget the servants when counting. They're usually observant and know more than we think. Was this woman, who met me, there that night?"

"I think, yes. Don't pay special attention to her. She's always reserved like that."

"I noticed that. Are your guests upstairs?"

"Of course. Maria with her husband are directly above us. Near them in the corner is Igor. On the other end are the rooms of George and Jigunov. Maurice called, saying that they're leaving. There are two more empty rooms. You can go up to any of them."

"Thank you. But first of all I would like to talk over some details with you. Listen to me closely and promise me to do everything that I ask. There's almost no chance to solve this, but if we have any, we'll have to play a kind of farce that our investigation depends on. Do you promise to do everything exactly as I tell you?"

Polonskaya sighed.

"God sent you to me. Tell me what I must do."

He explained his plan to her in detail, trying to spare her nerves. You had to give her credit; she was a strong woman and, at once, agreed to everything after she understood his plan.

By seven o'clock that evening, Igor was the first one to come down to the living room. He was a young fellow who had already managed to recover from his passion for punk music and rock band players.

According to the tradition of the 90s, he was dressed in a modest, single-breasted gray suit and blue shirt with no tie. His handshake was soft and weak. The Lepelliets, their neighbors, arrived after him.

Maurice was a strong, stocky short man with sharp, coarse features.

Theresa, on the contrary, was a brown-haired woman with a graceful figure who tried to emphasize her wonderfully good figure and, for that reason, wore snug pantsuits. She had a short hair cut that, together with freckles on her a little pug nose, gave her a rather mischievous and almost baby expression.

Maurice had a heavy, strong and almost peasant handshake. Theresa just winked, stretching out her hand.
Maria and her husband came down introducing themselves, ceremoniously in turn, while coming to the table. Maria was a tall lady of 40 whose hair had already began to gray.

She resembled her mother in subtle ways, but at the same time she was taller and had stiffer features than her mother. Her husband - a tall smart gentleman - just introduced himself without shaking hands.

"Nikolay Dolski," he said almost in English if you could somehow pronounce a Russian name in English, saying "ya" instead of "a" and slurring the Russian letters as "y" and soft sign.

Jigunov was the last one to come down to the living room. It seemed this person was composed of several billiard balls - a barrel-like chest, rounded hands and legs, an absolutely small bald head in almost the ideal shape of a ball, with round lively eyes, full lips.

Polonskaya invited everyone to the table and only then did George de Rouvroit come out of the library. Very tall and gray haired, he appeared almost like one of the old European aristocrats. His handshake was strong, but calm, just like a real duke de Rouvroit. Drongo liked his eyes - calm, open, primordially well positioned.

According to tradition, both the married couples sat on the left side of the table. Theresa and Maria took the left half of the table with their husbands. Countess Polonskaya, her friend George de Rouvroit, Igor, Jigunov and Drongo were on the right side. In such a way Drongo was sitting in the very center between Igor and the hostess, and in front of Theresa Lepelliet.

At first, the conversation centered on the latest developments in Yugoslavia. Having been informed earlier by the hostess, they all spoke in English.

Dolski, who had recently returned from Croatia where he had branches of his company, was infuriated at how both fighting sides had destroyed towns and villages - neither side showed mercy on the women and children.

"It's such a terror!" picked up Theresa, who was casting rather open glances at Drongo. "Then they show it all on TV. There are so many people being killed!"

"It's not that scary," objected Drongo, "when murder is obvious, it's not scary; it's disgusting."

"Yes," said Theresa, becoming lively, "and when is it scary?" She spoke with a clear French accent.

"When it is mysterious, when the killer is not known."

"How interesting! Are you detective, Mr. Legivre? You have a French surname. I've heard of it somewhere."

"Mr. Legivre, my dear," finally said Polonskaya in her hoarse voice, "is a very famous detective. All the newspapers wrote about him last week. He investigated the two murders at the Harrison villa."

"We've read about that," Maurice confirmed gloomily. "Do you remember? There was even a photo of Mr. Legivre?"

"So that was you!" Theresa interrupted. "How interesting!"

"Was that really you?" asked Igor, turning his head.

"Yes. Today I came here upon the invitation of the hostess," answered Drongo calmly.

"I hope there won't be a murder today," joked Theresa, "or it would be rather unpleasant to appear in the midst of the
company of those who were being held under suspicion. Even though it's probably so interesting."

"Not really," countered Drongo.

He waited until the very quiet servant had served him some pâté.

"I was invited to help with the search for Serge Polonskiy who disappeared," Drongo announced loudly.
A fork fell onto the floor, making a loud clatter. Dolski bent down to pick it up.

"That's all right, dear," he said quietly to his wife.

Drongo noticed how George had placed his palm on countess Polonskaya's hand.

"You came because of that?" asked Igor. One could see that his face was starting to get flushed.

"Yes," answered Drongo, "I'll try to identify his killer."

This time everyone was silent for quite a long time.

Finally Dolski spoke up with apparent disgust.

"I have to admit, Mr. Legivre, that your style is shocking. Why do you think that poor Serge was killed? According to our information, he disappeared somewhere in South America."

"That was a bluff," said Drongo, paying close attention to the responses of all the people who were present. "The letter from South America was fake. Somebody sent it on behalf of Serge. The experts proved that the letter was a fraud."
Maria felt bad. She leaned on her husband's arm, asking him to pour some water for her. She downed the whole glass in one gulp.

"This is cruel," she said, "to come here and say such things. You don't have any proof."

"I do," Drongo said, taking the cross of Serge Polonski out of his pocket that the countess had given him earlier.

"Here's the cross that Serge Polonski had worn since the day he was born."

The effect was shocking!

Theresa cried out. George became very pale. Igor opened his mouth, frozen in horror. Maurice squeezed his fists. Maria started to cry and it seemed she would pass out. Jigunov was shaking his head. Only Dolski sat scowling with knitted brows.

"You spoiled our dinner, Monsieur Legivre," he said sternly. "Don't you think that you'd better keep the information to yourself or pass it on to the police?"

"No, I don't," Drongo was pushing, regardless of obstacles, as he knew that he would have no other chance. "Tomorrow the police will let us know how this cross could appear in a store."

"Gosh," Maria got up and ran out of the living room. Her husband followed her, mumbling something.

"You didn't tell me anything about Monsieur Legivre," George gently reproached the hostess.

"No dear, I didn't want to bother you. Bring in the duck!" shouted Polonskaya across the room.

"I don't feel like eating," mumbled Jigunov, "after such information."

"Why do you think that the cross was taken from the dead man?" asked Maurice. "Maybe the fellow just lost it?!"

"Maurice, please," replied the rather frightened Theresa.

"Wait a minute," her husband became angry. "I want to know why Mr. Legivre thinks that Serge was killed? When he
left this place, he was very drunk. Maybe he just lost this thing."

"That explanation won't do," objected Drongo. "Serge wore it on his body and never took it off. Do you see how short the chain is and also that it has a rather peculiar clasp? It can't open on its own. Nor fall off. Somebody unhooked it from Serge Polonski."

"How horrible!" Jigunov quivered.

"Do you really think so?" asked Igor, becoming very pale.

"In any case, I think so."

"But he was very drunk," Theresa objected rather sharply, "his car was in bad condition that night and he got another bottle not far from the gas station."

"Theresa," cautioned her husband.

The servant brought in the duck, going around quietly and serving each person.

Only Jigunov and the countess agreed to eat. The rest refused the duck.

"How do you know that he got another bottle there?" asked Drongo. "Because Serge didn't come back here again."

"How doI don't know," Theresa was looking confused.

"Really, how?" asked George de Rouvroit in a confident loud voice.

Theresa's little nose wrinkled up and she started to cry. Maurice got up.

"I won't allow anyone to interrogate my wife."

"Maybe you could tell us how your wife could know about Serge's actions after he left?" asked Drongo.

"Tell them, Maurice," said Theresa, "there's no need to hide now."

Maurice sat down and drank some wine to calm down a little.

"That young fellow," he began, "came back when he found out that his car had broken down. I was at home when I heard Theresa's cries and I ran out into the yard. I'm sorry, countess, what I saw just shocked me. The young fellow obviously thought that I wasn't at home, and he was trying to rape my wife right in the garden."

He squeezed his fists.

"Then what happened?" Drongo asked calmly.

"Nothing. I ran up, picked him up and slapped him on the face. Of course, I didn't kill him. I saw what state he was in. He was almost irresponsible. It was raining heavily and he stumbled, falling down again right in the mud. Then he got up and started waving and swearing. Then he fell again. It was horrible. Then finally he got up and walked to the gates. That was it."

Theresa began to sob, taking out her handkerchief.

"We didn't want to upset you, Madam Polonskaya," she said.

"I understand," said Polonskaya in an expressionless voice. "So he did come back?"

"Yes. But later, he left again later," said Maurice. "Excuse me, I'll get my wife a glass of water."

He hurried to the kitchen.

Shocked, everyone kept silent.

Maurice reappeared with a glass in his hand.

Theresa drank the water in one gulp.

"Thanks," she smiled faintly to her husband.

"Somehow, it's getting cold," said the countess. "George, dear, could you bring my shawl from the study."

"Sure, dear." George hurried out of the living room.

Igor leaned against the back of his chair.

"There you have Serge's disappearing. Maurice, you were long jealous of him because of your wife. He probably got drunk and was just trying to kiss her jokingly. And you beat him up."

"It was nothing like that. I slapped him twice on the face," objected Maurice. "You don't need to say stupid things. I also understood his situation."

"Yes," said Igor angrily. "Probably, he also got in trouble 0from the neighbor for pestering Theresa. If so, then why did Serge have a big bruise under his eye?"

George came back with his wife's shawl. He placed it gently over the countess' shoulders.

"We'd better light a fire in the fireplace."

"I'll do it now," Jigunov got up.

He hurried into the kitchen.

"Tell me, Igor," Drongo suddenly asked, "How do you know he had a black eye? That means that you saw him after the Lepelliets did."

The young fellow realized his mistake. Breathing heavily, he held his head between his hands.

"What a fool!" he said quietly.

"I'm waiting for an answer to my question," Drongo reminded him.

"I saw him," Igor said reluctantly. "After Maurice Lepelliet almost killed him"

"That's a lie!" Maurice got up.

"Serge came to my place," Igor added, worriedly.

"Calm down," Drongo frowned. "Everybody sit down and be calm."

Jigunov brought the tongs for the logs in the fireplace. He carefully placed the logs and was ready to light it when Countess Polonskaya asked Igor: "Why didn't you tell me about it? Why didn't you call me?"

"He was in such a state," Igor sighed, "I didn't want to bother you."

Finally Jigunov lit the fire.

The room became more comfortable and rather cheerful.

"Did he go up to your room?" Drongo asked.

"Yes, I met him in the park. He had fallen down twice."

"Did you take him to your room?"

"Yes, he went to take a shower, but suddenly he remembered something, started swearing and said that they would pay for everything. I tried to stop him, but he pushed me away and went out slamming the door."

"What did he say?" Drongo pressed for preciseness.

"He said they would pay for everything and then he left."

"Do you know where he went?" Drongo asked again.

"To my place," sounded imperturbable voice of Dolski, who entered the living room. Maria is feeling bad," he informed his mother-in-law shortly afterwards. "I left her upstairs."

"Did you see Serge that night?" asked Polonskaya.

"I did. He broke into our room when Maria wasn't there. He was shouting something and threatening. He was very drunk and besides I didn't like his tone. And, in general, his entire look. I just sent him out of the room."

"What did he ask for?

"Money, as usual. Of course, I refused him. And sent him out of the room."

"Thank God," Polonskaya said sympathetically. "Thank God."

She said it in Russian.

"What do you mean by that?" Drongo also asked in Russian.

"I knew that Serge had come back and was at Dolski's place. I was afraid it would be him. Him - because of the will. The servant had heard them shouting."

"And now you don't think so anymore?"

"He just said everything himself."

"That doesn't prove anything."

Drongo stood up straight and looked at Dolski who continued to stand next to the wall.

"You just sent him out and that was it?"

"Yes, then after I calmed down a bit, I went down to bring my wife. She was in her mother's room."

At that moment, a bloodcurdling scream was heard. It was as if it had come from the underworld. Everybody jumped up.

"It came from the kitchen," Polonskaya whispered frightfully.

Maurice, Jigunov and Drongo were the first to run there. Then came Dolski, George and Igor. The women remained in the living room.

It was the quietest worker in that house who had cried out. A man was lying on the table with his head almost completely severed. Lying nearby was an axe, covered in blood.

Drongo went closer.

"Who is it?" he asked the others.

"It seems it's the driver Albert," said Maurice, staring at him. "Who did it?"

"Run to the gates," Drongo ordered Igor and Maurice. "But hang together. See if everything is OK with the watchman.
Then come back right away. Gentlemen, help me here."

Together with Jigunov, he turned the body over. The driver was already dead. He wasn't breathing, but Drongo understood from the blood that was still flowing that the murdered man had received the deadly blow only a few minutes earlier.

"Calm down," he said to the servant who was crying. "Where's the cook?"

"He's in the storeroom. We were choosing wine together for the dessert."

The fat man appeared, panting.

From his pudgy face, Drongo made up his mind at once.

"All of you, get out of here," he said. "Mr. Dolski, call the police. And everybody else return to the living room."

He bent over the dead man and called the cook.

"You stay here."

George took the crying servant to the living room.

"Tell me," asked Drongo when they were left alone, "is this the blow of a professional?"

"I didn't kill him," said the confused fat man, who didn't understand English.

"I know. You were there in the storeroom. The blow. Look at the blow," Drongo pointed to it. "Is this a professional blow?"

The fat man understood. He squinted his eyes, leaned nearer, and then opened one eye and then the other.

"Yes," he said, "it's very strong and professional. But it wasn't me."

"Thank you, cover the body with a sheet."

He returned to the living room.

All the people in the house had gathered there already. Countess Polonskaya herself, George de Rouvroit, Dolski, his wife who had come back downstairs, Jigunov, Igor, the Lepelliet couple, and two servants. The older servant, who had witnessed the incident, was trying to prove something to everybody. The second one was scared and kept looking around.
"Everything is fine with the watchman," Maurice informed them. "Nobody came in or left the premises. We told him that the police would be coming soon."

"It's God's curse," moaned Polonskaya. "I had a vision."

Everybody spoke at the same time, so excited about what happened. Drongo went over to the fireplace and sat down in one of the chairs.

So, a murder has been committed. One more. The murderer is one of those who were present in this room. That's for sure. Only four people had left the living room: Dolski who had stayed out longer than anybody, George de Rouvroit, Jigunov, and Maurice Lepelliet. Something that the murderer had heard during the dinner had caused him to decide to act immediately. But why the driver? What could he have known? Was it something connected with the car? Or, maybe, he was partner to the murder?

In any case, it's obvious that this Albert had some kind of information. Stop. Why only information? Judging from the appearance of all of these gentlemen in this room, they are all rather well off; and the cross probably cost no more than $500 to $700 even though it was a valuable keepsake. None of them would have risked murdering someone for such an insignificant sum. So, the murderer might have had a partner - a partner for whom $500 would have been a significant amount. It seems, Albert was very unlucky today. Besides on that night, Serge could not have gone far in his car. And what if we suppose that the Chevrolet had been made to break down on purpose? And if the murderer had needed the help of a professional to do this? Think fast. The police will be here in half an hour and then - that's it. You'll have to hang around here for one more month. Not even the best detective of Interpol will save you.

Everybody else kept arguing loudly, shouting, fussing about; but Drongo was silent, trying to concentrate and think.
Jigunov had been sent out for tongs.

George de Rouvroit was sent for the shawl.

Dolski had escorted his wife out.

They all had an excuse to leave - a legitimate excuse.

Maurice had himself volunteered to bring water for his wife. It seems she had not even asked him for it. Drongo remembered his handshake. Strong and tough. This kind of person could have split a skull with a single blow of an ax. Serge may also have been concerned that his wife might have agreed to meet Serge by mutual agreement. It was just like Theresa. Maurice, who caught them, had wanted to kill Serge, who had run back to his own place.

Then Maurice returned, found Serge and killed him. It could have been. But what does the driver have to do with it? In
such a case, it's likely that Theresa was intended as the second victim.

What an evil story the old woman had managed to drag him into. He had sensed only yesterday that nothing good would come of this. And now it had ended so badly. There was one more corpse. And the murderer was in the room: he looked at the guests and laughed.

"The police will come soon," George de Rouvroit noted.

"We shouldn't touch anything," said the frightened voice of Igor.

"How horrible!" mumbled one of the servants.

"We shouldn't have said anything in general," Maurice told his wife.

"Oh my God. In our house," Maria cried.

Of course, all of these cries, sighs and moans were distracting. Drongo quickly took out a piece of paper and pen.
He wrote "No. 1".

Who could have gone to the kitchen and have been there at the moment of murder?

Here they were - the four last names.

Who could have struck with such a blow?

He thought and wrote down three surnames.

Who could have talked over something with the driver about the car? Four surnames.

Who owed money to Serge Polonski? Two surnames.

Who could have sent the letter faking Serge's handwriting? Five surnames.

Who could have been interested in Serge Polonski's death? Three surnames.

Then, thinking, he added the last names of those who had said they had met Polonski that night. And then again - two last names.

And finally one more question. And only one last name.

Then he put the pen in his pocket.

He already felt that he probably knew what he needed to. The murderer, who was watching him, suddenly understood that Drongo knew everything. And with a desperate effort, he made himself smile. The game continued to the end. It was too late to leave: the police were already on their way to the house.

Drongo approached the hostess.

"Did you know that Serge's car would break down?" he asked.

"What makes you think so?" Madam Polonskaya asked gloomily.

"I asked a question," Drongo patiently reminded her.

"I did," the woman turned around, "I didn't want him to leave."

"To whom did you give that responsibility?"

Polonskaya quietly whispered the name. Drongo nodded his head.

The police inspectors conscientiously examined the whole house, studied the corpse, and interrogated all of those who were there at the house. According to the police version, the murderer was a burglar from the outside who had entered the house from the park. Inspector Buviet who headed the brigade - a lanky, somber, but not very talkative officer - had interrogated every witness over and over again, trying to detect contradictions in their stories.

Drongo was sitting on the periphery, not paying any attention to the racket around him. He had nearly clarified everything in his mind.

Buviet looked at his documents for a long time, surprised that Monsieur Legivre didn't know French. He only gave an unpleasant smile, revealing his yellowed teeth, to the proposal to call the Interpol or Commissar Dubois in Montpelier. Drongo answered all of his questions conscientiously until finally Madam Polonskaya brought the newspaper with his photo.

"He's a famous detective," she said proudly, handing the inspector the newspaper. "He can find the murderer without your help."

"Very well, Madam, maybe he will tell me himself: 'Who killed the driver?'" asked the inspector.

"You're heading in the right direction, Monsieur Buviet," replied Drongo. "Most probably it was an outsider. All the men were in the living room, the watchman is rather old, and the cook was in the storeroom and moreover he was not alone. So, look for that unknown person."

"That's what I'm doing," stated Buviet gloomily. "I don't see anything that's not clear here. In any case, I'm asking you to stop at the Town Commission tomorrow."

"Of course."

The policemen who had finished the preliminary investigation had already left at dawn, taking the corpse with them. Then the Lepelliets left: Theresa felt very bad. Maria and Dolski left after them.

After putting his wife to bed, Dolski came downstairs to drink some tea. So they were sitting at the table - the six of them. The Countess, George de Rouvroit, Dolski, Monsieur Legivre, Jigunov and Igor.

"Anyway," George de Rouvroit suddenly asked, "What conclusion have you arrived at? Was it really an outsider?"

"Of course, not," answered Drongo calmly. "I said that only for the police."

"And what can you tell us?" Mr. Dolski raised his red eyes to him.

"A lot. I can even name the murderer."

"In that case, why are you keeping silent?" asked the Countess sharply.

"I can talk only if you all promise me that whatever I say will remain here."

"Of course," the Countess said on behalf of everyone. They all promised.

Drongo carefully put his cup on the table.

"It was obvious from the very beginning that Serge who disappeared, his cross that was found and this letter didn't go together. Only a burglar, a person under delusions himself for a rather modest amount according to all of your standards, could have stolen the cross. And only a caring friend who decided to calm the Countess could have sent the letter.

"Interesting observations," noted George de Rouvroit coldly, "and what conclusion did you arrive at?"

"First of all, I don't believe in accidental murders. That doesn't happen. This means that yesterday somebody found out some information that became deadly for Albert. So then I had to determine what that information was. But I had so little time. I started analyzing the situation. I used the rules of logic that professionals would apply in such cases. A question, rightly formulated, is already half of the solution. Who could have gone to the kitchen unnoticed? Only four people - Monsieur de Rouvroit, when he was bringing the shawl; Monsieur Dolski, when he was coming down from his wife's room; Monsieur Jigunov, when he was bringing tongs for the fireplace; and Monsieur Lepelliet who brought water for his wife. But who could have struck such a decisive blow? Here I have to exclude Monsieur de Rouvroit; he is of a rather respectful age for that. I'm sorry, Monsieur."

"Never has my age served me with such a reliable alibi," noted George coldly.

"Then I remembered that Serge had asked for money. Who usually would have given him money? Only two people-Monsieur Dolski and Jigunov. Finally, who could have sent the letter faking Serge's handwriting? Only someone who didn't know that he had returned on that fatal night. The Lepelliet family knew it. Monsieur Dolski, who evidently told everything to his wife, also knew. Igor saw his relative. And Monsieur Jigunov knew that Serge wouldn't leave anywhere. It was he who had asked Albert 'to tinker' with the car a bit upon the Countess' request. Only one person remained who could have sent the letter - George de Rouvroit - who didn't know of Serge's return on that night."
Everybody looked at de Rouvroit.

He turned pale.

"I wanted to calm Madam Polonskaya," he whispered.

"Thank you, friend," the Countess touched de Rouvroit's hand. "I understand."

"You didn't tell us who killed Serge Polonski," Dolski reminded him, dryly.

"I think I've already said everything. Only two people didn't meet your wife's nephew that night - Monsieur de Rouvroit and Monsieur Jigunov.

"I asked myself: 'Why was Albert killed so quickly?' So the killer knew something that cost him his life. I asked myself the final question: 'For whom was it news - previously unknown - that Serge had returned that night and the cross that had been found?' Because Maurice Lepelliet, Monsieur Dolski and Igor all knew of Serge's return. And so I answered this question. It was you, Monsieur Jigunov!"

Everyone present looked at Jigunov who kept on drinking his tea calmly.

"So what?" he finally said.

"That night, upon Madam Polonskaya's request, you ordered Albert to do something so that the Chevrolet wouldn't get very far. Albert did everything just as ordered. Then you charged Albert to bring the Chevrolet back to the garage. The driver, who left for the car, returned and said that the young master had left for the city by taxi. But Serge returned. At first, he went to the Lepelliet neighbors, where he apparently made love to the young Theresa and then he came home. But only, today, you discovered that Albert had lied. Only tonight, you discovered that Serge had returned home. That's exactly why you went to the kitchen to bring the tongs for the fireplace. Finding Albert there, you demanded an explanation of how the cross might have appeared in the store and why Albert had lied to you that night. You already understood that having killed Serge, he took his cross. For him it was an entire fortune. Albert didn't know that a few more people had seen Serge. And you, understanding how everything was, only tonight decided that quick judgment is better than an ordinary judgment. Isn't that true?"

"He killed our boy," Jigunov said hoarsely, "and he didn't want to admit it. I wasn't thinking of killing him, it's just that blood rushed to my head. Poor Serge, I used to carry him in my arms when he was a child."

"What a disaster!" said Dolski. "Do you, at least, realize what you have done? How will we settle this with the police?"

"Gentlemen, I promised on your behalf," Madam Polonskaya reminded everyone.

"He didn't tell me where Serge was buried," murmured Jigunov.

"Somewhere in the park near the garage," Drongo figured. "Call the workers and have them dig up everything around there."

"You're a strange person, Monsieur Legivre," said George de Rouvroit, rather thoughtfully. "Your presence brought back a number of memories and a serious crime. You must have a difficult life."

"It's like that," Drongo confirmed seriously. "Nobody said I had an easy life."

He got up.

"The rest of you can decide without me, gentlemen."

"God bless you," said the Countess, "even though you don't believe in God that much."

"Human judgment turned out to be stronger than that of God's," Drongo reminded her.

"No," Polonskaya countered, "God was acting with our friend's hand. He is not a killer, He's just the avenger."
She closed her eyes.

"My Serge," said Polonskaya quietly.

Dolski got up and looked out the window.

"It seems a taxi has arrived. Who called for it?"

"I did," Drongo approached the Countess.

"So long, Madam Polonskaya."

"Thank you, Mr. Legivre. Perhaps I owe you something for the anxiety I caused you? Ask me anything that you want."

"In five years," smiled Drongo melancholically, "in five years, invite me over to a dinner again."

George de Rouvroit, who was already standing behind the Countess, nodded his head, saying goodbye.
Igor shook his hand firmly.

Jigunov was standing there and turned his back.

"I'm not needed here anymore," Drongo thought.

He left the house, got into the taxi. When the car took off, he looked around again. The house stood there, seeming somehow gray, faded and dilapidated. And it all created a general impression of unreality.

He leaned back against the seat. There were two days left. "God, make it so that they will be calm."
End Notes:

1 "Balzac age" is an expression used in Russian and refers to the French author Balzac, implying a woman in late 30s. The author is saying that Madam Polonskaya is much older.
2 Drongo is the name of the protagonist that the author uses to narrate his detective stories and spy novels. The name, according to Abdullayev, comes from a small, courageous Asian bird that is not afraid of larger birds.
More Works:

For more about Chingiz Abdullayev published in Azerbaijan International, see "A Spy in from the Cold - Sort of The Pen of Chingiz Abdullayev," by John Boit, reprinted from Christian Science Monitor, published in AI 7.1 (Spring 1999). To purchase his spy novels in Russian, click STORE.

Back to Index AI 12.1 (Spring 2004)
AI Home | Search | Magazine Choice | Topics | AI Store | Contact us

Other Web sites created by Azerbaijan International
AZgallery.org | AZERI.org | HAJIBEYOV.com