Spring 2004 (12.1)
Page 133

Exxon Azerbaijan
Involvement with Education and Refugees in Azerbaijan

ExxonMobil, the world's leading petroleum and petrochemical company, has a presence in nearly 200 countries, including Azerbaijan. Its philanthropic program is one of the world's largest and its involvement and commitment in Azerbaijan is extensive.

To date, Exxon Azerbaijan Operating Company LLC, an ExxonMobil subsidiary (Exxon Azerbaijan), has contributed more than three million dollars to charitable programs. Their primary focus has been projects related to education and to improving the living conditions of internally displaced persons and refugees.

Below: Exxon Azerbaijan has been involved with the construction of schools for Azerbaijan's refugees.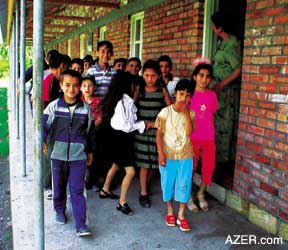 ExxonMobil has been working with major relief agencies such as the International Federation of Red Cross and Red Crescent Societies, CARE, Relief International, as well as with local agencies, to provide aid to thousands of displaced persons living in the Bilasuvar, Saatli, Sabirabad settlements, and in other regions of Azerbaijan. These projects include community development and income generation initiatives, construction of schools, and community centers. NGOs, which were supported by Exxon Azerbaijan, have been involved in constructing medical clinics, which improve provision of primary care, distribution of basic medicines and dissemination of health information in the camps, including malaria prevention and first aid training. Exxon Azerbaijan has also funded projects to create clean water supplies for refugees.

The community centers built with Exxon Azerbaijan's help, enable people to organize public ceremonies and other community events. For example, in the Bilasuvar refugee camp, the first event was a double wedding ceremony attended by then President, Heydar Aliyev and Deputy Prime Minister Ali Hasanov.

Worldwide education has been one of ExxonMobil's primary focus areas for contribution activities. The company continues this tradition in Azerbaijan as well. One of the most significant contributions was in helping to strengthen the Azeri language by publishing the first ever Azerbaijani-English dictionary printed in the Latin script (1998). The companion volume, English-Azerbaijani also compiled by Oruj Musayev, was published in 2003.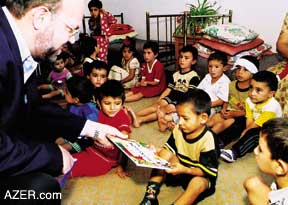 Left: Exxon Azerbaijan General Manager Drew Goodbread distributing some of the publications in the new Azeri Latin alphabet.

The company also has published two volumes of Oghuz Poetry (more than 1900 pages), which is a compilation of some of the most important samples of Azeri literature, starting from early works of the 6th century through contemporary authors.

One of the most significant projects funded by Exxon Azerbaijan has been the development and publication of the Children's Encyclopedia in Azeri Latin. This is a series of volumes dealing with topics from Nature, History, Arts, and Sports to Ecology and Information Technologies. A group of professional Azerbaijani writers, artists, and scientists have developed texts and illustrations for this multi-volume series. Since 1999, Exxon Azerbaijan has distributed tens of thousands of these colorful and educational books in refugee camps, schools and libraries throughout the country.

Exxon Azerbaijan also supported training for teachers, scientific conferences, and Azeri students' memberships in professional and scientific organizations and worked with leading universities to provide students from Azerbaijan with opportunities to study in the United States. Through ExxonMobil leadership, the U.S.-Azerbaijan Chamber of Commerce established a Caspian Area Studies Center at Harvard University. They have also assisted in the establishment of Junior Achievement in Azerbaijan, which helps to acquaint young people with Western business practices, economics, and free enterprise.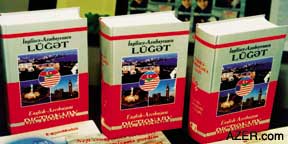 Every year, Exxon Azerbaijan helps implement numerous environmental projects that focus on educating young people about the value of protecting the environment.

Left: The new English-Azerbaijani Dictionary compiled by Oruj Musayev sponsored by Exxon Azerbaijan.

As Drew Goodbread, Exxon Azerbaijan General Manager said, "We recognize that being a successful corporation means more than superior operational and financial performance. It also means being a good corporate citizen in every place we operate. We want to help develop prosperous, stable communities­not only because they are good places to do business, but also because we care about our neighbors."



Back to Index AI 12.1 (Spring 2004)
AI Home | Search | Magazine Choice | Topics | AI Store | Contact us

Other Web sites created by Azerbaijan International
AZgallery.org | AZERI.org | HAJIBEYOV.com