Summer 1997 (5.2)

U.S. Law Hinders Development in Azerbaijan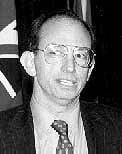 "The [Clinton] Administration strongly opposes Section 907 of the Freedom Support Act because its restrictions impede the United States government's ability to implement more effectively our development assistance program in Azerbaijan and thereby slows the advancement of U.S. interests in a strategically significant region."
Thomas A. Dine, USAID Assistant Administrator, Bureau of Europe and the Newly Independent States (NIS), speaking before the U.S. Senate Committee on Appropriation's Subcommitte on Foreign Operations on May 6, 1997.
Editor's Note: Section 907 of the Freedom Support Act, passed by the U.S. congress in 1992, singles out Azerbaijan as the only former Soviet republic (of 15) that is barred from receiving U.S. aid directly to its government.
From Azerbaijan International (5.2) Summer 1997.
© Azerbaijan International 1997. All rights reserved.