Autumn 2006 (14.3)
Page 9

AI Letters - Brzezinski




Dr. Zbigniew Brzezinski (born 1928) served as U.S. National Security Advisor to President Jimmy Carter (1977-1981). He taught at Harvard (1953-1960) and Columbia (1960-1989), where he headed up the Institute on Communist Affairs and is currently a professor of Foreign Policy at the Paul H.Nitze School of Advanced International Studies at Johns Hopkins University in Washington, D.C.

By the 1980s, Brzezinski argued that the general crisis of the USSR foreshadowed communism's end.
He was awarded an Honorary Doctorate from Baku State University on Nov 7, 2003. Read his Acceptance speech, AI 11.4 (Winter 2003). Also see Analysis - War On Terrorism: Failing to Grapple with the Political Dimension" AI 10.3 (Autumn 2002); The Caucasus and New Geo-Political Realities: How the West Can Support the Region. AI 5.2 (Summer 1997); Geopolitically Speaking: Interview with Zbigniew Brzezinski by Betty Blair. AI 3.4 (Winter 1995).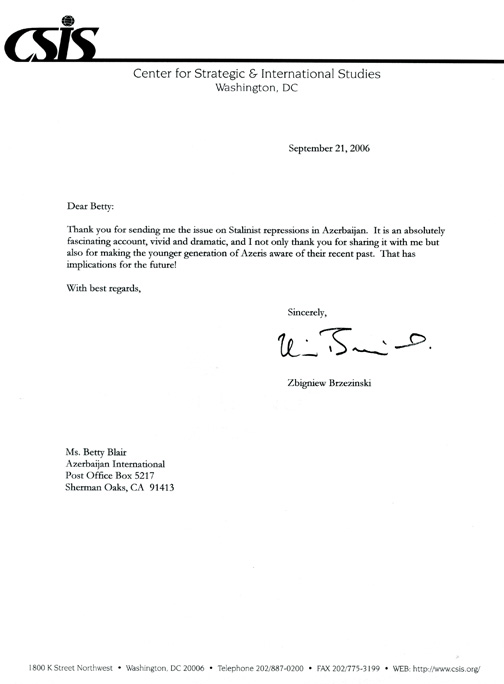 Don't miss two of our very best issues - Recommended by Zbigniew Brzezinski

Remembering Stalin - Winter 2005 (AI 13:4)
The Literature of Repression - Spring 2006 (AI 14.1)





Zbigniew Brzezinski's Letter to Azerbaijan International, September 21, 2006

Back to the article (Autumn 2006)

AI Home | Search | Magazine Choice | Topics | AI Store | Contact us

Other Web sites created by Azerbaijan International
AZgallery.org | AZERI.org | HAJIBEYOV.com