Summer 2005 (13.2)
Pages 14-17

Tribute - Susan Crouch
Organizer of the Caspian Oil and Gas Exhibition for 11 Years
by Betty Blair

Family and friends were shocked to learn that Susan Crouch (born 1950) passed away quietly in her sleep on January 16, 2006. Crouch, known among close colleagues and friends as "Susie", was the driving force behind the launching of the Caspian Oil and Gas Exhibition and Conference which she and colleagues organized and coordinated with the cooperation of the Azerbaijan Chamber of Commerce for 11 years from 1994-2004.

Not many people knew that in 1985 while working with Spearhead (UK), Susan and her colleagues actually started preparing for the Caspian Oil and Gas Exhibition, even before the collapse of the Soviet Union (late 1991). Everyone in the oil and gas industry knew that the Caspian had great potential. So Susan headed off to Moscow and succeeded in getting the floor plans of the Exhibition Center in Baku, only to stash them away in a drawer since it was still too early - both politically as well as practically.

In 1992, when BP and Statoil of Norway formed an Alliance to work together in Azerbaijan, Susan and her colleagues realized it was time to get serious about Baku again.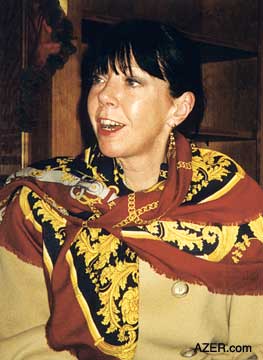 Right: Susie Crouch in 1998. Photo: Blair
In 1993, Susan began the first of many, many

journeys to Baku. That's when she learned that the Exhibition Center had burned down, so she explored the possibility of using the Sports Complex. The rest is history. After dealing with an endless array of logistics, she managed to pull off the first show in 1994, attracting 158 companies from 12 countries.
"At first, everyone hesitated to get involved," Susan noted. "It was the signing of the 'Contract of the Century' (Azeri, Chirag and deep-water Gunashli fields) in September 1994 and the cooperation of President Heydar Aliyev that clinched the Oil Show."

By 2005, at the 12th show, there were 331 exhibitors, 250 of which were foreign companies. Twenty-eight countries were represented: Austria, Azerbaijan, Bahrain, Brazil, China, Croatia, Denmark, Finland, France, Georgia, Germany, Greece, Iran, Italy, Japan, Kazakhstan, Lithuania, Luxembourg, Norway, Russia, Saudi Arabia, Singapore, Switzerland, Turkey, United Arab Emirates, UK, Ukraine and USA. Since June 2005, the show has been organised by the ITE Group, again in partnership with the Azerbaijan Chamber of Commerce.

Susan devoted the last decade of her life to Azerbaijan. She described her motivation in an interview with Betty Blair, Editor of Azerbaijan International in 1997.

"Azerbaijan is very different from other countries we've worked with. We were there right when the doors opened. That makes it both exciting and challenging. Let's be perfectly honest, we all have to earn a living. But this effort brings additional pleasure because you know it matters, and that Azerbaijan has the potential to become one of the richest countries in the world. In the end, it's the love, friendship and the intellectual stimulation that you receive when working with Azerbaijanis that is so rewarding.

"This is an extremely vibrant country. Back in England and the U.S., we think we tolerate different races and creeds. But do we? Hell! You come here and you really see that internationalism is the policy of this country and that they genuinely tolerate every race and creed. It's deeply ingrained in the psyches of these people.
At the end of the day, it's the gracious hospitality of the people with whom you work that makes all the effort
so rewarding. I've never known a country like this before in my life."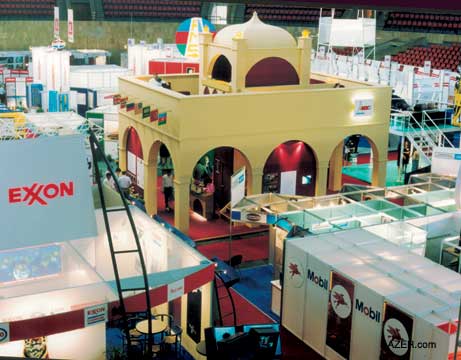 Above: AIOC booth at the 1995 Caspian Oil and Gas Exhibition
Susan was known and admired on so many high levels - governmental as well as in top managerial levels in the oil industry. That's why we wanted to include some of the tributes that were made to her here in the magazine:


"Susan Crouch was a person of great dignity with a very sharp and flexible mind.
She had outstanding organizational skills. Her efforts in coordinating and leading
the annual Caspian Oil and Gas Exhibition and Conferences in Azerbaijan were invaluable. She played an enormous role in strengthening the cooperation between
the Azerbaijan Republic and the world community."
--Natig Aliyev, currently Azerbaijan Minister of Industry and Energy, who cooperated and supported Susan's efforts at the Oil show for 11 years in his role
as President of SOCAR (State Oil Company of Azerbaijan Republic)
"We shall always remember how much Susan contributed towards the development of our country and how much she achieved in bringing us all much closer to each other. Susan always was a person of extraordinary inner strength and humility. I should like to thank her for her life, her work and her friendship."
--Rafael Ibrahimov, Azerbaijan's Ambassador to the United Kingdom.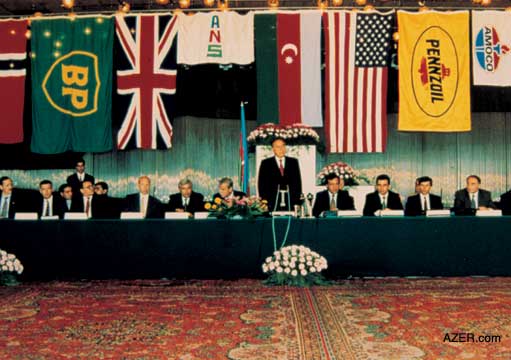 Above: The late President Heydar Aliyev with international government representatives
and top business managers in September 1994 at the signing of the "Contract of the Century" (Azeri-Chirag-Gunashli). The First Caspian Oil and Gas Exhibition had taken place a few months earlier (June 1994).


"Susan Crouch was well known and loved by a great many Azerbaijanis primarily for her success in the exhibition scene. She knew the country well, was extremely conscious of its internal politics, and was wholly dedicated to improving the quality of life for many of its people. But it was her passion for underprivileged children to which Susan dedicated her greatest effort and much of the charity work that the Anglo-Azerbaijani Society supports in child-related projects was under her guidance."
--Lord Peter Fraser of Carmylli, House of Lords, UK Parliament.
"Susan Crouch's crusade was to get things done and achieve results to her exacting standards-sometimes almost to the point of obsession. She was known for direct dealings and straight talking, balanced by an infectious sense of humor and, above all, an integrity which could not be compromised. She was a superb business woman with a real flair for opportunity-topped with a desire to help people along the way. Today, there are many on the periphery of the exhibition and conference scene, who owe their achievement and their livelihood to Susan Crouch."
--Dr. Ken Forrest, who was involved in the Oil and Gas industry for the past 30 years and who was responsible for coordinating Government and Industry activities at the UK Offshore Supplies Office when Susan initiated the Caspian oil show in the early 1990s. Currently, Dr. Forrest is an active member of the Board of the Anglo-Azerbaijani Society (which Susan helped to establish),
and a Minister in the Church of Scotland.
"Susan will be remembered for her tireless dedication in making the Caspian Oil Show an internationally respected event, which raised awareness of Azerbaijan's oil and gas potential globally and helped establish this country as an exciting place to do business."

--David Woodward, Assoc. President BP Azerbaijan.
"Susan Crouch herself was like an institution-always involved, always reliable, and always a visionary, believing in possibilities. Though Azerbaijan gained its independence from the Soviet Union only 15 years ago (1991), there were very few foreigners, like Susan, who were still involved in the country on a continuous personal basis even a decade later. She was one of those rare individuals who had what might be called the "corporate memory" of this new nation. Such knowledge gave her incredible insight into where this country had come from and what it could reasonably achieve, given its cumbersome historical circumstances. We're so sorry that Susie has left us so soon, just a few months prior to celebrating the inauguration of the opening of the Baku-Tbilisi-Ceyhan pipeline. She was so instrumental in helping to coordinate thousands of links that made such a dream possible."

--Betty Blair (Editor) and Pirouz Khanlou (Publisher)
Azerbaijan International Magazine.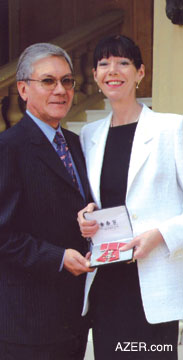 "Azerbaijan was certainly where Susan had some of her finest moments. Her vision lead to the establishment of one of the most important energy events in the world, but it was Susan as an individual personality who changed so many lives - as teacher, friend and inspiration."

--Suzanne Borrell, Project Director,
working beside Susan at the
Caspian Oil Show for nine years.

"Susie was one of a kind - inspirational, loving, caring, totally unpredictable, elegant, supremely talented - an incredible combination. For me, the world will be a much quieter and much more boring place without her."

­-Judith Patten, PR consultant and Press Officer
for the Caspian Oil and Gas Exhibition for the
11 years of Susan's involvement with the show.



The memorial service was held at St. Andrew's Parish Church in Cobham, UK, on January 31, 2006. Gifts in Susan's memory should be sent to the Anglo-Azerbaijani Society Susan Crouch Charity Account, c/o Margaret Morris, 11 Dunlin Court, Kelvedon, Essex, CO5 9LU, United Kingdom.


Above: Susan Crouch with husband Brian at Buckingham Palace in 2001, having received the MBE medal (Member of the Order of the British Empire) for "Services to Export". At the time, Susan was the Managing Director of Spearhead Exhibitions Ltd. She was recognized for being involved 30 years in the conference and exhibition industry.

Contact: theangloazerisociety@btinternet.com



Back to Index AI 13.4 (Winter 2005)
AI Home | Search | Magazine Choice | Topics | AI Store | Contact us

Other Web sites created by Azerbaijan International
AZgallery.org | AZERI.org | HAJIBEYOV.com