Winter 2005 (13.4)
Pages 32-35

Confessions - Nariman Narimanov
My Dear Son, Let Me Tell You What It Was Really Like
Letter written by Nariman Narimanov to his only son Najaf, 5, in 1925





Nariman Narimanov (1870-1925) was 55 years old when he wrote this letter to his son Najaf, who was only six years old at the time. It seems that as someone, who had started a family late in life, he wanted so desperately to explain himself - to give his child the chance to know him, and to air his misgivings about the Bolsheviks, whose political agenda had been one of the motivating forces in his life.

Left: Nariman Narimanov, Chairman of the Soviet of Peoples' Commissars, with his son Najaf.

While penning these thoughts, Narimanov may well have sensed that his life was in jeopardy because he had been so outspoken against Stalin. As it turned out, less than six weeks later (March 19, 1925), Narimanov died under mysterious circumstances.

The official cause of death was listed as heart attack (and, it's true, he was known to have heart trouble), but many suspect that Stalin himself had something to do with Nariman's sudden death.

Nariman's Death
Kamila, Director of the Narimanov Home Museum, and great granddaughter of Salman Narimanov, the brother of Nariman Narimanov says that on the day before Narimanov died, he had had an argument with Stalin about an issue regarding Azerbaijan. For some reason, Narimanov had to leave the meeting in the middle of the discussions. On his way back home, he insisted walking alone by himself and not to be driven with the chauffer.

The driver followed in the car. On his way, suddenly Narimanov collapsed. Emergency assistance was called, but Narimanov, a doctor by profession himself, died anyway. He had always complained about his heart. His wife felt that the argument with Stalin had affected his heart though the court disallowed any foul play associated with Narimanov's death.

Kamila is convinced that her grandmother knew more about the circumstances, but was afraid to tell her family lest it jeopardize them. And so, this is the version of the story that has been passed down through the family.

Whatever the circumstances may be, Narimanov's death preceded the years 1937-1938 by a dozen years. These are the years generally associated with Stalin's first major purges. A state funeral was held in Narimanov's honor - a practice that soon became a tradition when top governmental officials were no longer useful to the regime and died under mysterious circumstances. Narimanov grave is in Moscow on Red Square behind the Lenin Mausoleum along with other notables of the Soviet period.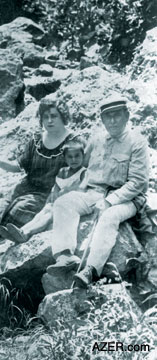 Bolshevism in Azerbaijan
Narimanov played a pivotal role in the establishment of the Bolshevik power base in Baku. When the Red Army marched into Baku in April 1920, Narimanov was included in the Azerbaijani Revolutionary Committee. He soon became its Chairman (May 16, 1920 to May 19, 1921).

Left: Narimanov with his wife Gulsum and son Najaf in Kislovodsk, Russia (1922). Photo: Narimanov Home Museum.

In 1921, Narimanov headed the Soviet government of Azerbaijan, the Council of People's Commissars (May 1921 to 1922). In April and May 1922, he participated in the Conference of Genoa as a member of the Soviet delegation.

Later that year, he was elected Chairman of the Union Council of the Transcaucasian Federation. By the end of the year, on December 30, 1922, the first session of the USSR Central Executive Committee elected Narimanov, who represented the Transcaucasian Federation as one of its four chairmen.

By the following April, he was made a candidate member of the Russian Communist Party Central Committee (1923-1925).

Though Narimanov was trained as a physician, but he was known more as a writer, having authored a number of books including the novel Bahadur and Sona [1896] as well as the historical trilogy Nadir Shah [1899]. He is also remembered for translating Nikolai Gogol's "Inspector General" into Azeri. Narimanov's son, Najaf, was born on December 2, 1919. He finished high school in Moscow, joined the army in 1938 and graduated from military school in Kiev in 1940.

He became a member of the Communist Party in 1942. During the Great Patriotic War [World War II], he was a commander of a tank division and involved in the liberation of Stalingrad and Donbas. He died in battle, defending the city of Volnovakha in Ukraine.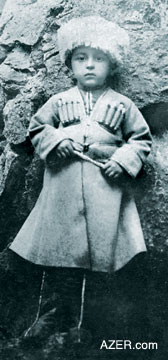 Nariman's Letter to His Son
The letter that Narimanov wrote to his son Najaf admitting his misgivings about the direction that Stalin was leading the country in 1925 has its unique own history. Fortunately, this rare document has been preserved. After Narimanov died in 1925, Kalinin, as Chairman of the All Union Executive Committee, would not let Narimanov's family return to Baku, saying that it would not be safe for them to live in Azerbaijan. So Gulsum and Najaf stayed in Moscow.

Left: Najaf Narimanov, son of Nariman Narimanov, in national costume when he was about three or four years old. Photo: Narimanov Home Museum.

Gulsum died in 1956. Najaf had already been killed in the war and, thus, there was nobody left in the family, so the government put the apartment furniture up for sale. Prior to the sale, Gulsum's brother Aslan went there and gathered all the documents and jewelry. The letter that Narimanov had written to his son more than 30 years earlier was in the collection. So Aslan kept it in his home in Moscow until the Museum opened in Baku in 1977.

Grand niece Sevil Mustafayeva bought the apartment furniture and later made it available to the Museum as well. The letter that Nariman wrote to his son follows:

My dear son Najaf, On January 15, 1895, the drama which I had written and entitled "Ignorance" (Nadanlig) was staged for the first time in the Taghiyev Theater in Baku. I consider that day to be the launching of my literary work. Today - January 28, 1925 - marks 30 years since that day. Some of my friends wanted to celebrate this occasion. I received telegrams from them Of course, on a more serious note, I have not done anything. Thirty years! Something could have been done during these years. When I consider that length of time and compare it to what I have succeeded to write, I become ashamed...

On the other hand, when I think about this amount of time, and take into consideration all the circumstances of my life - the crooked ways through which I have had to pass - I gain some satisfaction that, at least, I have accomplished a few things. The situation surrounding me, the backwardness, the passiveness towards development, the indifference towards the events taking place around us, the meaningless wars between nations, and the sufferings caused by these battles - blood, tears, poverty, lies. These, and so many other things, have always troubled me.

Everything I have written to this day bears witness to this sensitivity. Maybe I haven't been able to describe the situation adequately, maybe I haven't been very literary or skillful. But whatever I have written, I did to the best of my ability. The effort proves that I did not remain indifferent to the circumstances around us as did so many others. My heart was not at ease. I endeavored, and was trying so desperately, to make some contribution to humanity.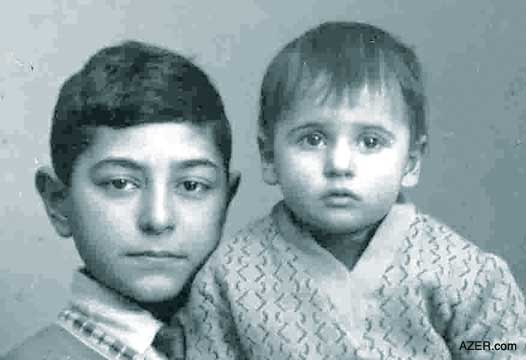 Above: Najaf Narimanov with baby cousin Sevil Mustafayeva who later purchased the furniture from Narimanov's home after Narimanov's wife died. Years later she made it available for the Narimanov Home Museum. Photo: Narimanov Home Museum.

During these past 30 years, I have worked within society, and this-only this-provides me with some consolation. If I was able to infect at least 10 people with this "disease", then my conscience can rest that I have not lived in vain, and that I can take my place in some corner of this big, but at the same time, very small world...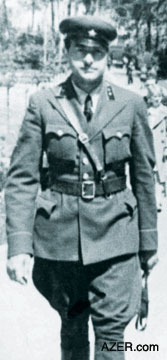 My dear son Najaf! If I am fortunate enough to live longer, I will try to enable you to do more for humanity than I have done. But if my fate should be to leave this world sooner, please do a little something for the people, just as your father has tried to do-your father, who has always suffered for others.

Left: Najaf died in Ukraine as a soldier in World War II. Photo around 1942. Photo: Narimanov Home Museum.

My life has always been full of difficulties. I had to take care of the families of my brothers and sisters when I was only 20 years old. I have supported 11 people during these 30 years. On my own salary, I married off eight girls and took care of three sons of my brother.

After accomplishing all this, I started to pursue my own education. I was 30 years old when I entered the university. Upon graduation, I was occupied with trying to take care of the children of my brother Salman [who died in 1907, and whose wife died the following year].

I have been freed from all of these responsibilities only now, when in 1924, I married off Khanim, the youngest daughter of my brother.

I'm writing this in 1925-a year later. The reason why I write all these things is because I don't want you to criticize me for doing so little for humanity. I hope you'll follow my example in your own life.

My dear son! If you examine my life, you'll see that I have lived for others. What will happen later? I will continue in this same way. I find consolation only in this kind of social involvement, especially because the current situation in Russia now coincides with my spiritual world.

I'm against the exploitation of human beings. I'm totally against slavery. I have been trying to seek ways for humanity to be free and to be rid of slavery at the earliest possibility.


"We must say it openly: we became so arrogant with power that we occupied ourselves with meaningless issues and arguments, and we forgot about the real work we had to do."
-- Nariman Narimanov, Chairman of the Soviet of Peoples' Comissars,
in a letter to his son, Najaf, age five, in 1925.Six weeks later,
Narimanov, 55, was dead under rather suspicious circumstances.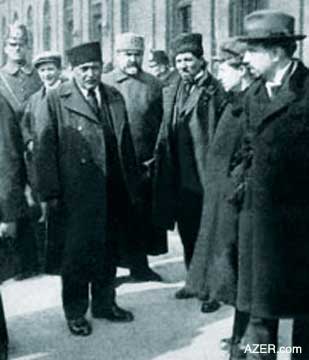 I was a Social Democrat, but these days, more and more, I discern that they are abandoning their goals.

Left: Nariman Narimanov at the railway station in Berlin going to a conference in Genoa, Italy, with the delegation. April 1, 1922. Photo: National archives of Azerbaijan.

I used to have confidence in the agenda of the Bolsheviks and envisioned my own goals being fulfilled through them. I thought slavery would be abolished in the world this way.

Maybe Bolshevism won't exist by the time you read these lines. But if that be the case, it doesn't mean that we don't need Bolshevism. It means that we were not able to save it, that we underestimated it, and that our attitude towards these goals was shortsighted.

We must say it openly: we became so arrogant with power that we occupied ourselves with meaningless issues and arguments, and we forgot about the real work we had to do.

Power destroys most people. And thus it has happened: power has spoiled most of our outstanding leaders. They decided to take control of the fate of a great state and become dictators... It was necessary at the beginning. But to continue this path today will cause Bolshevism to collapse.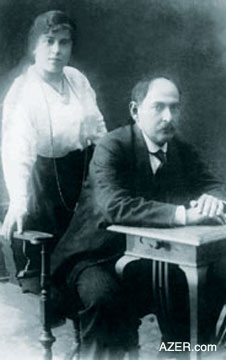 Now, as I write these lines to you, the situation is that the Communists can't even talk among themselves about our major mistakes that have been caused by those carelessly ruling the government who have declared themselves as "the heirs of Lenin" after his death.

Left: Narimanov as Chairman of the Soviet Peoples' Commissars with his wife (1920). Photo: National archives of Azerbaijan.

You'll understand more fully about these issues from the extensive speech that I have written for the Central Committee. You'll become aware of many things through that speech.

You'll understand that your father was not afraid of saying things that most others didn't have the courage to say, or did not want to risk saying, out of fear of losing their position and power.

My dear Najaf! Don't run after power. It ruins a man. If you want to know a person and learn of his or her inner world, appoint him to a high position for a period of time.
All of that person's capabilities as well as his shortcomings will be revealed. That's why, if you are not ready to support the people without lying to them, then it's better to refuse such a position.

If the masses (workers and villagers) appreciate you, and consider you to be the right choice to come to power, if they have faith in you and if you are able to provide them some common good, then don't refuse.

But if you sense that someone is forcing people to support you, then refuse. If you don't, you'll lose your dignity, not only among the masses, but within yourself as well. Whenever you suspect that you have come to power because somebody has appointed you, and not because you have achieved it on your own, then you will always feel guilty and lose your dignity. Confusion in your world vision will begin from there.

This is the most crucial moment in the life of a political figure. You can bear all of these things only when you are ready for independent life. What does that mean? To illustrate this, let me give an example from my own life.



"Power destroys most people. And thus it has happened: power has spoiled most of our outstanding leaders. They decided to take control of the fate of a great state and become dictators It was necessary at the beginning. But to continue this path today will only cause Bolshevism to collapse."

-- Nariman Narimanov in a letter to his son, 1925


You already know that I had been accepted into the university. But then my mind was occupied with the question, "Which university should I enter?" Circumstances in my life, in addition to my advanced age, made me eager to complete my education as soon as possible. That's why I had to choose a faculty, which would not make demands upon my limited time. Should I get involved in the Law Faculty (it was considered an easy faculty back then), or Nature (a four-year course)? After finishing either of these faculties, I still would have had to rely upon various individuals and organizations. That's why I refused and chose, rather, to study medicine so that I would be less dependent upon others. This was one reason.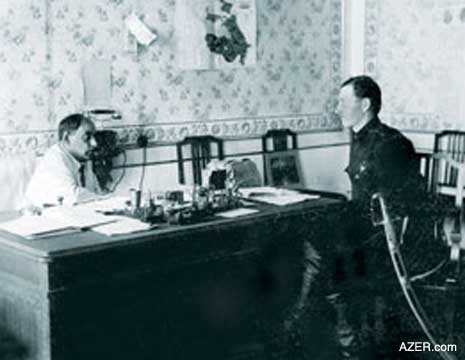 Above: M. G. Efremov, chief of the troops of the 11th Red Army, which entered Baku in armored trains, with Narimanov as chair of the Azerbaijan Revolution Committee (1920). Photo: National archives of Azerbaijan.

Another reason was that your grandmother (my mother) was a very kind hearted and modest person. She used to help those who were in need. She would take care of neighbors who were ill and share her bread with them. I grew up witnessing these things as a child, and they had a profound influence on me That's why I decided to enter the Medical Faculty even though it was a difficult field and required a longer period of time to finish. I chose it so that I wouldn't have to be dependent upon various individuals and organizations and so that I would get more spiritual fulfillment from my work...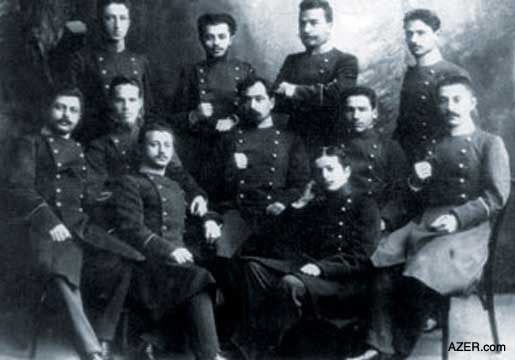 Above: Narimanov as a medical student at the Medical Faculty of Odessa University. Narimanov is standing, far right (1910s). Photo: National of Azerbajian.

Unfortunately, Narimanov never finished his letter. He died less than six weeks later. But it is likely that this letter did more to save Narimanov's reputation among Azerbaijanis after they gained their independence (1991) than any other single document. To this day, Narimanov's statue still stands in one of the most prominent locations in Baku. Other statues troughout the city, which memorialized leaders of that repressive government - such as Lenin, Stalin and Kirov - have long since been dismantled.
Narimanov's letter to his son was published in the book: "About the History of our Revolution in the Provinces" by Nariman Narimanov, compiled by Academician Pusta-khanim Azizbayova. Baku: Azarnashr, 1992, pages 64-67. Translation from Azeri by Ulviyya Mammadova.


Back to Index AI 13.4 (Winter 2005)
AI Home | Search | Magazine Choice | Topics | AI Store | Contact us

Other Web sites created by Azerbaijan International
AZgallery.org | AZERI.org | HAJIBEYOV.com