Winter 2004 (12.4)
Pages 30-31

UNOCAL Presentation
Six CDs of Vagif Mustafazade's Mugham Jazz

On November 19, 2004, Unocal Khazar Ltd and Azerbaijan International Magazine launched Vagif Mustafazade's Mugham Jazz Anthology of 6 CDs. The event took place at the ISR Plaza in downtown Baku with more than 200 guests in attendance.

The driving force behind the effort to preserve Vagif Mustafazade's jazz legacy came from Mike Barnes, President of UNOCAL Khazar Ltd., which sponsored the project. Barnes has worked in Baku since 1996 and is respected within the Azerbaijan community for his generous support to its cultural legacy.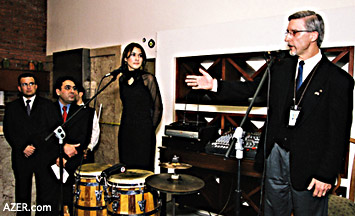 Left: Left to right: Bakhtiyar Akhundov (UNOCAL, Office and Government Affairs Manager), Pirouz Khanlou (Publisher of Azerbaijan International and Producer of CD Project), Gulnar Aydamirova (AI Editorial Staff interpreting into Azeri) and Mike Barnes (President of UNOCAL Khazar) who conceived and sponsored the project.

Now that Azerbaijan has gained its independence from the Soviet Union (1991), Mustafazade's brilliant jazz renditions finally have a chance to become known beyond his native land and the former Soviet Union. Vagif himself desperately wanted to perform outside of the Soviet Union but was not permitted to tour outside the country despite numerous invitations.

Jazz pianist and composer Vagif Mustafazade (1940 - 1979) was the creator of the jazz mugham movement in Azerbaijan in the 1960s. By merging two musical genres - Western jazz and Eastern mugham, a type of traditional improvisational modal music - he created "mugham jazz", a new sound that was uniquely Azerbaijani. Familiar Eastern melodies found new expression in Mustafazade's free-spirited piano stylistics.
At the end of World War II when Vagif was growing up, jazz had been banned in the Soviet Union. Stalin had labeled it the "music of the capitalists". But jazz fans and musicians, like Vagif, used to listen secretly on short wave radios.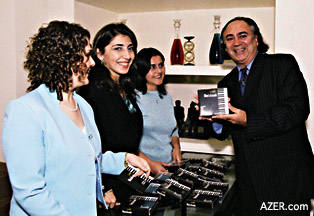 Left: Azerbaijan International staff members presented guests with the 6-CD set of Vagif Mustafazade's Mugham Jazz Anthology at the reception on November 19, 2004. Left to right: Aynura Huseinova, Aytan Aliyeva and Ulviyya Mammadova with guest, pop singer Javan Zeynalli, one of the founding members of Gaya Music Group in the 1960s and 1970s.

Despite the Soviet system's antipathy toward jazz, Mustafazade succeeded in achieving international recognition even during his lifetime. In 1978, he won First Prize at the Eighth International Jazz Festival in Monaco for his composition "Waiting for Aziza". In 1979, he was named People's Artist of Azerbaijan. That same year, he suddenly collapsed and died while on tour in Uzbekistan. He was only 39 years old. His legacy as the pioneer of jazz mugham preceded his own time and still strongly impacts how jazz is performed in Azerbaijan today.

The 6 CD set features 80 works - many of them originally produced on vinyl LPs which were released during Vagif's lifetime; others are from rare, unreleased selections from the 1960s and 1970s recorded at Baku's Radio and Television Studios or preserved at Azerbaijan's National Voice Recording Archives.

Pirouz Khanlou, Publisher of Azerbaijan International, produced the anthology. Project Director was Javanshir Guliyev, who also was responsible for choosing the works and carrying out the digital restoration and Yagub Madatov (Director of Azerbaijan's Voice Recording Archives), Eldar Mansurov, Rafael Bunyadov and Javan Zeynalli provided the original music.

Tarlan Gorchu and Ilham T. Aliyev of Tutu Publishing created the CD pack design, including the book. Betty Blair, Editor of Azerbaijan International, with the assistance of Jala Garibova, wrote the 96-page book (English and Azeri), which comes with the set. Bakhtiyar Akhundov and Marina Besantina (UNOCAL staff) were Project Consultants.

Afag Aliyeva of the Vagif Mustafazade Humanitarian Fund provided photos. Alla Bayramova, Director of the State Museum of Azerbaijani Musical Culture, also assisted with photos.

This is the third major CD anthology that Azerbaijan International Magazine has produced: (1) Classical Music of Azerbaijan: 6 CDs, 15 composers and 74 works with Amoco, 1997; (2) Uzeyir Hajibeyov's Operas and Music Comedies: 7 CDs, 4 major works with Statoil, 2001; and (3) Vagif Mustafazade Jazz, 6 CDs, 80 works with UNOCAL, 2004.


Back to Index AI 12.4 (Winter 2004)
AI Home | Search | Magazine Choice | Topics | AI Store | Contact us

Other Web sites created by Azerbaijan International
AZgallery.org | AZERI.org | HAJIBEYOV.com