Winter 2004 (12.4)
Pages 18-21

Ujal Hagverdiyev
Tribute: Of Angels and Archangels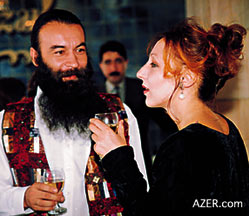 Left: The late Ujal Hagverdiyev with his wife Lena, both artists.

Ujal Hagverdiyev lived to be 44 years old (June 9,1960 to December 18, 2004). When people learn that Ujal has passed away, they stop and give pause: Is 44 years a short life span or a long one for a human being?

Ujal loved life intensely. According to his wife Lena, Ujal taught those around him to love their work, insisting that whatever you did, you had to do it with all your heart, you couldn't do it halfheartedly. "Nor would Ujal allow those who were close to him feel sad," said Lena. "Not me, nor Butunay our son (now 15) or others. He would say: "It's a sin to be sad when God has given you this life: you are His work and His process."

These past years, people often say: "The most important thing is your health. Watch out! Take good care of your health." Such warnings are repeated so often that they become like mantras. But when you analyze such statements, you detect traces of anxiety and dread about the meaning of personal existence. If health really is the ultimate issue, then just where does passion, art and self-sacrifice fit into the picture?

Angels and Archangels




Above:
1. Many of Ujal's canvases expess Christian motifs. "Joy" 1996. Oil canvas, 90 x 70 cm.
2. "Madonna" , 1997. Oil canvas, 60 x 40 cm.
3. "Fight into Egypt", 1998. Oil canvas, 50 x 100 cm. One of Ujal's favorites.

Four years ago, when Ujal realized that major reconstruction work was about to begin on the St. Michael Archangel Russian Orthodox Church in Baku (an old church located near the sea, previously known as the "Fisherman's Chapel"), Ujal approached Father Seraphim and offered to paint the murals in one of the church's chapels - Apostle Varfolomey.

Ujal was ill at the time, suffering from heart trouble. No doubt, with such a condition, someone else would have been physically better qualified for the strenuous work of meticulously painting every inch of the ceilings and interior walls. The job demanded long hours being cramped in uncomfortable positions. It meant hours upon hours being in closed spaces, inhaling toxic paint fumes. It took tremendous stamina for Ujal to stretch his arms to paint like that for long periods.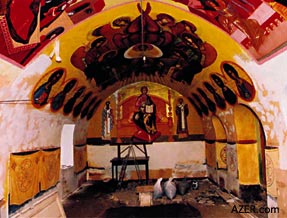 Left: Murals that were designed and painted by Ujal Hagverdiyev for the St. Michael Archangel Russian Orthodox Church in Baku. Courtesy: Lena Hagverdiyeva

Ujal had wanted one day to write his own autobiography. From time to time, he had jotted down some of his ideas. Lena found one of the notes describing how at the age of 12, Ujal had said he believed in God. "And ever since I've known Ujal," Lena notes, "he always told me that one day he wanted to do the murals of the walls of some church. Of course, that was during the Soviet period and such dreams were impossible to realize. Nevertheless, this wish remained deep inside him like a dream. So, in regard to painting the chapel, maybe it was God who willed it, or maybe Ujal was just born for that purpose - I don't know. But I do believe that God has a plan for each of us. So when Ujal finally began to paint the murals, it was the realization of his greatest dream," she said.

It's rather ironic that Ujal's lifework is now being characterized by the angelic paintings he did in a chapel that goes by the name of Michael, the Archangel. When Ujal had tried to enroll in the Art Institute in Tallin (Estonia), he painted some angels and submitted the canvas as a requirement along with his application. Despite the fact that he had qualified in every other way, it was those angels that blocked his admittance into the program. Angels symbolized religion, and it wasn't politically correct to glorify them in a governmental system that embraced atheism.

Beginnings
Actually, it wouldn't be an exaggeration to say that Ujal started to draw from the day he could hold a pencil in his hand. His father Hasan was an artist whose works still hang in the Azerbaijan National Art Museum. Everybody was involved with art around him: his father, brothers Husein and Ali, and his sister Saida.

Aida, Ujal's other sister who made a career of teaching, observed that Ujal always had a pencil in his hand and he was always drawing something. "You could never see him not working - not even for a minute. Even when he was drinking tea or talking on the phone."Ujal and I loved listening to classical music, especially Bach, Handel and Haydn. He would buy lots of LPs. I would sit and pose for him while we listened to music. We could listen to classical music without talking for a long time.

Ujal's Style of painting

Below: Work of the late artist Ujal Hagverdiyev in the Varfolomey Chapel of the Archangel Michael Russian Orthodox Church in Baku. 1. Ceiling near the altar. 2. Crucifix 3. Ujal (standing) assisted by Tamerlan Karimov (sitting). Courtesy: Tarlan Gorchu


Ujal's wife Lena, herself an artist, observed: "I was always amazed that Ujal could make people appear more beautiful in his portraits than they were in reality. But then I began to realize that in his relations with others, he was always able to bring out the best qualities in them. He was a very outgoing person and had so many friends. He also brought out the most beautiful and kindest things in people. He opened them up so that they started loving themselves and life."

Ujal was never satisfied with the results of his painting. He would paint something and then he would become dissatisfied with it and start painting something else right on top of it. One canvas usually ended up having several layers of paintings on. "Ujal was very generous and often gave his paintings away as gifts to his friends," said Lena.

"Maybe someday those friends will discover more works beneath the surface on those canvasses."

Ujal could stay up all night painting. He didn't have a set schedule. He would work, then sleep, and then get up and start working again. Usually, he worked on several paintings at the same time. The problem was that he never finished them. He would continue painting on them until they were removed from the studio. Sometimes, he would return to a painting even a year later. "You really had to take the paintings away from him," Lena confided, "otherwise, he would just start painting on top of them, again and again."

Ujal delighted in doing illustrations for children's books as well. No doubt his illustrations for fairy tales done by Tutu Publications will become classics - The Black Sheep (Scottish), Deer's Magic (Mexican), Pearl of the Loon (Canadian), The Leviathan, Fox and the Fishes (Jewish), Secrets of the Coral (Balinese) and others. His fairytale illustrations are mischievous and playful, and quickly capture the imagination of both children and adults alike.

Ujal was so active in the art scene in Baku. It's such a pity that he didn't have more time, more health. He would have painted many more canvases. He would have designed many more children's books. He would have taken part in many more art projects, and he would have completed the murals in the chapel of Saint Varfolomey.

"If the church murals were simply canvases," Lena adds, "you could just leave them like that and not touch a single thing. But this is an active church; they'll have to finish them. I have no idea how it will be done. Ujal did the major part; he provided the direction. He managed to finish the area around the altar completely. But so much was left undone. Despite the fact that Ujal had already worked four years, there were, at least, two more years of work left to do.

Time is never enough, especially for people who are brimming with ideas. But, perhaps, a person's life is sufficiently long if he spends it wisely and lives each day with passion. In reality, it's quite amazing how much Ujal managed to do in his 44 years. No doubt, that's the reason his spirit and his works continue to embrace us.

Rahman Badalov, Ujal's wife Lena Hagverdiyeva, his sister Aida Hagverdiyeva, along with AI staff members, Aytan Aliyeva and Gulnar Aydamirova, also contributed to this article.


Back to Index AI 12.4 (Winter 2004)
AI Home | Search | Magazine Choice | Topics | AI Store | Contact us

Other Web sites created by Azerbaijan International
AZgallery.org | AZERI.org | HAJIBEYOV.com