Winter 2004 (12.4)
Page 22

Mammad Araz
Tribute: The Poet's Pen - Mighter Than a Sword
by Akram Aylisli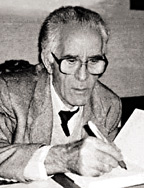 Left: Poet Mammad Araz (1933 - 2004)
Mammad Araz is the pen name of Mammad Ibrahimov (October 14, 1933 to December 1, 2004). He was born in the region of Shahbuz, Nakhchivan. Araz is the pseudonym that he adopted in the 1970s, which refers to the river that separates Northern Azerbaijan (now the independent Republic of Azerbaijan) from Southern Azerbaijan (part of Iran).

For us Azerbaijanis, the River Araz is something of a longing or feeling of loss for our brothers living in the southern part of Azerbaijan. When we were children, we used to look out beyond the barbed wire across the Araz River and yearn to be able to go to the other side. Mammad had a deep longing for Southern Azerbaijan. That's one of the reasons that he is so popular in Southern Azerbaijan. He wanted to see Azerbaijan reunited as a whole. The fact that his country was divided caused him deep personal pain.

He is remembered most for poems that he wrote during the protests and demonstrations against the Soviet Empire in the late 1980s. Some of them were so well-known and quoted so frequently that they became like anthems, especially "Come on, Rise up Azerbaijan" (Galkh Ayagha, Azerbaijan), "I Wish Motherland called Me Son" (Vatan Mana Oghul Desa), "Azerbaijan - My World" (Azerbaijan - Dunyam Manim). In fact, just a handful of poems resulted in Mammad Araz becoming something of a mythical hero. There's hardly a wedding party held in villages and the regions where the toastmasters (tamada) don't recite at least one of his poems. People know them by heart.

I first met Mammad Araz in 1956. I was studying at the Technical School in Baku; Mammad was at the Geography Department of Azerbaijan Pedagogical Institute. Both of us were from Nakhchivan, meaning we were people from the countryside who had come to study in Baku. Both of us were experimenting with the idea of writing.

Upon graduation, Mammad returned to his native mountain village Nurs. He worked there as a teacher for a short period - one or two years - but that experience made a strong impact on him, and influenced his future works, especially the hard life in the village and the interaction among country people.

Towards the end of the 1980s, many important changes were taking place in our literature. A new Mammad Araz was emerging right before our eyes as he began to write patriotic works that challenged the nation to the struggle against the Soviet empire. This was new for him. By nature, he was a peaceful, calm, sensitive person who cared about the problems of his nation. Of course, he could sense the times were changing because he had the intuition of a poet. And he was a patriot deep down. How else could he have written verses such as: "I wish I could grow as moss on the rocks of this land?"

In the beginning of the 1980s, Mammad Araz was working at "Adabiyyat" (Literature) newspaper as Assistant Chief Editor. Once an article was published about Nariman Narimanov, describing him as someone even more important than Lenin. Back then, such a thing was brazenly incorrect and dangerous to write. Though Mammad himself did not author this article, since there was no chief editor at the time, they held him responsible for it.

They even wanted to dismiss him from the Communist Party. It was a tremendous blow to him, isolating him from society, friends, and literary circles. He was left alone. It was during this period that he wrote many poems about loneliness.

But when the demonstrations against the Soviet Union's rule started to erupt in Baku, the masses began to idolize Mammad Araz. His poem "Come on, Rise up Azerbaijan" became something like anthem in those meetings because it encapsulated the spirit of the nation.

In short, he was a poet who participated in the revolution against the Soviet Union with his poems that challenged the mass movements. People recited his poems by heart in those meetings held in Lenin Square [now Azadlig Square, Freedom Square]. Mirza Khazar used to read Araz's poetry on Radio Liberty [RFE/RL] every day.

Unfortunately, Mammad Araz wasn't able to spend the last years of his life as he wanted. He was seriously ill with Parkinson's disease. But I remember him as a carefree, loving, happy person - free of complexes. I remember once Mammad Araz and I were in Moscow, attending literature courses. We wanted to see the city and so we went out for a walk. We passed by a park where there was a sign that read: "Keep off the grass". If you disobeyed, you had to pay a five-ruble fine. Mammad took five rubles out of his pocket and gave them to me, telling me to pass them to the policeman when he came. Then he went and laid down on the grass. He was that kind of a person.

He had a very difficult life though. He lost his family members - father, mother, sister and brother at a very early age. Also, he desperately wanted to have a son. He had three daughters, but he so much wanted a son.

Mammad had an inexhaustible love for nature. Once I saw him crying while gazing on the mountains. You know, the ethics, ideals, and morals of country people are different from city people. Though Mammad Araz lived in the city most of his life, at heart, he was still a country person. His attitude towards love and nature was idealistic.

Life was very difficult for him, especially the last 15 years. He could no longer speak. Just imagine a person like him, his heart so full of passion and words and being unable to speak. But it didn't stop him from writing. He didn't give up, he struggled with his disease.

It should be noted that he was the recipient of government's care. President Heydar Aliyev supported him, both morally and financially, giving him an apartment in the best part of the city, bestowing upon him the highest order of the nation (Istiglaliyyat), awarding him a stipend, and paying for his medical treatment in Germany.

In 1988 he won the State award as Poet Laureate. In 1990, he was named People's Poet and Honored Art Worker. He authored the following books: Sevgi Naghmasi (Love Song), Uch Oghul Atasi (Father of Three Sons), Araz Axir (Araz is Flowing), Omur Karvani (Life Caravan), Dunya Sanin, Dunya Manim (Your World, My World), and Qayalara Yazilan Sas (Sound Recorded on the Rocks). Without a doubt, Mammad Araz was one of the most popular poets in Azerbaijan this last century.
-----
Akram Aylisli (born 1937) is one of Azerbaijan's distinguished writers of short stories and novels. Read works in Azeri and English by Mammad Araz and Akram Aylisli in Azerbaijan International, "Passionate Pens in Pursuit of Truth", Spring 2004 (AI 12.1) or search at AZER.com or AZERI.org.

Come on, Rise Up, Azerbaijan!
by Mammad Araz

(Translated by Aynur Hajiyeva)

Why are you still sleeping, you old volcano,
I am with you!
Come on, rise up now, Azerbaijan, I am with you!
We can divide everything, except you.
We will all pass away, except you.
This is Shahriyar's wail, (1)
Come on, rise up, Azerbaijan!
This is what time is telling us,
This is what your ancestor
from his grave is telling us:
You, my brave spirit, I am with you!
I am with you, you with the gun, (2)
You with the pick ax; you with the pitchfork,
You, man of virtue, with fire,
I am with you!
I am with you - you, father of girls,
Where is your roar, where is your bellow?
Where is your sworn oath?
Or have you become one of those
Still sleeping, still flattering,
Perhaps, one of those without self-esteem?
Wipe your tears, son of this land,
Rise up now!
Look carefully at the horizon that now is your own,
Look carefully at the border that now is your own,
Look carefully at the perimeter of the border that is your own!
Come on, throttle the fear inside yourself,
Choose either "to be" or "not to be".
Come on, drive the hare out of yourself,
Come on, make a gray wolf (3) of yourself!
You, my only one, I am with you!
You, the delight of my eyes, I am with you,
You, my sweet dream, I am with you,
Knock me down off my word-horse,
Throw me under the tanks (4)
Crush me, smash me.
If my word-sword pierces no more,
Slash me, gash me.
Cast me under the tanks
Just to save a child in diapers,
Just to save thousands of you,
Thousands of me.
I am with you, miserable leader!
Your worker father, my worker father
Were not just speaking, but fighting in 1918! (5)
Wake us up, you, Great God, I am with you!
Either let us sleep forever
Or fashion us into a new creation!
You, Great God, I am with you!
I am with you, you, sleeping volcano,
I am with you!
Come on, rise up now, Azerbaijan,
I am with you!
Footnotes
1 Mohammad Hussein Shahriyar (1907-1987), beloved Azerbaijani poet who lived in Iran, revitalized Azeri in Iran as a literary language. He is especially remembered for his poem, "Heydar Baba, Salam" (Greetings to Heydar Baba), which refers to a mountain near Tabriz. Shahriyar mourned the tragic split of Azerbaijan into two parts - Northern Azerbaijan (now republic) and Southern Azerbaijan (now part of Iran), an agreement which took place between Iran and Russia in the early 1800s.

2 Gun, pick ax and pitchfork symbolize the working class.

3 The gray wolf symbolizes Turkism. Legend says that Oghuz (the father of the Turkic peoples) was rescued and raised by a wolf. The gray wolf is associated with bravery, fearlessness and courage.

4 Reference to January 19-20, 1990 (known as Black January) when Soviet tanks entered Baku and tried to crush the independence movement in Azerbaijan. Hundreds of civilians were killed - no one knows exactly how many.

5 The year 1918 marks the founding of the Democratic Republic of Azerbaijan (May 28). This fledgling government survived 23 months until April 28, 1920.
-----

The World Belongs to You
(Translated by Aytan Aliyeva)

The world belongs to you,
The world belongs to me
We are a pair of dice joined together in the game of fate,
We never get along although we've rolled together for hundreds of years.

Millions of people share this tiny light,
The world belongs to you,
The world belongs to me,
The world belongs to nobody.
If your stronghold of love goes off track,
Grab onto some hope and move along with it.
You hear the whispers of everyone: losers and winners,
The world belongs to you,
The world belongs to me,
The world belongs to nobody.
The world is a camel in this bazaar of comers and goers,
The world is the framework of life's destiny,
The infinite world laughs at Infinity itself,
The world belongs to you,
The world belongs to me,
The world belongs to nobody.
Hold on, glance around quickly,
Thousands of years, this is the same Araz, the same Hakari,6
The wheels of days and nights are the same,
The world belongs to you,
The world belongs to me,
The world belongs to nobody.

I laughed at this name, which sounds so amusing to me,
I laughed at this horse, which has been ridden by everybody,
I laughed at this chess game that I played with myself,
The world belongs to you,
The world belongs to me,
The world belongs to nobody.
Translated by Aytan Aliyeva
6. Araz and Hakari are major rivers. Araz separates Azerbaijan from Iran; Hakari flows through Lachin and the Gubadli regions around Nagorno Karabakh.
-----

If There Were No War
(Translated by Aynura Huseinova)

If there were no war,
We could construct a bridge between Earth and Mars
Melting weapons in an open-hearth furnace.
If there were no war,
The harvest of a thousand years could grow in one day.
Scientists could bring the moon and stars to Earth.
The eyes of the general also say:
"I would be chairman in a small village
If there were no war!"
If there were no war,
We could avoid untimely deaths,
Our hair would gray very late.
If there were no war,
We would face
Neither grief, nor parting.
If there were no war,
The bullet of mankind would be his word,
And the word of mankind would be love.
-----
Consolation
(Translated by Aynura Huseinova)

Comfort me in my difficult days,
I can do without food and water.
If you visit me as I draw my last breath,
Bring some hope in your eyes.
When you feel the last alarm,
You don't feel hunger for food or water,
Yes, at the last minute, at the last breath,
You long for consolation.


Back to Index AI 12.4 (Winter 2004)
AI Home | Search | Magazine Choice | Topics | AI Store | Contact us

Other Web sites created by Azerbaijan International
AZgallery.org | AZERI.org | HAJIBEYOV.com