Winter 2004 (12.4)
Pages 34-35

Disadvantaged children
Dreaming about Possibilities for their Future
by Leslie Harnish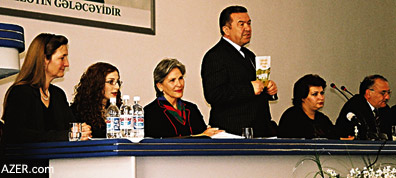 Above: Misir Mardanov, Azerbaijani Minister of Education, helped launch a book at International Public Awareness Day for Children with Disabilities (December 3) which will be given to all fourth grade school children. Leslie Harnish (third person from left), World Vision's Program Manager for Children (and the wife of the U.S. Ambassador) helped to launch this campaign.
We want to live... to live together with you... This was the message of the World Vision Public Awareness Campaign promoting integration of children with disabilities into every day society.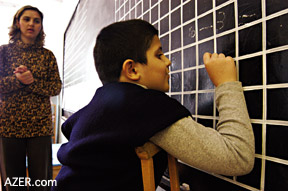 The International Day of Disabled Persons, December 3, was proclaimed by the United Nations General Assembly on October 14th 1992. The annual observance of the Day aims to increase awareness and understanding of dissability issues and trends, and to mobilize supportfor practical action at all levels, by, with and for persons with disabilities. In Baku, banners in Azeri language were hung across two busy streets to help bring awareness to this issue. It read: "We want to live, learn, love... together with you!" Celebrate the International Day of Disabled.

Public Awareness Day for Children with Disabilities was designated as December 3, 2004. The day began when the hosts of the popular TV talk show "Sabah" (Morning) spoke with Leslie Harnish, World Vision's Program Manager for Children (and wife of the U.S. Ambassador) and Almaz Ahmadova, Project Manger for Children with Disabilities. Together they addressed the issue of children's disabilities as it relates to the situation in Azerbaijan and how important it is to engage children with such conditions as Cerebral Palsy (some cases), Down Syndrome, autism, heart problems, brain trauma (which has caused mental delay), and club feet, in normal life and offer them educational opportunities so they can participate as much as possible in activities with other children.

At this stage, much of the thrust of World Vision's work is to create the vision for these children by challenging adults to believe in the future for their children. Videos featuring "Day of the Disabled" messages were flashed on six large advertising screens in pedestrian areas around Baku for a whole week. Three major TV stations showed a one-minute Public Service Announcement (PSA) by World Vision showing children with disabilities "participating in life". Banners with the same message were prominently displayed on two of Baku's busiest streets.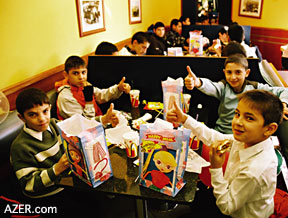 Left: After their parade through the center of town, the children went to McDonald's which treated them with Happy Meals.
Three local NGOs (non-governmental organizations) - part of World Vision's Children's Coalition - organized a parade for children from nine institutions and organizations. They gathered with their parents and walked together in downtown Baku. This was to demonstrate that such children have the right to live, smile and celebrate just like other children do. The parade ended at McDonald's at center of town where Maksud Mirzayev, Managing Director of McDonald's, treated 150 kids to "Happy Meals" hamburgers and refreshments. World Vision US donated crayons for all of the children. The children were thrilled to be at McDonalds. It was a huge treat for them, as many of their families could not afford to take them there. It was remarkable to see so many children with disabilities at Mc Donald's right alongside the usual customers.

A Book Launch also took place with the Minister of Education Misir Mardanov. The book, "Where Dreams Come True", by American author Linda Lee Ratto, features the story of a disabled little girl who can't walk. But with the love of her family, she becomes a very productive person in society and finds a way to invent a wheel chair. The book has been translated into Azeri so that every fourth grade school child in Azerbaijan can have a personal copy.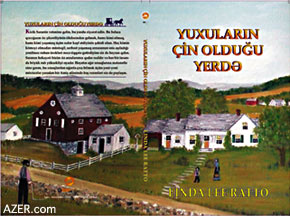 Left: Lindo Lee Rotto's book, "Where Dreams Come True" in Azeri.

There were also two exhibitions held that day which highlighted the talents of children with disabilities. These exhibitions - one, in an after-school activity center and the other in an orphanage - demonstrated how creative all children are, especially when given the chance to show their talents.

The after-school activity center director, Leyla Gaiti has made a big effort to invite children with disabilities into the center so they can engage in activity with normally developing children. "Giving children the opportunity to come together, to create and play together has proved to be very successful, and the parents and children are delighted for this new opportunity for the children to live life more fully," says Gaiti.

The director of the orphanage has invited normally developing children from a school on the same property to share craft and creative time together with children with disabilities.

Back to Index AI 12.4 (Winter 2004)
AI Home | Search | Magazine Choice | Topics | AI Store | Contact us

Other Web sites created by Azerbaijan International
AZgallery.org | AZERI.org | HAJIBEYOV.com