Winter 2004 (12.4)
Pages 78-83


Biking Adventures
Breathtaking Views, Steep Descents and Snarling Dogs
by Constance Page




What do bike addicts do when they move to Baku, Azerbaijan? You got it. They bring their bicycle toys. Generally, that means at least two bicycles per person - both a road bike and a mountain bike. It's hard to imagine Azerbaijan being at the top of lists for "must bike" locations in the world but, in truth, biking here is quite remarkable.

There's a group of cyclists, whose numbers are growing, who are driven by individual passion and enthusiasm to ride bikes, see interesting areas, discover new terrain where no person has ever biked before. They call themselves the Baku Bicycle Club or BBC. The initial group started with five riders - all from Alaska - Dominicinic Paisley, Neil McCleary, Lewis Westwick, Dave Calvin and Constance Page. They all arrived in Baku within six months of each other, bringing their love of biking and adventure with them. Their enthusiasm for the sport sparked the interest of other bicyclists who have since moved to Baku.

Back in September 2003, only a handful of cyclists used to show up for the weekly mountain bike rides. BBC members occasionally set up excursions via phone, text message or e-mail. Now the BBC list includes more than 50 cyclists - both expatriats and Azerbaijanis. Generally, e-mails are sent out mid-week announcing weather forecasts, options for weekend road and mountain bike rides, mid-week velodrome night activities, and key fundraising or other social events. Because the BBC has grown in size and range of skills, a second BBC group has already evolved. This new group, known as BBC2, generally navigates shorter rides and less technical routes.

Exploring Possibilities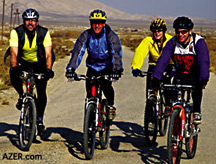 Left: Members of the Baku Bicycle Club: Dave Calvin, Neil McCleary, Constance Page and Dominic Paisley. Courtesy: Kris McCleary.
Dominic, Neil and Lewis started exploring forays in and around Baku. They call these jaunts the "urban assault rides". They soon discovered that the best time for a city ride is early Sunday morning when traffic is minimal, which decreases the risk of being hit by a wayward Lada or bus.

This is also an ideal time to ride on sidewalks as there are few people strolling around the city. The Boulevard in downtown Baku, which hugs the coastline, as well as villa neighborhoods to the southwest of Baku make great itineraries.

Mountain bikes are best for urban assault riding because they can handle the curb drops, cobblestones and bumpy road surfaces. Some riders, who have more expertise, like to show off their technical skills on the narrow sidewalk dividers (10-12 inches wide and 12-14 inches high) or do balance jumping up steps. The less gymnastic of us riders watch and hold our breaths in amazement and trepidation, waiting to pick up fallen riders and bike parts. Fortunately, it rarely happens.

Mountain Riding


| | |
| --- | --- |
| | |

Above: 1. Constance Page riding in Gobustan region where there are petroglyphs and caves.
2. Off the beaten track, trying to find a trail in a field of boulders in the Gobustan area. Dominic Paisley above, Dave Calvin lifting bikes.

Just south of the residential area known as Stone Pey is a great place for mountain biking. Steep downhill descents fan out through forested pines and slopes where sheep and cattle graze. After you cross over the train tracks and pass a reservoir, you'll soon find yourself surrounded by canyons with numerable ridgelines. Follow the oil rig access roads, which lead into military tracks and sheep trails and you'll discover uphill climbs, downhill rapid descents - something for everybody - ranging from easy to difficult technical biking.
On a clear day at Stone Pey, the views overlooking the Caspian are breathtaking.

We've nicknamed one of our favorite downhill ridges "Spaghetti Road". From a distance, this section of multiple narrow trails looks like someone threw a handful of spaghetti noodles in the air, which landed in such a way that the trails that bikers have to navigate circumvent holes, rocks, sand, thorny bushes and even scrap metal.

Gobustan




Above: 1. Shemakha region, northwest of Baku. 2. Gobustan region. 3. Venomous snake
called "Gurza" in Azeri (Levantine viper).

Another favorite mountain biking area is Gobustan, famous for petroglyphs that date back more than 5,000 years. Gobustan is about a 45-minute ride southwest of Baku. The region offers a variety of terrain and numerous challenges for technical riding. Matt Kissinger, another Alaskan transplant, gave the name "Off Ramp" to one of the favorite trails. It's a heart-thumping single track that winds down a steep slope of rock and dirt.

A longer, more grueling ride near Gobustan is the ride up to one of the large inactive mud volcanoes. The 360-degree view from the top is spectacular. The uphill climb is difficult and at times requires both walking and pushing the bike, but it's well worth it, just for the fast thrill of flying downhill.

Baku's Velodrome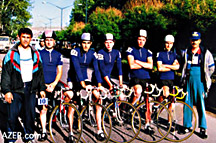 Left: Azerbaijan's National Cycling Team.

Road bikers have also discovered some great places to ride, including the Baku Velodrome and several side roads near the Heydar Aliyev International Airport. The Baku Velodrome is located next to the main station for buses heading to Sumgayit.

Built in 1980, the Velodrome is in remarkably good condition, the Velodrome complex is surprisingly large with more than 50 shops, a full gym, an indoor soccer pitch, a small lap swimming pool, 15-20 bike repair shops plus a hotel and restaurant.

Anna Gladchenko, General Secretary of the Velosport Federation, says that during Soviet times only five standard cycle tracks existed in the entire Soviet Union - Moscow, Alma-Ata (Kazakhstan), Yerevan (Armenia), Tbilisi (Georgia) and Baku. A few major international competitions were hosted in Baku prior to the collapse of the Soviet Union.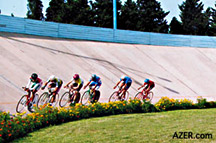 Left: The Velodrome in Baku. Courtesy: Velodrome Federation.

Gladchenko said there are three senior bike trainers in Azerbaijan: Vitaliy Gladchenko, Elchin Gahramanov, who specializes in road biking, and Alexander Likhachev for track. In 2004 Mammad Alakbarov took 17th place in the European championship in Valencia, Spain. Also during that year, Baku's National Bike Team competed in China for the World Championship.

In November 2004, Baku Bike Club got involved with a project to contribute something significant for the biking community here in Azerbaijan. They decided to install lights in the Velodrome. Through hard work and persistent negotiation, Neil McCleary (BP) and Gordon Phillips (McDermott) organized the project. Now bikers can use the Velodrome at night. It's been years since this was possible. The BBC members, who use the Velodrome pay a user's fee which helps offset the electrical bills.

Road Bikes

The roads near the airport provide a relatively good place to bike with "skinny tires", another name for road bikes. Again, Sunday morning is best. It's not unusual to meet Azerbaijani road riders and sometimes team up with them. One Azerbaijani rider that we frequently bike with is "Hard Hat Ivan". He's a senior cyclist who has outfitted his 20-year old road bike with a repair kit, snack bag, a "get-out-of-the-way-horn" on his bike. He is one of the few riders that we've seen who uses a helmet-and, up until recently - it was an ordinary construction hard hat. Now he sports an up-to-date helmet given to him by a BBC member. Somehow using a mix of Russian and English, "Ivan" has managed to warn us of areas where there could be threatening dogs. He has also suggested how we can minimize headwinds, which can get rather strong around Baku.

BBC has also organized several forays outside of Baku to well-known places like Cloud Catcher Canyon, Chirag Castle, Five Fingers (Besh Barmag), Candy Cane Mountain and the villages high in the Caucasus such as Khinalig and Lahij. As these trips are a bit distant from Baku, they require making preparations to camp overnight. Several of the riders have installed bike racks on top of their Sport Utility Vehicles (SUVs), which can carry up to four bikes per vehicle.

Below: 1. Shemakha region, northwest of Baku. 2. Bikers overlooking the Caspian plains and sea. Courtesy: Kris McCleary.

The SUVs carry bike gear and spare parts and are indespensible for crossing rivers that are too deep and too turbulent for bikers. There have been times that the rivers were almost too high for the SUVs to pass as well.
On such trips, the camping and the chance to meet Azerbaijanis in the countryside is as memorable and meaningful as riding bikes. Generally, the local residents are very curious when they see a caravan of SUVs trailing behind a group of brightly colored, lycra-clad bicyclists. Since we often share our camping site with grazing herds of sheep and cattle, the curious herders and village children usually gather around while we set up camp. We sometimes bring soccer balls, pencils and tablets to pass along to the children.

While biking on the narrow cobblestone streets of Lahij, we have frequently been invited into courtyards and homes for "chai (tea) and chat." Despite the language barriers, Azerbaijanis are adept at making foreigners feel immensely welcome.

The best season for biking outside of Baku is between spring and early fall. By then the snow has melted and the ground is usually dry. In summer, the higher elevations offer cooler weather with steep inclines of between 7 and 12 percent slopes.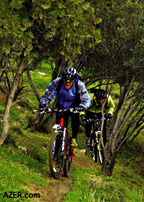 Left: Riders in the woods. Neil McCleary, front; Andy Buckworth, rear. Courtesy: Kris McCleary.

And, of course, "when you go up, ya gotta come down" - as we say. Descending on narrow rocky paths is not always as easy as it might seem. While riding down from Cloud Catcher Canyon, Dominic Paisley, one of the strongest and best technical riders in BBC, had to use his brakes so much that the the friction against the brake pads heated up the wheel rim to such a degree that the tire tube actually burst.

Fortunately, he had stopped and was waiting for others to catch up with him when the tire exploded.

Many adults as well as children have bicycles in Baku; however, much of their equipment is in various states of disrepair with malfunctioning brakes, loose handlebars and missing parts. Experienced bikers know how unsafe and how risky such bikes can be.

In mid-May 2004, Dominic Paisley (BP) organized a BBC-sponsored Community Bike Repair Festival. Several of the BBC members are very skilled at bike repair so they volunteered a full day for people to bring in their bikes for a check-up or repair. For some, it meant simply pumping up tires and making minor brake adjustment. For others, it meant finding ways to fix bent and twisted gears and broken shocks. More than 40 bikes were repaired that day, enabling the BBC to raise more than $300 in donations to help pay for the Baku Velodrome lighting system.

Snarling dogs
The adrenalin rush brought on by a long steep rocky downhill ride is one way to get your heart pumping. Sheep dogs and urban wild dogs are another. Whether biking on the back roads of Baku or the outer hills of Five Fingers and Gobustan, the sound of vicious dogs barking always arouses serious alarm for riders. The local dogs, protecting home or herd, are extremely aggressive and intimidating.

Riders have often been chased by dogs. Several of them have even been nipped by the vicious critters. There's a number of ways that the bikers have learned to defend themselves, including carrying wooden clubs, using "dog dazers" which generate a high frequency pitch that can only be perceived by dogs and makes them back off (sometimes, that is), or using bear spray (reminiscent of long-gone days living in Alaska), ammonia spray bottles, and shark sticks. No technique is foolproof; each has its strengths and weaknesses.

Snakes
And then there is the issue of snakes. Several types of snakes have been seen - both poisonous and non-poisonous types. The most common venomous snake that we've come across is one called Gurza in Azeri and Levantine viper in English (Vipera Lebetina). Rather thick in diameter, this snake can grow to a length of 160 cm. Its head is large, triangular and covered with small scales. Its coloration is light brown to dark gray with large spots on its back and smaller spots on its sides, which are rather pale on its belly.

They say that a bite from the Gurza leads to swelling, pain and can cause blood clots which can lead to death. Fortunately, no one has ever been bitten.

Stealth Wire
Another hazard that we've learned to watch out for is what we call "stealth wire". These are bits and coils of thin, nearly invisible wire lying around on the trails and terrain that we frequently bike. If they get caught up in the bike gears, the rider can easily be thrown and the bike gears and brakes destroyed. The farther you venture from Baku, the less frequently you're likely to encounter wire, metal and trash. Deserted buildings, bunkers, equipment and other construction or military debris have been found in some of the most remote areas imaginable. They all provide a painful reminder of the environmental damage that was done in the past and which must still be cleaned up.

Weather hazards
The seasonal changes in Azerbaijan also bring unique challenges for bikers. In fall and winter, rain and mud can quickly bring a halt to anyone who values life and limb. Normally, rain and mud would not put a stop to biking for avid mountain bikers, but in Azerbaijan, the mud or muck is like a combination of slippery slime and slow setting cement. When it rains, it's almost impossible to get good traction, even with the best mountain bike treads. Once the mud "sets up" on bike shoes and gears, wheels and frame, it hardens and has to be chipped off.

Road bikers don't fair well in rain either. Because of the high oil content in road construction material and the immense traffic, roads become like "oil slicks". Even a light drizzle or dew can make riding extremely treacherous. "It's like biking on a sheet of ice," said Sheila Spence, who took a nasty fall in the rain not so long ago.

The adventures of cycling in Azerbaijan are enormous. There's so much to explore around Baku and along the steep trails of the Caucasus foothills and mountains. Baku Bicycling Club is open to anyone with a bike, a keen interest in riding, and a sense of adventure. In reality, this group of friends is much more than just a bike club.

It provides a sense of community and the chance to build deep friendships. As Neil McCleary says, "It's all part of the fun, which ties us together as we propell ourselves around on a two-wheeled contraption invented nearly 200 years ago."

Constance Page, a health consultant working for International Medical Corps and her husband Dave Calvin (BP) moved from Alaska to Baku in 2003. Along with the two college-age children, they have been avid mountain and road biking since 1995. For further information about the Baku Bicycling Club, visit www.bakubicycleclub.com.


Back to Index AI 12.4 (Winter 2004)
AI Home | Search | Magazine Choice | Topics | AI Store | Contact us

Other Web sites created by Azerbaijan International
AZgallery.org | AZERI.org | HAJIBEYOV.com