Winter 2004 (12.4)

Best Story of 2004
Light in the Darkness: A Portrait of Faig Karimov
by Shahnaz Beylargizi Huseinova




On December 15, 2004, RFE/RL (Radio Free Europe / Radio Liberty) bestowed their highest broadcasting honor on the Azerbaijani section for producing the "Best Success Story of 2004". The winning feature was prepared by Shahnaz Beylargizi Huseinova who interviewed Faig Karimov, a young Azerbaijani soldier, who had become blind from injuries during the Karabakh war in the early 1990s. Faig's gradual awareness that he would never see again devastated both him and his family. Finally, after years of struggle, he learned to harness an enormous inner strength and do something extraordinary with his life. He chose to master the English language. Today, after years of hard work, Faig is one of the most sought - after teachers at Azerbaijan State University of Languages in Baku.

The staff at Radio Liberty got the idea to feature Faig Karimov from reading an article in the Winter 2003 (AI 11.4) issue of Azerbaijan International magazine: "In Search of Inner Light: Turning Tragedy into Triumph. The Story of Faig Karimov". Search at AZER.com.

Once a year, RFE/RL organizes this competition for Best Story among its 28 language services that broadcast programs to Europe, former Soviet Union, Central Asia, and the Middle East. Each year a different topic is chosen. This year the jury of broadcast managers selected five stories from among the 22 that were submitted. In turn, these chosen few were placed on RFE/RL Intranet, in English translation, accompanied by a recording of the original report (in this case, Azeri) so that the various aspects of presentation, style, and music mix could be evaluated by more than 1,000 staff of RFE/RL. The other top four contenders for this year's prize were South Slavic and Albanian, Georgian, Kyrgyz, and News and Current Affairs.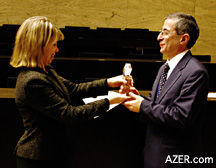 Left: RFE/RL Director of Broadcasting Michele DuBach presenting "Best Success Story of 2004" award to Abbas Javadi, Director of Radio Liberty, Azerbaijan Section.
This is the first time that the Azeri Service has ever won this prestigious award. Much of the credit goes to Abbas Javadi, director of the Azerbaijani team, who coordinates the work between Baku and his office in Prague, Czech Republic. RFE/RL is a U.S.government-funded international broadcasting company that provides in-depth news about events and political currents in the former Soviet Republics, Russia, including the Caucasus and Central Asia, as well as Afghanistan, Iran, and Iraq.

Programs are broadcasted in 28 languages: Albanian (to Kosovo), Arabic (Radio Free Iraq), Armenian, Avar, Azerbaijani, Bashkir, Belarusian, Bosnian, Chechen, Circassian, Crimean Tatar, Croatian (within the Southern Slavic regional program), Dari, Georgian, Kazakh, Kurdish, Kyrgyz, Macedonian, Moldova (Romanian), Pashto, Persian (Radio Farda), Romanian, Russian, Serbian, Tajik, Tatar, Turkmen, Ukrainian, and Uzbek.

RFE/RL broadcasts nearly 1,000 hours of programming each week from its broadcast center in Prague. RFE/RL's corporate headquarters are located in Washington, DC.




RFE/RL programs can be heard on shortwave frequencies by listeners across its entire broadcast region. Since 1996, RFE/RL has also built a network of more than 210 affiliate partner organizations and 590 transmitter sites that relay programs on the AM and FM bands in these 12 time zones. Visit: RFERL.org. The programs of RFE/RL's Azerbaijani Service (Azadlig Radiosu) are broadcast on FM, AM, and shortwave. Visit Azadliq.org.
Here is the winning broadcast transcript about Faig Karimov, which originally aired in Azeri in October 2004.


RFE/RL Story of the Year - 2004
Light in the Darkness

Artillery sound.

Faig: When I woke up, I was shocked. I kept thinking: "What if I completely lose my vision?"...

Shahnaz Beylargizi of Azadlig Radiosu (Radio Liberty): War not only disables people physically but it effects them psychologically as well. But there are people who rise up from wars and their ruins, both physically and psychologically. And the thing that helps them survive is the light inside them. Our hero today, Faig Karimov, lost his sight in the Karabakh war, leaving him longing for the world light, but he has not lost his internal light...

Faig: The war was extremely intense, but it couldn't kill my drive for reading - for literature. There was a village close to Sadarak (Nakhchivan). It had been totally destroyed. The houses had all been abandoned. The only things that interested me in those houses were the books. I gathered as many as I could and rescued them. The war - regardless of how intense and destructive - can't extinguish the voice inside you, nor the will that you feel inside yourself...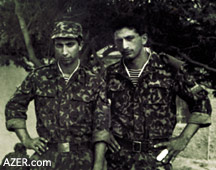 Left: Faig Karimov (left) in the army in the early 1990s fighting in the Karabakh War.

Radio: But one day everything changed in Faig Karimov's life. He was wounded in the war and lost his vision...

Faig: And when I woke up, everything was dark. A feeling of terror tore through my mind: "What if I lose my sight?"... I can't imagine anybody plunging into complete darkness and being able to deal with it calmly.

Radio: He went to the best hospitals in Azerbaijan, Russia and even Germany. But he didn't get the answer he wanted and with the final diagnosis from the doctors, he faced the tough reality...

Faig: I kept telling myself that first I would get treated and when my vision would be restored, I would continue my studies. But Germany drew a red line through all of this.

Radio: His friend Akif says he couldn't find any words to calm Faig when he became depressed.

Akif: He was just sitting at home with nothing to do. And I wanted him to go out without being ashamed...

Radio: And his mother Bahar Khanim (Mrs. Bahar) says she was unable to convince him to go out...

Mother Bahar: Those were very difficult days. It's impossible to describe them in words. But, well, what can I say? Thank God...

Radio: Now, when he no longer could read books, Faig got interested in listening to the radio... (sound of radio) and started to listen to numerous radio programs in English and to learn English. He asked help from his mother Bahar Khanim who is an English teacher.

Faig: I asked my mother to read the grammar. I recorded her on cassettes and started to learn. Oh, that was a very difficult process. Me - who was so used to seeing and reading and memorizing now only had the possibility of listening in order to memorize...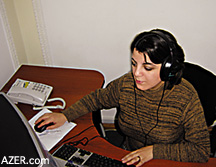 Left: Shahnaz Huseinova at work in Radio Liberty, Azerbaijan Section. Shahnaz created the story that won RFE/RL "Best Story of the Year".

Mother Bahar: I could never have dreamed that he would become a teacher. In the beginning, he used to say that he didn't want to go to college. He would say: "It's not my destiny to study. So I won't study." We gradually started to speak about it at home. And he was quite demanding.

He wasn't just studying the regular subjects other students studied. He was reading and studying far more than that...

Radio: The desire to learn a foreign language became a turning point in his life and helped him to start to think about using this foreign language to return to the society from which he felt so isolated... And, thinking this way, he submitted his documents to the Faculty of Translation at the State University of Languages.

Sound of students
Radio: And so, "Home-Bound Faig" became "Faig, the Student", and then later "Faig, the Teacher". The crowded hallways of the university, the classrooms pulled him out of his darkened life.

Bell ringing.

Faig in the classroom. In English: "Okay, now, please, let's begin our lesson. First of all, some discussion, please. Who is going to give answers to what is the important and fresh news... Okay, you're welcome... " (students speak).

Radio: He won the sympathy of the students not only through superbly organized lessons, but also by removing the barrier between himself and the students. Maxim, one of his students, says that it was exactly Faig's warm, sincere relationship that made him never cut Faig's classes...

Student Maxim: There is no lesson that I have not played hooky from, but I have never cut Teacher Faig's lessons. Never! Because he conducts the lessons in such a charming and interesting way...

Radio: Faig is now out of the "black hole." He teaches at Azerbaijan's State University of Languages. He married last year. Recently, daughter Fidan was born...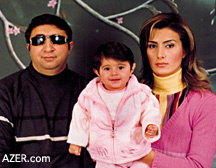 Left: Faig Karimov, blinded as a young soldier, now teaches English at the University of Languages in Baku. His life store was chosen as "Best Story of the Year - 2004" for its inspirational value by Radio Free Europe/Radio Liberty. His wife Aygun and daughter Fidan, 10 months old.

Faig: (Talking to his daughter while leaving home for the university): Fidan... (baby laughs).
Wife Aygun: Have a nice drive, Faig...

Faig: Did you put my books in my bag?
Wife Aygun: Yes, I did.

Faig: Thanks. I'm going to school. Daddy is going to school, but he'll come back soon...

Radio: Faig happened to meet Aygun, a biologist by profession, quite accidentally...

Wife Aygun: He sees through the eyes of his heart. When we first met, I'll admit I wasn't very sure about all this. But the more I thought about it, the more I understood that it would be fine to create a family with him.

When we go to parties, I see that everybody is focused on him. Everybody tries to approach and talk to him...

Faig: I think my wife has demonstrated an enormous amount of courage. It's not very difficult for two people to love each other, is it? The problem lies with the reaction of people around you.

Wife Aygun: Naturally, there were concerns in my family. They didn't want it in the beginning.

Faig: What is family? It is a mini state. I consider myself having my own state now. It's the right thing. I studied and became a teacher. But as long as I had no family, this isolation somehow continued. But now I feel myself fully integrated as part of society - as if I can be the same, normal person just like I used to be...

Radio: And this is the end of one chapter of Faig's life. But who can say that this is an end to his wishes? Faig still wants to see the noisy world around him.

Faig: I have the feeling that there will come a day when modern medicine will help me to see the light of the world again. It is my greatest wish to see my baby, my parents who have suffered so much for me, getting gray hair and to see what is going on all around me...(baby laughs).

Wife Aygun: Go to daddy. Faig?

Faig: Come to me (baby laughs). It is my wish to see the wonderful, bright faces of people, their shining eyes.

Who knows? If God wills...

Radio: For Azadlig Radiosu, this is Shahnaz Beylargizi. Baku.


Back to Index AI 12.4 (Winter 2004)
AI Home | Search | Magazine Choice | Topics | AI Store | Contact us

Other Web sites created by Azerbaijan International
AZgallery.org | AZERI.org | HAJIBEYOV.com