Autumn 2002 (10.3)
Page 19

Newsmakers
Preserving Adoption Memories
by Kathleen Shryock
Other articles related to Azerbaijan Adoptions and Orphanages in Azerbaijan
A Home for Inara - Azerbaijan's First Adoption
Guidelines - Adopting a Child from Azerbaijan
AzerbaijanAdopt ListServ
British Airways Adopts Orphanage
Saving the Children: Mobil Undertakes Orphanage Project
Children's Games Build Bridges: International Women's Club Reaches Out




When my brother and I were adopted in the 1960s, we were fortunate to have parents who discussed adoption with us at an early age. I can't remember a time when I didn't know that I was adopted, and this made the idea of adoption seem very normal for me. But when I was growing up, information about adoptions, in general, was very guarded. While my "real" parents were there to provide love and support through all of my joys and heartaches, I realize that knowing where you come from is also an important part of defining who you are.

In 2001, when my husband, Jim, and I adopted Rachel and Lucas in Azerbaijan, we wanted to make sure that they knew about their roots. To commemorate the event, we put together personalized storybooks and journals - keepsakes that tell the story of how we became a family.

In our children's storybooks and journals, I posted their referral photographs - the first pictures we received of them. I also included pictures of our first meeting with them, their caretakers, their doctor, our Azeri coordinator and agent as well as photos of the orphanage and other buildings in Baku. Now, when my daughter looks through her own special book, she points to the photos of the people in Baku and says, "Friends!" How wise she is already at the age of three.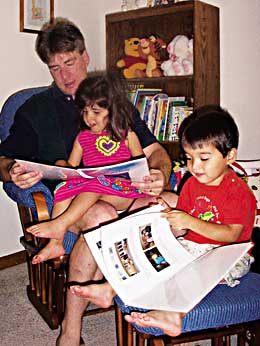 The storybooks were written for several reasons. We wanted to celebrate our children's heritage and help them stay connected to their roots. We wanted to introduce their adoption stories to them in simple terms, at a young age. In this way, we hope this will help them feel comfortable about discussing their adoption stories with us as they grow older. We also wanted them to understand how much we love them and how happy we are that they are such a special and important part of our family.

I would like to stress that we are extremely proud of our children and their heritage, and we hope to maintain connections with other families who have children from Azerbaijan. That being said, these books were created especially for Rachel and Lucas. Our children own their stories. We have learned that the private details of their history belong only to them.
______
Kathleen, Jim, Rachel and Lucas Shryock live in Kansas. They celebrate their "Family Day" on January 31. Both Rachel and Lucas turned three this past summer.

Back to Index AI 10.3 (Autumn 2002)
Copyright Azerbaijan International.
AI Home | Search | Magazine Choice | Topics | AI Store | Contact us

Other Web sites created by Azerbaijan International
AZgallery.org | AZERI.org | HAJIBEYOV.com