Autumn 2002 (10.3)
Pages 64-67

Millions of Threads
The Portrait Carpets of Kamil Aliyev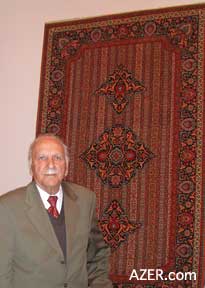 Sooner or later, we all face a common gift-giving dilemma: what do you give to the person who already has everything? No doubt, presidents face this dilemma more often than many of the rest of us, certainly every time they make official state visits to meet other world leaders. In many cases, President Aliyev turns to a personalized memento that vividly and unmistakenly represents Azerbaijan - a portrait carpet.

Left: Kamil Aliyev in his office at the AzerCarpet Production Creation Union.

Artist Kamil Aliyev (1921- ), director of the AzerCarpet Production Creation Union, has been designing and crafting portrait carpets for nearly 45 years. He has created portraits of dozens of public figures, including former U.S. President Bill Clinton, Russian President Vladimir Putin, Turkish President Demirel, and India's Indira Gandhi. Each portrait's elaborate ornaments - birds, flowers or more abstract designs - are usually based on traditional Azerbaijani carpet motifs.

"This is pure Azerbaijani art," Kamil says about his carpets. "The designs reflect a precious heritage that goes back hundreds of years." Here he explains the complicated, painstaking process that goes into creating these one-of-a-kind carpet portraits.
______
Weaving a portrait carpet is very difficult. With about a million threads to keep track of, it can be tricky to get the features of the face correct and still suggest the personality of the person. It's especially difficult to get the eyes just right. On the other hand, it's relatively easy to make portraits of people who lived hundreds of years ago because no one knows what they really looked like.

Being able to look at thousands and thousands of threads takes an enormous amount of concentration and patience. The color, composition and weaving of the ornaments must all be correct. If every ornament is woven correctly, then the carpet will be beautiful in itself.

Early Start
I think I was always interested in carpet weaving. At first, I learned about weaving carpets from my mother and my grandmother. At that time, there wasn't a carpet faculty at the Artists' Technical School, although there was a general artist's faculty. So in 1938, while I was studying in the Technical School, I began working as an artist at the Azerkhalcha Istehsalat Yaradijiliq Birliyi (AzerCarpet Production Creation Union) in order to learn more about carpet art.
Above: (from left to right) 14th-century Azerbaijani poet Nasimi, Vladimir Lenin who led the Bolshevik Revolution that resulted in the establishment of the USSR, writer, reformer and playwright Mirza Fatali Akhundov (1812-1878), Former Prime Minister of India Indira Gandhi, President Heydar Aliyev, Russian President Vladimir Putin.

I worked there for three years, and then I was sent off to fight in World War II. I didn't return until 1946, after being stationed with the Soviet occupying troops in Berlin. During the war, we didn't fight for Azerbaijan or Ukraine or any other country. We fought for the USSR, which we considered to be our Motherland. We were told that fascism was a "disease" that could infect the entire world. It was so difficult to fight in the war for six years; I was wounded several times. So many of our guys didn't make it home.

After returning home from the war, I starting working at one of the art studios. I gained a lot of experience there and learned how to make portraits. Whatever I drew seemed to turn out well. Before I went to the war, I was only familiar with carpet art-I didn't know how to make portraits. But soon I became the only specialist in Azerbaijan who could draw portraits and who knew the technology of weaving carpets.
Above: (left) Carpet portrait of President Bill Clinton and First Lady Hilary Clinton woven as a gift on the occasion of President Aliyev's official visit to the United States in 1997.

Right: Turkish President Demirel.

I didn't go to school to learn about carpet - my school was the great carpet master Latif Karimov (1906-1991). He was like a fount of Azerbaijani carpet culture. Karimov was from Iran and came to Azerbaijan in the 1930s. He wrote several books on carpets, classifying them into 144 different categories and separating the designs of Azerbaijani, Georgian and Armenian carpets according to their motifs [Ganja-Kazakh, Guba-Shirvan, Karabakh, and Tabriz typologies]. My first portrait carpet was the one I did of the poet Fuzuli in 1958 to commemorate his 400th Jubilee. I got the idea after seeing some of the older Iranian carpets that featured portraits of shahs. I chose Fuzuli because he was a famous, respected poet throughout the Islamic and Turkish world. I also liked the fact that all of his ghazals [a type of Eastern poem] are about love and beauty. He considered love to be the most valuable gift or blessing for the people of the world. With this in mind, I decided to portray Fuzuli with flowers and nightingales. I've created dozens of other carpet portraits since then. Some of them are of writers, such as Nizami [12th-century poet], Nasimi [14th-century poet], Mirza Fatali Akhundov [19th-century Azerbaijani writer and alphabet reformer], Pushkin [Russian poet], and Shota Rustaveli [Georgian writer]. I also did portraits of various Soviet leaders, including Khrushchev, Brezhnev and Putin.

In 1987, I held an exhibition in India. There's a big carpet school in India, so I wanted to show them our carpet weaving technology, the traditions we have in Azerbaijan and the beauty of our carpets. I did this by creating portraits of their famous people, such as Indira Gandhi and Rabindranath Tagore [Indian writer, winner of the 1913 Nobel Prize for Literature]. When I took those carpets to India, the people waited in long queues to see the portraits.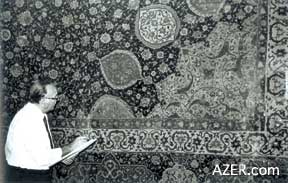 I've also made several carpets of Heydar Aliyev, including the one for his 75th Jubilee in 1997. Right now I'm starting to design the one for his 80th Jubilee, which will take place in May 2003.

Left: Kamil in London viewing the famous gigantic Shah Safi carpet (1539-1541) on display at the Victoria and Albert Museum which covers an entire wall (10.97 x 5.37 meters). The Shah Safi carpet (or what has become known as the Ardabil Carpet) is based on the Tabriz school of carpet weaving, and is considered to be one of the finest in the world.

Another carpet shows Bill Clinton and his wife, Hilary; it is the only such double portrait carpet among all my works. In 1997, Heydar Aliyev asked me to find a way to create a carpet with both of their portraits. Actually, we created this carpet before the Monica Lewinsky scandal broke out. President Aliyev wanted to present it as a gift during his official visit to the United States in 1997. After a lot of thought, I decided to put both of their portraits inside a heart. [Read more at "State Visits, State Gifts: Memorializing the Clintons in Carpets" in AI 5.3 (Autumn 1997).]

The first stage in preparing any portrait carpet is to come up with the design. To do this, I prepare a sketch that designates all of the technical features, such as the thickness, number and color of the loops as well as the length and width of the full carpet. After the sketch is ready, it has to be enlarged to match the size of the carpet.

Everything has to make a cohesive whole: the choice of colors, the ornaments, the person's clothes, the face, everything. For instance, when I did Ataturk's portrait, I noticed that his other portraits showed him wearing a khaki uniform, but that reminded me of German uniforms in the war. I didn't want him to look like that, so I put him in a white uniform.
Above Left: Study for portrait of Fuzuli
Right: Carpet portrait of Azerbaijani poet Fuzuli, created on the occasion of his 400th Jubilee (1958)

Next, I transfer the features shown in the sketch into technical loops, including details like the eyes, eyebrows and hair. Every loop has its own color. I choose these threads and colors according to the sketch that I have made. In fact, I even dye the wool myself. Otherwise, I can't get the exact color that I want.

Usually, I don't physically do the weaving myself but I sit next to the carpet makers to make sure they're doing everything right. If there's a mistake, the weavers must go back, undo the knots and weave the pattern again. Also, by being involved while the carpet is being woven, if I don't like the color of a certain loop, I can easily change it. Depending on the width of the carpet, there may be three, five or even seven people engaged in the weaving process. However, only one person is assigned to do the actual portrait. In the face, there are 50-60 colored loops to keep track of, so only the person who began the process can continue it.

One of the greatest difficulties in making carpets in Azerbaijan today is the sales tax that the government imposes. We have trouble selling our carpets because they are very expensive. We have to charge 18 percent tax on each one. Meanwhile, the Pakistanis copy our patterns and sell their carpets at half the price. They don't have to pay tax on carpets there. This is why it's so difficult for a carpet maker to make a decent salary in Azerbaijan.

I've enjoyed my life's work but I'm afraid that after me, the tradition of making these portrait carpets will die. It seems there is no one in Azerbaijan right now who can carry on my legacy. Today's youth who graduate from the carpet institute aren't trained to draw portraits.

After all, it's very difficult to be a carpet artist. You have to look at thousands of loops, one by one, which can be very damaging to the eyes. Not every person has the patience for this kind of work. In my opinion, it's not possible to develop into a good carpet artist. This talent is a gift from God that is bestowed upon a chosen few.
____
Back to Index AI 10.3 (Autumn 2002)
AI Home | Search | Magazine Choice | Topics | AI Store | Contact us

Other Web sites created by Azerbaijan International
AZgallery.org | AZERI.org | HAJIBEYOV.com