Summer 2000 (8.2)
Pages 10-11
Reader's Forum
Azeri Refugees Left Out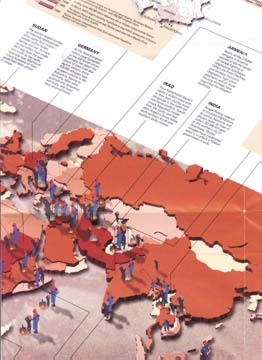 Editor's Note: In February 2000, National Geographic (known for its monthly publication runs of 10 million copies), included a map insert showing various regions of the world that have refugees, asylum seekers and internally displaced persons (IDPs). The map also highlights specific regions of the world such as East Timor, Angola, Guatemala and Armenia. No mention is made of Azerbaijan, even though this small country has close to 1 million refugees displaced within their own territory (IDPs) as a result from the war with Armenians.

Photo: Recent map insert into National Geographic that totally left out any mention of the nearly 1 million refugees in Azerbaijan.

In the Caspian region, the map highlights Armenia with the following quote: "Nearly all the 229,000 refugees in Armenia poured across the border to escape fighting in neighboring Azerbaijan. Others are from Chechnya and Georgia. Economic stagnation, high unemployment, and an acute housing shortage have magnified the refugees' hardships."

Here we publish a letter that one reader wrote to National Geographic to refute the misinformation in totally ignoring the Azerbaijan situation where the ratio of refugees to the greater population is one out of every eight persons, making it one of the highest refugee ratios in the world.

Dear National Geographic Magazine,
I refer to your map supplement in the February 2000 issue: "Plight of the Refugees." You state: "229,000 refugees in Armenia poured across the border to escape fighting in neighboring Azerbaijan."

This information is very incorrect and very misleading. Approximately 20 percent of Azerbaijan is currently occupied by Armenia, a conflict that could be described overall as suspended just as your map states, with ongoing peace talks between the presidents of both Armenia and Azerbaijan.

Much of the dispute centers around Nagorno-Karabagh, but there are other very significant factors, such as Russia's interference, that your view fails to address. Many, many people have lost their lives - particularly from Azerbaijan. There are hundreds of thousands of Azeri refugees, many of which have been living in tents for nearly a decade, displaced from their own lands in Nagorno-Karabagh and occupied western Azerbaijan. The U.S. government has sent significant aid to Armenia [more than 1 billion] while denying Azerbaijan even the most rudimentary aid programs [because of Section 907 restrictions to the Freedom Support Act passed in Congress in 1992].

If you require further information on this subject, I would be happy to provide many sources.

Colin Mackay
Glasgow, Scotland

From Azerbaijan International (8.2) Summer 2000.
© Azerbaijan International 2000. All rights reserved.
Back to Reader's Forum
Back to Index AI 8.2 (Summer 2000)
AI Home | Magazine Choice | Topics | Store | Contact us