Summer 2000 (8.2)
Pages 62-63
Old-Fashioned Luxury
Relaxing at the Fantasia Bathhouse and Tearoom

by Marjan Abadi and Farida Sadikhova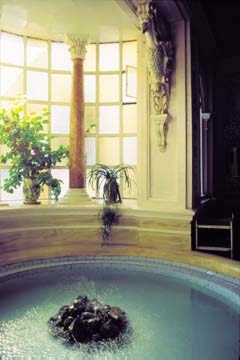 The Fantasia Bathhouse, built in 1887 during the Oil Boom, has been in operation for more than 100 years. It's not just a historic bathhouse that's still open to the public; it also has a tearoom where you can sit with friends and enjoy a cup of black or herbal tea. But don't expect many commercial amenities - that's part of its charm. Fantasia still has a very folksy, one-of-a-kind atmosphere.

When you pay a visit, don't be put off by the gray outside walls of the building. Since sandblasters haven't hit this building yet, it's easy to walk right by it. But inside, it really lives up to its name - Fantasia!

Left: The ornamental pool in the teahouse of the Fantasia bath house.

_____
Bathhouse
Many of the Fantasia's 26 baths feature showers decorated with antique tile; others have antique marble. The bathhouse is very private, as it only attracts 10 to 15 people a day. During the Soviet period, there used to be a line of people waiting outside before the bathhouse opened each morning. Today, however, most Azerbaijanis cannot afford this luxury.

In the courtyard behind the bathhouse is the well that supplies the water for bathhouse. In an adjacent building is the heating plant where huge tanks filled with the water are heated with gas or sometimes mazut (black oil).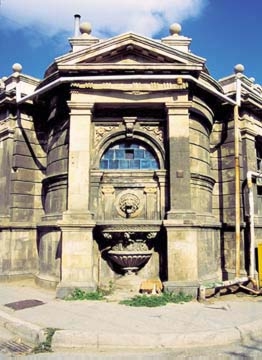 Some of the more luxurious baths in Fantasia have three rooms: one where you undress and hang your clothes up on the wall, another where you can sit and have tea at a small table and a third with a large shower as well as a sauna. You can hire a masseuse as well. It's more expensive to rent this set of rooms (30,000 manats per hour, about $8), but where else can you have your own private spa?

Left: Lion head fountain outside.

If you plan to visit Fantasia, keep in mind that the bathhouse has a rule about coed showering. Any couple that wants to bathe in the same room has to prove that they are husband and wife - with a marriage certificate.

Tearoom
Perhaps you just want to visit Fantasia to enjoy a leisurely cup of tea. The tearoom serves both herbal and black tea, along with lemon and hard candies. "It's a very nice place," says Alakbar Novruzov, who works in the tearoom. "People come here to relax. It's very pleasant to listen to the trickle of water from the fountain in here."

Since the tearoom has such a beautiful setting, it has often been used in Azerbaijani TV programs and miniseries. Its fountain and floral-tiled walls have also appeared in music videos for popular singers like Baloghlan Ashrafov.


| | |
| --- | --- |
| | |

Above left: Marble tubs in the private rooms of the bath house. Photo: Marjan Abadi
Above right: Floor plan Fantasia by Shamil Fatullayev

Perhaps because Fantasia is so private, famous Azerbaijani actors like Rasim Balayev, Ramiz Azizbeyli and Yashar Nuri have been known to pay a visit - just to relax and have a cup of tea.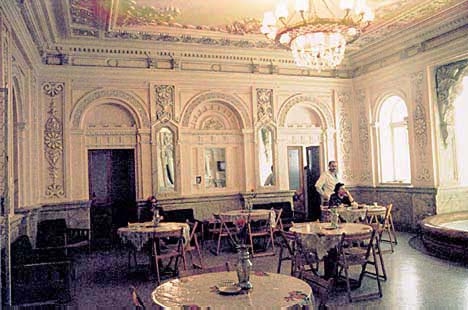 Above: Fantasia's plush tearoom - a restful, luxurious place to drop in for a cup of black or herbal tea.

Fantasia Bathhouse and Tearoom
114 Chingiz Mustafayev Street (formerly Surakhanskaya Street)
Hours: 8 a.m. to 10 p.m., 7 days a week, closed first Wednesday of each month
Fees: 1 hour costs 8,000 manats ($2), includes free tea; towels, soap, shampoo and/or massage extra; Tea only, 2,000 manats
Alakbar Novruzov was interviewed by Farida Sadikhova and Marjan Abadi.


From Azerbaijan International (8.2) Summer 2000.
© Azerbaijan International 2000. All rights reserved.
Back to Index AI 8.2 (Summer 2000)
AI Home | Magazine Choice | Topics | Store | Contact us