Azerbaijan Oil Contracts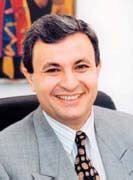 Inam

Rashid Javanshir, Inam Project Manager
An Exploration, Development and Production Sharing Agreement (EDPSA) for the Inam offshore field was signed in London on July 21, 1998 in the presence of British Prime Minister Tony Blair and Azerbaijan's President Heydar Aliyev, who was on an official visit to Great Britain. Partners in the contract include BP (25%), Monument Resources (Caspian) Ltd (12.5%), Central Fuel Caspian Sea Ltd (12.5%) and SOCAR (State Oil Company of Azerbaijan) (50%). BP is the operator during the exploration phase. The Project Manager, Rashid Javanshir, is the first Azeri to lead an international investor-owned consortium.
Under the agreement, the partners will collect 3-D seismic data on the structure and drill at least two wells during the initial exploration phase of the project. This stage of work will last for three years and may be extended for an additional two years. If the surveys uncover commercially exploitable quantities of crude oil, the structure may then be developed over a 25-year period which may be extended for another five years.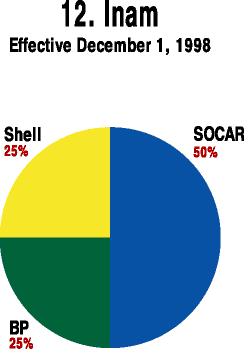 Signed July 21, 1998



Map: Click to enlarge

The Inam block is located approximately 160 km south of Baku. SOCAR experts believe that the 225 sq km concession may contain 1.4 billion barrels (more than 190 million metric tons) in recoverable reserves of oil.
Monument Resources (Caspian) Ltd is a subsidiary of Monument Oil & Gas, an independent British oil company. Central Fuel Caspian Sea Ltd. is a subsidiary of Moscow-based Russian Central Fuel Company (RCFC). Russian oil companies LUKoil and Transneft are entitled to participate in the management of RCFC, but are not involved in the Inam project at this time.

Note: Shell bought the combined Monument and Central Fuel share of 25%in 2000.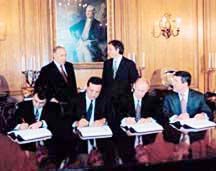 Signing Ceremony for the Inam Contract. Left, Natig Aliyev (SOCAR), Tim Eggar (Monument Resources), Charles Pitman (Amoco) and Yuri Shafranik (Caspian Fuel Caspian Sea). President Aliyev and UK Prime Minister Tony Blair look on. London, July 21, 1998.
BP
Villa Petrolea, 2 Neftchilar Prospect (Bayil), Baku
Tel: (994-12) 97-90-00, 97-97-54
Fax: 97-96-02, 97-97-37
bayatltf@bp.com
www.baku.bpweb.bp.com


From Azerbaijan International (6.3) Autumn 1998.
© Azerbaijan International 1998. All rights reserved.

SOCAR Contracts
Back to Index AI 6.3 (Autumn 1998)
AI Home | Magazine Choice | Topics | Store | Contact us