Azerbaijan Oil Contracts
Gobustan

Nick Baxter, Manager
The Southwest Gobustan concession is composed of three distinctly separate areas known as the Northern, Central and Coastal blocks. The concession extends over approximately 150,000 acres. By reworking existing wells and drilling development wells, it is anticipated that approximately 20,000 barrels of oil and 100 million cubic feet of gas per day can be produced within five years beginning in 1999.

Development costs for the first five-year phase are estimated at $215 million. The Production Sharing Agreement (PSA) was signed on June 2, 1998 at the Gulustan Palace in Baku on the occasion of the 98 Caspian Oil and Gas Exhibition. The documents were signed by Natig Aliyev (SOCAR), Rich MacDougal (Union Texas) and Nicholas Baxter (Commonwealth). Ratification took place in October 1998. Since June 2000 Sooner has been a member of this project.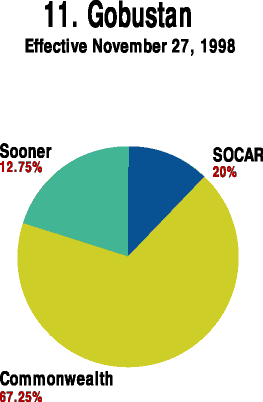 Map: Click to enlarge

Southwest Gobustan is the first onshore Production Sharing Agreement to be signed for onshore redevelopment as well as exploration. It is anticipated that the Southwest Gobustan contract will be a template for future onshore production sharing contracts in Azerbaijan.
Its Central and Coastal blocks were discovered between 1949 and 1995. The Northern block was discovered between 1905-1960. Currently, only small amounts of hydrocarbons are being produced from the Coastal block. The Duvanni field situated within the Coastal block is presently the largest onshore gas field in Azerbaijan. Gas production from this concession is expected to be sold into the national domestic grid to help offset recent shortfalls of gas in the Baku area. Oil production will be shipped through one or more of the oil pipelines currently in existence or under development in the region and via rail to Georgia on the Black Sea. The quality of crude found in this region is considered "sweet," meaning it is very low in corrosive chemical compounds.
Both foreign companies Union Texas and Commonwealth are new to Azerbaijan. Union Texas Petroleum Holding, Inc. is one of the largest independent producers in the U.S. and is involved in Louisiana, the UK, the North Sea, Indonesia and Venezuela. Union Texas reported gross revenues of $1 billion in 1996.
Commonwealth Oil & Gas Company Ltd. (Canada) is a wholly owned subsidiary of A&B Geoscience Corporation (Canada), which is listed on the Vancouver Stock Exchange (ABG.V). The operating company for Southwest Gobustan was Union Texas Gobustan Ltd. with Rich MacDougal, President. It now is Commonwealth.

Asaf Zeynalli Street 14
Old City (Ichari Shahar), Baku
Tel: (99-412) 97-10-08
Mobile: (99-455) 90-07-20
Fax (99-412) 92-92-19
info@baku.commoil.com

From Azerbaijan International (6.3) Autumn 1998.
© Azerbaijan International 1998. All rights reserved.

SOCAR Contracts
Back to Index AI 6.3 (Autumn 1998)
AI Home | Magazine Choice | Topics | Store | Contact us