Azerbaijan Oil Contracts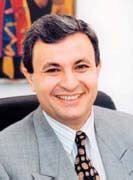 Alov, Araz and Sharg

Rashid Javanshir, Alov Project Manager
The Alov, Araz and Sharg contract area covers approximately 1,400 sq km. and is about 120 km southeast of Baku in depths between 300 and 800 meters. In Azeri, Alov means "flare," Araz is the name of a river on Azerbaijan's southern border and Sharg means "east."
Prospective reservoirs are expected to be found between 2,500 and 6,500 meters below the sea's surface. No wells have been drilled in the contract area, which is the largest block granted in Azerbaijan's sector of the Caspian Sea and reflects the size of the geological structures contained within its boundaries.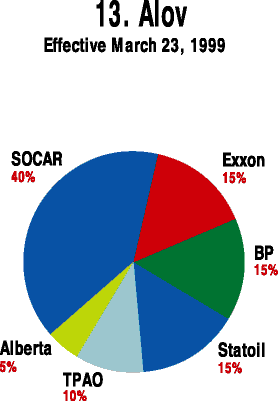 Signed July 21, 1998



Map: Click to enlarge

The contract stipulates at least three wells to be drilled during the first phase of exploration which is effective until 2001. Five more tests wells may be drilled by 2004. Work on the first well is scheduled to begin in 1999. A 3D seismic study will be carried out in these fields. No wells have yet been drilled in the contract zone. BP and Statoil have promised to invest at least US $75 million each in the exploration phase of the project. Exploration and development of the three deepwater fields may require as much as US $4 billion in investment over the 25 year span of the contract.
The Signing Ceremony took place July 21, 1998 at 10 Downing Street in London in the presence of British Prime Minister Tony Blair and Azerbaijan's President Heydar Aliyev, who was on a four-day official visit to the UK. The contract was signed by Sir John Browne, BP Chief Executive Johan Nic Vold, Statoil Chief Executive and Natig Aliyev, President of the State Oil Company of Azerbaijan Republic (SOCAR).
The partners in the Production Sharing Agreement (PSA) include BP (15%), Statoil (15%) and SOCAR (40%). Still not allocated is 30%.
BP also operate Inam, Shah Daniz and AIOC (Azerbaijan International Operating Company) for the development of the Azeri, Chirag and Gunashli fields. Currently it is producing more than 70,000 barrels a day.

Villa Petrolea, 2 Neftchilar Prospect (Bayil), Baku
Tel: (994-12) 97-90-00, 97-97-54
Fax: 97-96-02, 97-97-37
bayatltf@bp.com
www.baku.bpweb.bp.com

Signing of Araz Contract: Left, Johan Nic Vold (Statoil), Sir John Browne (BP), Natig Aliyev (SOCAR) while Azerbaijan's President Heydar Aliyev and UK Prime Minister Tony Blair look on.

From Azerbaijan International (6.3) Autumn 1998.
© Azerbaijan International 1998. All rights reserved.

SOCAR Contracts
Back to Index AI 6.3 (Autumn 1998)
AI Home | Magazine Choice | Topics | Store | Contact us