Autumn 1998 (6.3)
Pages 85-86

First Days
Exxon: Thinking Long Term in Azerbaijan
An Interview with John Hoholick, Exxon's Technology Manager who was Exxon's Founding Manager in Baku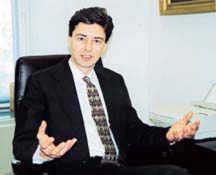 The following interview took place between Azerbaijan International's publisher, Pirouz Khanlou and John Hoholick in July 1998 in Exxon's new office in the Landmark Building in Baku.
Exxon was one of the latecomers to join the AIOC (Azerbaijan International Operating Company) consortium. Ten international foreign companies originally signed the contract in 1994. Only Japan (ITOCHU) joined later than Exxon. Why did Exxon join so late?

Well, it's true. Exxon is sometimes a bit slow to act. There's a story we tell among ourselves about a former Exxon Chairman who once boasted, "I'm going to make this elephant dance! (meaning Exxon)" Well, some say he did succeed, but admittedly, only at a slow waltz.
Seriously though, we had the chance to purchase part of the share owned by SOCAR (State Oil Company of Azerbaijan), and we took it. After the signing of the "Contract of the Century" (as the Azerbaijanis like to refer to), SOCAR made 10 percent of their share available. From our technical assessment of the structure, we knew that it had potential. Also, this reservoir was already known and had been proven so there was no exploration drilling risk associated with it. Originally, we acquired 5 percent of SOCAR's interest. When Pennzoil decided to sell a portion of its interest, we ended up with about 3 percent of their share, which gave us a total of 8 percent.
How did Exxon get involved in the Caspian in the first place?

We had been studying the Caspian just like most other major petroleum companies. Our technical teams were doing initial research in 1992 and 1993. They collected seismic data and tried to get an idea of the big picture to determine what the basin's total potential was. Once we had all the data we needed, we were ready to make a commitment and invest in AIOC as well as to pursue new exploration opportunities in the Caspian Basin.
Is Exxon involved with other Caspian countries?

Yes, we have a joint venture with Oryx in Kazakhstan and are looking to increase our interests elsewhere. We have sent a study team to Turkmenistanj to study outcrop data.
Exxon also has another Azerbaijan project - the Nakhchivan prospect. What's happening there right now?

We signed a contract with SOCAR and the government of Azerbaijan for the Nakhchivan structure last July 1997 when President Aliyev was on his official visit to the United States. The commitment for this structure is essentially a four-year exploration. We have acquired a 3-D seismic survey and this data is currently being processed in Baku. Before we drill, however, we have to assess our options for a rig. We're studying the existing rigs [Dada Gorgud and Istiglal] to find out if there is an opportunity to use them or not. If not, we'll have to find another way. We may start drilling in late 1999 or in 2000 as early as we can. Today, we're still in the process of discussing potential rig options.
Exxon has been involved in many community projects, especially ones with an emphasis on youth and education.

Knowledge is one of those things that once you have it, no one can take it away. We strongly believe in education. If you really want to make an impact, if you really want to help a country, focus on its youth. It's like long-term planning, only this long-term planning involves people.
I received tremendous support from the Exxon management for education projects. We wanted to be recognized for something that would have a positive impact on the future of Azerbaijan. It's one thing to put on concerts or dinners, but we wanted a long-term focus. Education seemed to be the right answer.
One of Exxon's most significant projects has been the sponsorship of the new Azerbaijani-English dictionary. The first copies of the Latin text version just came out in mid-June. What was Exxon's role in this project?

When we first came to Azerbaijan, one of the toughest things we faced was writing a document in Azeri. Before when I worked in Russia, we were easily able to type documents in English or in Russian. But it was tough to do the same here in Azerbaijan. And to tell you the truth, it was even tougher to find someone who could read and write Azeri in the new Latin script [adopted late 1991].
Betty Blair from Azerbaijan International put us in touch with Oruj Musayev at the Institute of Foreign Languages. He had compiled a dictionary that translates directly between Azeri and English, meaning that no longer would Azerbaijanis have to learn Russian to acquire English. We sponsored the first publication, which was the Azeri-English dictionary in the Cyrillic script [June 1996].
But we couldn't let Musayev stop there because the real need was for the Latin version. We provided him with a personal computer, and he spent the next year revising the dictionary and converting the terms to the Latin alphabet. Regardless of what happens with the oil, the economy or the political situation here, that dictionary is always going to be here for the people of Azerbaijan. We're proud of that!
We also want to put together a Azeri Latin Spell Check for computer usage and make it available on CD ROM disk. That way, words can be spelled correctly and consistently. We already have the dictionary in a database, so hopefully this will be a simple step.
In addition, we are sponsoring the publication of an Azerbaijani encyclopedia for children so that they can study their own national history, traditions and science in the new alphabet.
You also were quite involved with establishing AmCham (American Chamber of Commerce) in Azerbaijan.

The person who deserves credit for starting AmCham is Ken Bradley [founding manager of Unocal in Baku]. Even though Ken is Australian, he had been involved with AmCham during previous assignments and wanted to start a chapter here. He approached me with the idea, and we decided to see the then U.S. Ambassador Richard Kauzlarich. I'll never forget how excited Richard became about the idea. He stood up and said, "Yes, let's do this!"
So we started generating support and, slowly but surely, we eventually managed to recruit a small group. Now, as more and more people come into Azerbaijan, they're joining, too. I think getting AmCham started here was the most fun, yet the most frustrating and challenging, project I've ever been involved with.
Now you have a beautiful office in the Landmark Building, having leased the entire third floor. What was it like when you first arrived with your suitcase in Baku and had to go about finding a place for an office?

Before I came to Baku, I was working for Exxon in Sakhalin, an island in Far East Russia. I left there in December when there was about a meter of snow on the ground. It was cold and a bitter wind was blowing. I flew to warm and sunny Houston and then jumped back on a plane for Baku. That was January 1995. When I arrived in Baku, it was cold here too, but not nearly as cold as Sakhalin. The first thing that hit me was the smell of hydrocarbons - you can just about smell oil everywhere. To tell you the truth, it was a very reassuring sensation.
Azerbaijan as a former Soviet Republic is going through a tremendous transition - both economically and psychologically. You've been here throughout this process. What has it been like?

When I first came out here and we started setting up business, we wanted a clear understanding of every rule and procedure. Initially, it was very difficult just to get a copy of the laws. Then they had to be translated. Once we read through the regulations and laws, we found out, for example, that there was a limit on the amount of manats that foreign companies could spend in cash. At the time, the limit was about $360 a month. Any other purchases had to be initiated with wire transfer. Well, you can imagine in a cash society that merchants didn't want to deal with wire transfers. But it meant that I couldn't buy things I found on the shelves right here - I had to import them. We worked with the government and explained what we needed and that the rules wouldn't permit us purchase directly with cash. The good thing was that the government were listening. They realized that it would be better for Azerbaijan if the law was changed and that's what they did. Now those limits don't exist.
How have you found working with Azerbaijanis?

They're fantastic. They're among the most educated people I have ever worked with. They have a genuine desire to pick up new skills, and they love to learn. When we first got computers in our office, I couldn't keep the staff off them. Everyone wanted to play with them and learn how to operate them. Two years later, all of them know how to use these PCs. In fact, they're more knowledgeable about them than I am.
From the point of view of doing business in Azerbaijan, what advice would you give expatriates coming to Azerbaijan?

My advice for newcomers is this: if you're coming to Azerbaijan and you expect your life to be the same as it was in London or in Houston or wherever, you're going to be a very, very frustrated person. Life is different here. Things work differently. It's not that they work worse, it's not that they work better, it's that they work differently. So if you want to enjoy your assignment here, first of all, don't get frustrated about the little things.
Sure, some things have been difficult for us. When I came here, electricity was very unpredictable. We would have it for half an hour, maybe six hours, maybe even two days and then blackout! At first, it was frustrating, but then we got used to it. When we had electricity, we worked, we did our printing and so on. We knew we might not have the next hour. That made it tough to start a new business. A lot of these things have changed now and become more stabilized. The situation today is much improved and our office can operate much more efficiently.
When newcomers ask me how to set up an office, I always tell them two things: first, get yourself a good accounting firm, and second, buy a cellular phone. Those are the two most important things you'll need to do business here.
But despite the frustrations and disappointments from time to time, the one thing that has made all of the problems insignificant has been the hospitality of the Azerbaijani people. I have never felt more welcomed in any country in my life than here. From the drivers we work with, to the staff that was hired, to the people I've met, everyone has made me feel at home. I've been invited to many homes. I've met with many families, and always I've felt a very welcoming atmosphere. Regardless of what happens, I know that if I ever needed help, it would be there for me. I hope this spirit of hospitality lasts forever here in Azerbaijan.
From Azerbaijan International (6.3) Autumn 1998.
© Azerbaijan International 1998. All rights reserved.

Back to Index AI 6.3 (Autumn 1998)
AI Home | Magazine Choice | Topics | Store | Contact us