Autumn 1998 (6.3)
Page 56
Dr. Michael DeBakey
World-Famous Heart Surgeon Visits Azerbaijan
by Jean Patterson

Dr. Michael DeBakey may have just turned 90 years old, but he's hardly slowing down. After being involved in more than 60,000 heart operations, he's still very active in his career as a renowned heart surgeon, inventor, professor and international medical statesman. In a recent interview in regard to his trip to Baku where he met with President Aliyev, DeBakey described the challenges that Azerbaijan's medical system faces and offered a possible solution for the cardiovascular needs in the country.


With a career that has spanned seven decades, Dr. Michael DeBakey (1908- ) is truly a legend. Over and over again, he has created new technologies that save human lives. His long list of accomplishments includes his invention of the roller pump (1932), which takes over the functions of the heart and lungs during heart surgery. He was one of the first researchers to point out the link between smoking and lung cancer (1939).
In the early 1950s, DeBakey invented an artificial graft used for replacing diseased arteries. He conducted the first heart-bypass operation (1964) and became the first surgeon to successfully use a partial artificial heart (1966). DeBakey has dedicated 50 years of service to the Baylor College of Medicine in Houston, Texas; his official posts have included the responsibilities of president and chancellor.
Despite his hectic schedule, DeBakey accepted President Heydar Aliyev's recent invitation to come to Azerbaijan. This past August, DeBakey consulted with Aliyev during a three-day visit to Baku. The two of them had met in the summer of 1997 in Houston when Aliyev was on his official visit to the United States. Aliyev had made a special point to visit DeBakey at the Houston Medical Center. "It's an area I'm interested in because ten years ago I had a heart attack myself," Aliyev told Azerbaijan International's editor in an interview last year. "Many people told me that I wouldn't live very long. I had to stay in the hospital for three months. They told me I wouldn't be able to work anymore. But here I am, still living and working."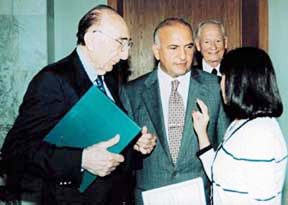 DeBakey's visit in August was not related to Aliyev's personal health, but to the cardiovascular needs of Azerbaijanis as a whole. He was in Baku to visit hospitals and assess the present state of medicine in Azerbaijan. He found that much of the equipment dates back to the Soviet period and has not been updated since the 1950s and 60s. In terms of modern medical procedures, Azerbaijan is far behind developed countries. The problem is partly economic and partly the result of the fragmented supply network that resulted when the Soviet Union collapsed.
Dr. Michael DeBakey with Azerbaijan's Minister of Health, Ali Insanov, Baku (August 1998).
When asked about the hospitals in Azerbaijan where cardiovascular work is done, DeBakey said, "It's completely inadequate, and they know that. The doctors know that. There's a need to bring it up-to-date. The only way you're going to do that is to construct a new facility. The President accepted my recommendation for a new cardiovascular center, so I'm going to develop the plans for a new center and send them to him."
DeBakey said that the new 100-bed Cardiovascular Center that is being planned for Baku will meet world standards. It will include modern equipment and facilities for diagnosis and treatment. Procedures such as echo-cardiograms, cardiac catheterization and open-heart surgery will be available. The hope is that the center will eventually expand to become a heart center for Central Asia as no such facility currently exists in the region.
DeBakey wants to introduce "telemedicine," which uses video and the Internet to enable Azerbaijani doctors to consult daily with doctors in Houston or from other places and receive training on new procedures and specific cases.
This was DeBakey's first trip to Baku. He has, however, made more than 30 trips to Moscow beginning in 1958 during the Soviet period where he has given lectures, performed operations and worked on cooperative health programs. He was also involved in a joint research program called the US-USSR Artificial Heart Program of the National Heart, Lung and Blood Institute (NHLBI). In 1993, he was awarded an honorary doctorate from Moscow State University.
More recently, DeBakey has been involved with Russia's President Boris Yeltsin as the only American consultant brought to Moscow for Yeltsin's quintuple bypass surgery in 1996. In fact, DeBakey was the person who recommended the operation in the first place. Curiously, 15 years earlier, Dr. Renat Ackthurtin, the surgeon who conducted Yeltsin's surgery, had been DeBakey's student.
DeBakey's latest invention is a self-contained heart pump the size of a small battery. This device, called a Left Ventricular Assist Device (LVAD), supplements the human heart. The pump is easy to install and requires less than eight watts of power. It is designed so that it can be recharged through the skin. Clinical trials for the heart pump begin next year. Once approved, it will provide a convenient, permanent solution for patients with heart failure. Add this invention to the enormous legacy of DeBakey's accomplishments and it's obvious that in terms of influencing cardiovascular medical research and practice in the 20th century, DeBakey is a legend even in his own day.


From Azerbaijan International (6.3) Autumn 1998.
© Azerbaijan International 1998. All rights reserved.
Back to Index AI 6.3 (Autumn 1998)
AI Home | Magazine Choice | Topics | Store | Contact us