Autumn 1998 (6.3)
Page 9
President Aliyev Visits the UK
for the Second Time
Three Major Oil Contracts Signed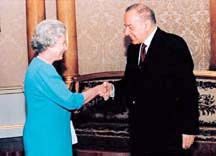 On July 20-24, 1998 President Heydar Aliyev visited the United Kingdom. This was his second official visit. The first took place four years ago on February 22-25, 1994. The UK was the second Western country (after France) that Aliyev visited after being elected as Azer-baijan's President in October 1993.

Queen Elizabeth officially welcomes
President Aliyev to the UK.
As usual, when President Aliyev makes official foreign visits, his schedule was packed tight with numerous engagements from morning until late at night. Major highlights of his visit included meetings with Queen Elizabeth and Prime Minister Tony Blair. Foreign Secretary Robin Cook hosted a dinner for the Azerbaijan delegation. Foreign Office Minister Douglas Henderson hosted a luncheon as did the Britain-Azerbaijan Group of Parliament and Britain's Board of Trade.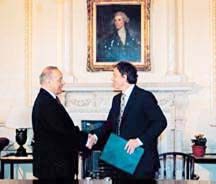 President Aliyev meets UK Prime Minister Tony Blair.
Aliyev met with Defense Secretary George Robertson where they discussed cooperation with NATO under the Partnership for Peace program. He addressed the Royal Institute of International Affairs and UK's Department of International Development where he met with its director George Foulkes. A reception was organized so that he could meet members of the Anglo-Azeri community. British Petroleum sponsored a gala concert of Azerbaijani vocalists and musicians in the Victoria and Albert Hall.
From a business point of view, the trip was extremely successful. In London, Aliyev addressed a conference entitled "Doing Business in Azerbaijan" where he focused on investment opportunities in Azerbaijan and expressed his concerns for the development of his country.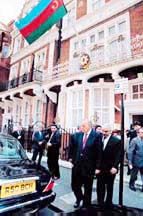 Four major business contracts were signed on July 21 at 10 Downing Street in the presence of Prime Minister, Tony Blair. Three Exploration, Development and Production Sharing Agreements (EDPSA) were signed for oil projects with SOCAR (State Oil Company of Azerbaijan Republic). The fourth contract was for major hotel construction in Baku and was signed with Morrison Construction.

Photo: Outside the Azerbaijan Embassy in Kensington, London.
The first oil contract was signed by Monument Resources (UK) for the Inam block offshore along with Amoco and Central Fuel Caspian Sea (See page 89). British Petroleum (UK) signed for the Araz, Alov and Sharg with Statoil, another offshore block (91). Ramco (UK) signed as an equal partner with SOCAR for the onshore project of Muradkhanli (93). Foreign investments for the development of these three oil projects are estimated at $5 billion.
President Aliyev and his entourage did not spend all their time in London. On July 23, they also flew to Edinburgh, the Scottish capital, where he met with business groups and attended a dinner at the city's historic castle.


Left: President Aliyev with UK's Prime Minister Tony Blair.
Right: View from the Edinburgh Castle in Scotland.

From Azerbaijan International (6.3) Autumn 1998.
© Azerbaijan International 1998. All rights reserved.
Back to Index AI 6.3 (Autumn 1998)
AI Home | Magazine Choice | Topics | Store | Contact us