Autumn 1995 (3.3)
Pages 76-77, 87
110th Jubilee
Composer Uzeyir Hajibeyov
by Anar and Ramazan Khalilov
Music - Azerbaijan National Hymn by Uzeyir Hajibeyov
About Azerbaijan's National Anthem
Musical score plus Azerbaijani words for Azerbaijan's National Hymn are available in magazine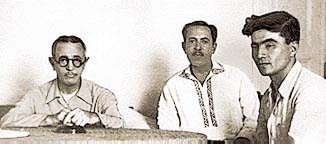 Above: Uzeyir Hajibeyov (left) with friends, Ramazan Khalilov (now 94 and current Director of the Museum of Hajiybeyo) and Suleyman Alaskarov (prominent composer who teaces at the Acadmey of Music). Hajibyeov died in 1948, Khalilov in 1948. Photo: Courtesy of Hajibeyov Musuem.

Uzeyir Hajibeyov (oo-ZEH-yir Ha-ji-BEH-yov) (1885-1948) is not very well known in the West although Azerbaijanis consider him one of their most brilliant and beloved composers. He has been compared with the giants of Soviet music including composers such as Prokofiev, Shostakovich, Kachaturian, Kabelevski and Jerinski. Some would even suggest that "he led the pack".
The city of Shusha used to be famous for its annual "Mugam Festivals" where the musical tradition of mugams was performed outdoors near the gigantic statue to the memory of Hajibeyov whose birthplace was near Shusha. Hajibeyov is remembered for his dedication in preserving this music that has been played in Azerbaijan for hundreds of years. He devoted his life to guarantee that the nuances of mugam music would not be lost to future generations. The last Shusha Festival, shown here, was in 1988. Because of the Conflict in the Karabakh region, Shusha has been occupied by Armenia forces since 1992 and all Azeris have fled. Azeris insist that they want Shusha back as it was their cultural center of music and art. In the meantime, the Mugam Festival is being organized in Shaki since November 1994. Photos: Fatali Fataliyev.

Hajibeyov was the first composer in the entire Soviet Union, not just in Azerbaijan, ever awarded the title, "People's Artist of the USSR". During the entire Soviet history, only three or four Azerbaijani musicians ever attained this level. He was also honored with the medal of "Lenin's Order" and "Stalin's Prize" which he won twice, once for the opera, "Koroglu" (1937), and the other for the 1945 movie based on his opera, "Arshin Mal Alan" (For plot, see AI 2:3, 64).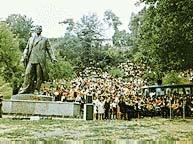 September 18th, 1995, marks the 110th Anniversary of Hajibeyov's birth. No one in the history of modern music in Azerbaijan is recognized for having done more to lay the foundation for Azerbaijani music as it exists today, especially with its unique synthesis of Eastern and Western traditional musical instruments and musical forms.

Born in 1885, Uzeyir Hajibeyov's lifetime spans a period of incredible political chaos, upheaval and transition. His first 32 years were lived under the Russian czar, followed by two years under the independent fledgling Democratic Republic of Azerbaijan. The remaining 28 years of his life were under Soviet authority until his untimely death in 1948, at the age of 63, when he died of complications aggravated by his diabetes.

Hajibeyov was no stranger to the tragic chaos of war; he lived through the Revolutions of 1905 and 1917, the attack on Azerbaijan by Soviet troops in 1920, and both World Wars. The political repercussions of these military conquests were often manifest in other forms of chaos. For example between 1920 and 1930, the alphabet systems for writing Azeri were changed three times - from Arabic to Latin and Cyrillic - a process which greatly hindered and interrupted the educational and cultural process and may well have been one of the factors influencing him to present his ideas verbally on the musical stage. (See AI 1:3, September 1993)

The economic system underwent radical change under the Soviet system. Private wealth was confiscated and redistributed to the masses. Oil barons who had built mansions and palaces on the main streets of Baku at the turn of the century were often evicted, and sometimes even murdered, on their own premises, and their residences were converted into public institutions, quite often, museums.

The Great Compromiser
But throughout all this tumultuous change, one characteristic consistently reflects the character of this great genius. Hajibeyov always searched for ways to merge and integrate the past with the present rather than to discard either form. He was the great compromiser. His mind was flexible enough to synthesize what others saw as irreconcilable viewpoints.

Rather curiously, even files at the boarding school where he attended secondary school (Gory Seminary in Georgia) have shown his persistence in holding on to his own roots even under pressure. On December 3, 1900, when he was 15, it is noted that "the student, Uzeyir Hajibeyov, was rebuked because he was talking in his native language."

Musical Laboratory - Shusha
Much of Hajibeyov's early musical education was informal. It might be said that much of his musical instinct was acquired by osmosis, since he grew up totally surrounded by music. Born in the village of Agjabedi near Shusha, Uzeyir was the second child of Abdul Husein, a clerk and village writer, and his attractive wife, Shirin Khanum.

Shusha in those days had a reputation for its musical heritage and was often referred to as "the Music Conservatory of the Caucasus" because of its many talented musicians and singers.
Today, Shusha, located inside the Karabakh region has been occupied by Armenian military forces since 1992. Not a single Azerbaijani lives there (with the exception of those who might be held hostage) as all others have fled the region.

But the fact that Hajibeyov grew up in Shusha explains how at 22, in 1908, with very little formal musical education, he was capable of writing a full-length opera. "Leyli and Majnun" a tragic love story by the poet Fizuli, would be the first of 7 operas and 3 musical comedies that he would compose. The uniqueness of the traditional modal music of "mugam" was incorporated into the Western genre of opera via the use of instruments indigenous to both traditions.

Traditional vs. European
Hajibeyov's second opera in 1909 was written in a form entirely opposite to the first. This time he employed a purely European style. "Sheik Senal" received raves as a musical composition, but the content was too progressive for the period. Hajibeyov advocated that marriage should not be bound by nationality or religion-in essence, it was another form of integration. But this time, it backfired.
The story line follows a religious Sheik on his way to Mecca who meets a very beautiful Georgian lady. To his horror, the lovely creature's father turns out to be a swineherd, caring for what, to him, was a forbidden animal. In the end, the sheik denies his religion to win the woman.

It is said that when the opera was performed, many people were offended and walked out, leaving Hajibeyov with the realization that he had outpaced his generation too much this time. As a result, he made a drastic decision and burned the score.

When asked by Ramazan Khalilov, his assistant, how he could do that, Hajibeyov replied. "I didn't destroy my opera. It's my own creation so it's always in my head." Khalilov said that Hajibeyov went on to use this same magnificent music 27 years later to create, "Koroglu", an opera that many acclaim to be his finest.

Emancipation for Women
Hajibeyov devoted much energy to the idea of integrating woman's role and status into the male-dominated world. The concept of women's emancipation runs through many of his works often in the form of comedy or satirization as in the case when he makes fun of the process of selecting marriage partners, a process hindered by the fact that women were still wearing veils until the 1920s when the Soviet regime prohibited them.

Intellectual Contributions
In 1921, the composer wrote an essay on the issue of whether Azerbaijanis should spend time, effort, and money to learn European musical culture. "We won't succeed in educating our people musically if we conceal from them the creations of such geniuses such as Bach, Beethoven and Mozart."
Conversely, when Russian-influenced musicians tried to ban traditional Azerbaijani instruments like the tar, zurna and kamanche, Hajibeyov and his colleagues pushed to incorporate them into the Western orchestra, thereby, giving them an even higher status.

In 1927, he published "Collection of Azerbaijani Folk Songs" with the Composer Muslim Magomayev. It was the first time, many of the songs had been documented by notation. In 1931, he helped established the first "Note Orchestra for Traditional Folk Instruments" under the Radio Committee. This orchestra performed pieces by Glinka (a famous Russian orchestral composer), along with Mozart, Shubert, Bizet and others.

In 1936, he helped establish the first Azerbaijan Choral Group at the Philharmonia. One of the most serious problems he faced was that the repertoire of Azerbaijani folk songs were mono-voiced, thus harmonization could easily distort the folk song style and, on occasion, even alter the melody line when it changed modes. Hajibeyov resolved this problem by using "contrapuntal polyphony and unison doubling rather than four-part singing" in these sections. But it's one more example of synthesizing the old with the new.

In 1945, he published "The Basis of Folk Music in Azerbaijan" which is even available in English today. One of Hajibeyov's greatest legacies was in helping establish a professional music school (now called the Music Academy) which has trained Azerbaijan's finest composers such as Gara Garayev, Fikrat Amirov, Jovdat Hajiyev, Soltan Hajibeyov, Tofig Guliyev and even Vagif Mustafazade, who combined mugam with jazz improvisations. The school is still the highest musical institution in Azerbaijan. His statue "sits" in front of this grand building that is still devoted to the synthesizing Eastern and Western musical traditions.

Anar is recognized as one of Azerbaijan's prominent writers and thinkers. In 1985, he wrote the screen play and directed a two-part documentary on the life of great composer to commemorate Hajibeyov's 100th Anniversary. Anar is President of the Azerbaijan Writer's Union.

Ramazan Khalilov, 94, was Hajibeyov's assistant. He is the individual most responsible for helping carry on the memory of Hajibeyov's legacy. Since 1974, he has been Director of the Hajibeyov Museum which was created in composer's home. Mr. Khalilov is still very active in the Museum and has detailed memories of his years working together.

From Azerbaijan International (3.3) Autumn 1995.
© Azerbaijan International 1995. All rights reserved.
Back to Index AI 3.3 (Autumn 1995)
AI Home Page | Magazine Choice | Topics | Store | Contact us