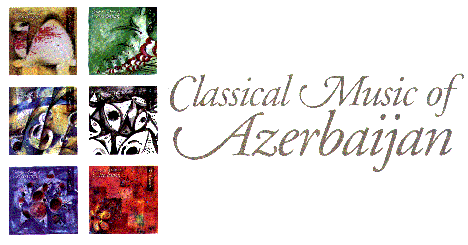 Click here to download
RealPlayer 8 Basic
Scroll down page. Look on Left side!
It's free!

A new series of classical music has just been produced in June 1997, featuring the original works of Azerbaijan's classical composers. "Classical Music of Azerbaijan" is a collection of six CDs-Symphonic, Ballet, Concerto, Piano, Opera and Chamber Music-a total of 74 works by 15 Azerbaijani composers including Uzeyir Hajibeyov, Muslim Magomayov, Fikrat Amirov, Gara Garayev, Vasif Adigozal and Haji Khanmammadov. Ninety musicians, performing with the Azerbaijan State Symphony Orchestra (Yalchin Adigozalov, Conductor) and the Azerbaijan State Chamber Orchestra (Yashar Imanov, Conductor), were involved in these recordings. The project was conceived and produced by Azerbaijan International and sponsored by Amoco.
Volume 1. Symphonic
Azerbaijan State Symphony Orchestra

Volume 2. Ballet
Azerbaijan State Symphony Orchestra
Volume 3. Concerto
Azerbaijan State Symphony Orchestra
Volume 4. Piano

Volume 5. Opera
Azerbaijan State Symphony Orchestra

Volume 6. Chamber
Azerbaijan State Chamber Orchestra