Spring 1995 (3.1)
Pages 36-37, 45
Music
Then and Now
by Jahangir Selimkhanov



Uzeyir Hajibeyov with his wife Malaka Tergulova. Photo by Ramazan Khalilov taken three days before Hajibeyov's death in 1948.
Photo courtesy of Hajibeyov Museum in Baku.
Imagine a video that could record the ongoing history of the development of music in Azerbaijan. If we were to take a "stop-frame" made today and compare it with one made ten years ago, there would be noticeable differences. Much has disappeared from sight during these brief years but on the other hand, many new developments have appeared.

Dramatic political and economic changes have occurred here and elsewhere in the former Soviet Republics that have had an incredible influence on the arts, especially music.
Life is absolutely unpredictable these days for musicians. Before, it used to be much more protected. Musicians could plan their careers in advance. But the irony of it all is that in the midst of all this uncertainty today, there are more possibilities for young musicians than ever before.
Possibilities Beginning
I work with Musicians' Society of Azerbaijan and am responsible for making international contacts. I study directories and contact schools and centers to identify competitions, classes, and opportunities. Although our Ministry of Culture doesn't have the resources to send our talented musicians abroad, they're finding ways to go themselves. This past summer, for example, they left for the USA, Sweden, Malta, Austria, Great Britain, and Italy to participate in various seminars and master classes. We would never have had such a long list five years ago and this was only during one summer. The possibilities are beyond our dreams and expectations.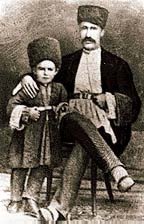 Photo: Hajiybeyov and his father 1889
Photo courtesy of Hajibeyov Museum in Baku.

Under the Soviet system, all international contacts, including those of musicians, were regulated and controlled from the center. First you had to send your entry form to the Central Committee in the Ministry of Culture. The decision for any Azerbaijani to participate in an international festival or competitions was made by somebody else or, perhaps, was even capricious. A young musician had to win an All-Union Competition just to qualify to go abroad. It was almost impossible to succeed and extremely rare for an Azerbaijani. The system was biased in favor of musicians from central cities like Moscow and Leningrad. Besides that, the attitudes towards artists dictated that if you participated in an international competition, it was your duty to win. The process could be compared to that of a gladiator. Either you won and brought honor to the Soviet Union, or your career could be ruined for life. It was professional suicide to risk it. That's why so often only two or three representatives went from the Soviet Union.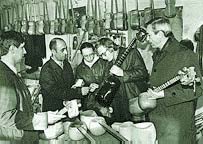 But it would be wrong to think that Azerbaijani music was never represented abroad during the Soviet period. The Symphonic Mugams of Fikret Amirov were extremely successful. And Arif Malikov's "Legend of Love" was performed in more than 50 theaters. The marvelous tar-player, Bahram Mansurov, made a number of records in European countries. Farhad Badalbeyli won the Gold medal in an international competition in Lisbon and Khuraman Gasimova took the Gold in the Maria Callas' International Vocal Competition in Athens.

But now Azerbaijan has become a member of the International Society for Contemporary Music (ISCM). We are the only Muslim state among 46 members and the first of the former Soviet Republics to join-(Lithuania, Belorussia, Moldova). Russia has yet to participate. Being located between Europe and Asia, we are exploring possibilities in the East as well, especially Japan, Hong Kong and Korea.

Legacy of the Soviet System on Education
The Soviet system of music education was unique to the whole world especially in regard to the number of people involved. They established a very wide network of music schools. And they still operate. In Baku alone, there are around 40 schools with 100-800 students each where the entire faculty is dedicated to music. Children attend regular school and then go to these special schools 2, 3, or 4 times a week just for music. The cost is virtually nothing. Even now.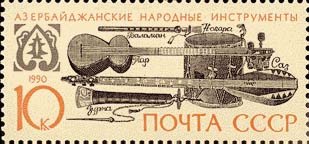 Stamp: Soviet Azerbaijan stamp featuring traditional Azerbaijani instruments. Top to bottom: Balaban, Nagara (percussion), Tar, Saz, Zurna

Students can study various instruments-both western and eastern. Many have become young musicians and composers. Parents used to play a very active role. Music was so highly esteemed; everyone respected composers like Gara Garayev, Fikret Amirov, and so many others. Their works were performed everywhere in the Soviet Union and abroad. But this process may be coming to an end. Attitudes are changing about the concept and role of the musician in society

System of prizes
There were three levels of prizes: "Honorary Artist", "People's Artist of Azerbaijan" and the highest recognition, "People's Artist of USSR" which very few attained. Azerbaijan had only three or four-among which were composers Uzeyir Hajibeyov, Gara Garayev, and Fikret Amirov.

Prize giving followed was an insane system. The distribution of awards was determined in advance with a quota for each Republic. It didn't matter if there were many genuine, high level musicians. It was simply decided that in Azerbaijan there must only be four "People's Artists of the USSR". Even on the Republic level, there was a sort of a queue and people often waited many years for their turn.

Artists who worked for self-expression didn't have much chance. They were shunned as outsiders. But for the majority, these prizes were highly coveted. There was keen rivalry and competition for them. If you received such a prize, it made you part of the establishment. And it meant, for example, that you might be given a car. Not in every case. There was always a queue for cars but, at least, you went to the front of the queue.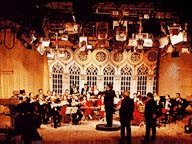 Left: Azerbaijan's Radio & Television National Ensemble Orchestra.

Does music sound different now in Azerbaijan since independence? There's really not much difference between the sound of our music before and after perestroika. The same composers who wrote radical avant guard music are still writing it. Simply now they have more possibilities for presenting their works abroad.

In the past, the consequences for acting independently were quite severe. Everybody drew a minimum salary. So everyone depended on being able to acquiring good state commissions from the Minister of Culture who bought the works of composers. Avant guard music couldn't sell. Soviet music was characterized as being very optimistic with a sound of very bright colors. A milestone of communist ideology was that the masses were supposed to be able to understand everything. So if music didn't fit this standard and was too serious or too complex, it had no right to exist.

The Economic Picture
Even during the Soviet period, musicians were hardly what you would call "rich" but, at least, they could live on their salaries. Today, the picture is much grimmer. Musicians earn about $3 or $4 a month in their state jobs. That's so low it's ridiculous. It's almost nothing. Four dollars can buy you a dozen loaves of bread-that's about all. These days when our symphony orchestra rehearses for a concert, we try to be very conscious of time as many musicians have to go to a second, third or fourth job. Sometimes they work as an orchestra performer, a music librarian and, who knows what else.

Going Abroad - No Other Choice
Obviously, they have no choice but to go abroad. That's how we're losing our best artists. Of course, the strongest attraction is Turkey because of the similarities in language. Almost 20 musicians from Baku are now working at Bilkent University in Ankara where they teach and play in the university orchestra. Of course, Turkish musicians are seeking positions in Europe where salaries are even higher. But for our musicians, if they can earn between $400-$700, it's like a treasure.

So many of our best musicians are forced to work in the provincial towns there. Take Firanghiz Alizade. She's a world class pianist and composer. The world acclaimed Kronos Quartet has performed her work from Japan to Mexico. And this woman is forced to work in Mercen. Sure, it's a beautiful town but it's very provincial. She's a choir conductor at the local Opera House.

Faig Agayev is first violinist in the Chamber Orchestra of Hamburg and Eldar Aliyev has been given a role in "La Scala". But it leads to the question: Is Azerbaijan becoming a nursery for talented musicians-the best of whom find more favorable ground abroad?

In the mid-80s, Rauf Abdullayev established an ensemble which gained a very strong reputation and made several recordings of 20th century music. But then Rauf went to Turkey as the Chief Conductor of the Ankara Opera Theater and other musicians left, too. At the last Festival, the musicians met at Dusseldorf Airport. They flew in from Moscow, Istanbul, Cairo and Baku. As they no longer were performing with the Ensemble of the Soviet Azerbaijan State Orchestra, they even had to rename themselves - BAGARA - after Baku, Gara Garayev, and Rauf Abdullayev.

Finding records these days with Azerbaijan music is a rarity. Since the dissolution of the Soviet Union, relations with the firm "Melodiya" have been interrupted and Azerbaijan has no record company. You're more likely to find a compact disk with Azerbaijani music issued in Paris, Amsterdam or Istanbul than here.

There are other moments of optimism that exist today as well. For example, the rebirth of the conception of patronage. Prior to the coming of the Bolshevists, there was a firm tradition for sponsoring the arts in Azerbaijan. Perhaps, not all of the local companies and firms which are assisting musicians these days are in very good financial positions. But sponsoring culture is considered a matter of honor, and most who have the capability try to get involved. As a result, new orchestras are emerging. Before, we only had one State Chamber Orchestra, now there are several-the Orchestra of Ancient Instruments, Contemporary Music, "Tutti" Youth Orchestra , "Rast" Orchestra and Ilham Dance Ensemble which just toured in Germany, Canada and the US.

In the final analysis, if you seek to look deep into the future of Azerbaijan and want to know what tomorrow will bring for musicians, I believe the future will be better, perhaps more uncertain, but definitely more interesting. We have so many reasons for being optimistic.
Jahangir Selimkhanov is a musicologist and music historian in Baku.

Translation from Russian by Jala Garibova.

From Azerbaijan International (3.1) Spring 1995.
© Azerbaijan International 1995. All rights reserved.
Back to Index AI 3.1 (Spring 1995)
AI Home Page | Magazine Choice | Topics | Store | Contact us