Spring 1995 (3.1)
Pages 42-43
Immortal Music
Unique Blend of Tragedy and Love
by Arif Malikov, Composer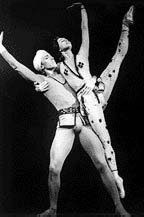 Malikov's "Legend of Love," with Boris Gordeyev and Nadezda Pavlova
of the Bolshoi Ballet.
Even though the Soviet Union has collapsed, I still have been able to maintain good relations with the people I knew before. Of course, the numbers of performances have decreased since the collapse of the USSR. If orchestras and ballet troupes take my works abroad to perform, I see that as a good thing in itself even if I don't earn a single manat.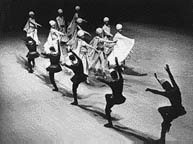 Photo: Bolshoi Ballet performing Malikov's "Legend of Love".

I've been very lucky in life. I'm the only composer in the world who has a ballet (Legend of Love) that has been performed in 64 theaters throughout the world. I was 26 years old when it was performed for the first time. That was 1961. "Legend of Love" had taken me a year and a half to write. The first performance was in Leningrad in the Marinin Theater where it is still being performed today. Then it went on to the Bolshoi in Moscow, and on to Prague, Berlin, Sofi, Ankara, London, Tokyo, Paris, Belgrad, and Dresden, and New York. Everybody associates me with "Legend of Love"no matter what I have written since then - symphonies, ballets. This used to bother me. Now it has become my symbol and I'm quite proud of it.

Copyright Protection Ignored
Actually producers are supposed to pay royalties but the contacts are so weak that international copyright protection is not respected. It's rarely observed. Recently, I've become very interested in learning what my rights are as a composer. I should be receiving payment from Novosibirsk, Moscow, Kiev, and Tashkent and other places.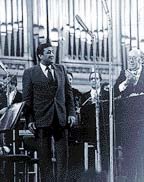 Photo: On the occasion of Dmitry Shostokovitch's Jubilee (60th Birthday), Malikov (right) dedicated his Second Symphony to the Great Composer. Conductor Gennady Rozdestvensky(left) with the Symphonic Orchestra of Soviet Radio and TV at Moscow Conservatory Hall.
Japan, for example, produced a record of my ballet, but I received nothing. Actually, that isn't true, I was presented with a symbolic gift of a car when I visited Japan. It's not really the fault of the Japanese though. You see, when the Soviet Union was collapsing, Moscow sold the copyright of my works to Japan without asking me. Half of the earnings from these sales is being sent back to Russia, and Japan keeps the other half. If I were were able to make successful claims against Russia, I would be rich.



Photo: Practice session for "Legend of Love". Arif Malikov with Bolshoi's great ballerina, Maya Plisetskaya in Moscow, 1965.
During the Soviet Period, my works used to be performed in 30 theaters. I used to receive 5.5 percent from the profits of each performance. But it wasn't given to me in hard currency, only rubles. During the Soviet period, when you composed a work, you were generally paid for it once. That was it. I received about 5,000 rubles (about $3,000) as initial payment for my ballet "Legend of Love". But if the work continued to be successful, you were supposed to receive 5.5 percent of the income.

The Creative Process
Creation is a God-given talent that musts be combined with hard work. I don't necessarily have to be sitting at my desk to work. A composer can work while in a car, in the street, on a plane. For a very creative person, the process of creativity is always going on. You compose in your thoughts for a long time and then when you're ready, you put your ideas on paper.

I write my music down with pen. When I first started composing, my teacher, the great Gara Garayev told me never to write with pencil, only pen. That way I would feel more responsible for the notes because the changes would be so difficult to make.

I'll admit there has always been the sound of tragic sadness in my symphonic music. Perhaps, that's the dominant motif - even before our "Black January" events of 1990 and the collapse of the Soviet Union. Then later when I saw how much the refugees were suffering and how Karabakh has been captured, it was a devasting shock for me.

I've been a very fortunate composer and have led a very creative life. But how can you be indifferent when the threat of nuclear annhilation hangs over our heads. This is the reason why the subject of tragedy appears so often in my works. The great composers always have built upon tragedy in the sound of their music - Gara Garayev, Dmitry Shostakovich as well as many others. A true composer must be sensitive to these things. It's impossible to create music without expressing these tragedies. All these events have increased the sadness in my music. But to counter the tragedy, the second theme in my music is love.

The Future: Full of Expectations
I'm very actively involved with my work right now. I'm on my way to Bilkent, Turkey, for the premier of my Seventh Symphony. I've been asked to work in Turkey but I want to work for my own country so that's why I agreed to go there only occasionally. I have many plans for the future two ballets: "Joseph, the Handsome", and "Antonio and Cleopatra" and I'm planning to start work on my Eighth Symphony.

But we have to have faith in the future that it will be brighter. Without faith, it would be impossible to work during these difficult times. For me, creating music is single assistance I can render my people. I can't really say that I'm an optimistic, but I do have faith and if I can manage to create something for Azerbaijan that will be recognized throughout the world, then that makes me happy.

Translation assistance from Jamila Pashayeva.

From Azerbaijan International (3.1) Spring 1995.
© Azerbaijan International 1995. All rights reserved.
Back to Index AI 3.1 (Spring 1995)
AI Home Page | Magazine Choice | Topics | Store | Contact us