Summer 1994 (2.2)
Pages 49-50
Reasons Why the Freedom Support Act
Should Be Lifted
by Bill Frelick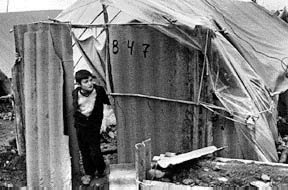 Refugee boy living in a make-shift lean-to.
(Belagan, close to Fuzuli, December 1993. Photo: Oleg Litvin)
US Committee for Refugees (USCR), has just published an extensive report based on a fact-finding trip to Armenia and Azerbaijan in September 1993.

After assessing the refugee situation in both countries, Bill Frelick, as Senior Policy Analyst for the testified before the US House Subcommittee on Foreign Agriculture and Hunger on April 20, urging the repeal of the Freedom Support Act (102nd Congress, 2nd Session, Public Law 102-511, Section 907 passed in Congress on October 24, 1992).

The USCR is calling for the repeal of the Freedom Support Act for the following reasons:

(1) It directly deprives Azerbaijanis of humanitarian assistance;

(2) It undermines progress toward peace and respect for human rights in the region;

(3) It is a provocation, creating ill will on the part of Azerbaijanis toward the United States, confirming in the popular mind the notion that the US government is easily manipulated, and that Azerbaijanis are victims of a conspiracy between the great powers and their small neighbor;

(4) It causes the Azerbaijanis to dig in their heels;

(5) It bolsters extremists among the Armenians who get away scot free when they violate important international norms of behavior;

(6) It precludes the US from playing the role of "honest broker" to encourage the two sides to take responsible steps toward seeking a just and permanent solution to the problem."

The US Committee for Refugees, therefore, makes the following recommendation to the US government:

(1)The US Congress should repeal the Freedom Support Act (Section 907) which prohibits all assistance to the government of Azerbaijan.

(2) If the law is repealed, the US should use the Emergency Refugee Migration Assistance (ERMA) fund to provide emergency humanitarian assistance to the newly displace civilians in Azerbaijan for shelter, food, and medicine, as well as to provide emergency food aid to Armenia.

(3) Failing to repeal Section 907, Congress should provide for an exception in law for humanitarian assistance to alleviate suffering of civilians resulting from natural or man-made disasters.

(4) Failing any action by Congress, the Agency for International Development (AID) should be encouraged to continue to seek non-governmental avenues for delivering humanitarian assistance to the people of Azerbaijan.

(5) The US refugee resettlement program should be alert to the resettlement needs of the relatively small number of ethnically-mixed families who can live safely in neither Armenia nor Azerbaijan, and for whom resettlement to the US might be their only chance to live a life free from persecution and fear.

The US Committee for Refugees is committed to the basic human rights of refugees, asylum seekers and displaced persons. They are supported through contributions from individuals and foundations.

The USCR report, "Faultlines of Nationality Conflict, Refugees and Displaced Persons from Armenia and Azerbaijan", a 48-page publication, ( March 1994) may be obtained for $4. Contact US Committee for Refugees, 1717 Mass Ave, NW, Suite 701, Washington, DC 20036. Tel: (202) 347-3507; Fax (202) 347-3418.
Childhood Immunizations Sponsored by Amoco
In March, Amoco launched an Immunization Program against childhood diseases (polio, measles, diphtheria, whopping cough and tetanus) in Azerbaijan for an estimated 90,000 children in Nakhichevan. An additional100,000 refugee children in other parts of Azerbaijan will also be receiving measles inoculations this year under their sponsorship. UNICEF has undertaken to vaccinate the remaining children throughout the country this year.

Amoco is providing vaccines, syringes and refrigeration equipment. The project is being coordinated between AmeriCares and the Ministries of Health in Baku and Nakhichevan. A US medical team will assist and discuss medical aspects of the program with Azerbaijani medical specialists.

In February, Amoco donated 50,000 articles of clothing to refugee children to help fend off the very harsh winter, especially for those living in tents exposed to rain, snow and cold temperatures. In the past two years, Amoco has donated $8 million worth of humanitarian aid to Azerbaijan in medical supplies and prenatal equipment to hospitals and other refugee programs.
Japan Helps
Baku (April 12) Turan News. Forty tons of medicine valued at $1 million (US) have arrived in Baku from Copenhagen. The humanitarian assistance is provided by the government of Japan and will be distributed through the International Federation of Red Cross and Crescent Societies (IFRC).


From Azerbaijan International (2.2) Summer 1994.
© Azerbaijan International 1994. All rights reserved.
Back to Index AI 2.2 (Summer 1994)
AI Home Page | Magazine Choice | Topics | Store | Contact us