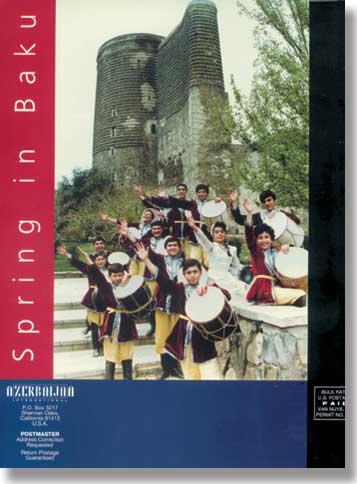 Back Cover
Summer 1998 (AI 2.2)
Azerbaijan International
Photo: Oleg Litvin
Courtesy: British Petroleum
Jujalarim - Children's Drumming Ensemble in front of Baku's most recognizable landmark, "Maiden's Tower". The word "Jujalarim" refers to a favorite, rhythmic, little children's song called "Little Chickens" in Azeri.

These young drummers are part of a long tradition of song and dance groups founded in the Children's Palace in 1937. They have performed in many international festivals and competitions over the years. Last fall, after winning a national competition in Baku, they went to be part of Azerbaijan's first representative group at the 21st Aberdeen International Youth Festival, August 4-14, 1993, thanks to a cultural program sponsored by British Petroleum.