Summer 1994 (2.2)
Pages 30-31
Diplomatic Interview
British Ambassador
Thomas Young
Interview by Betty Blair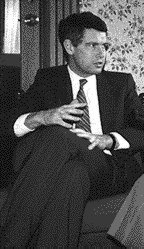 Photo: British Ambassador to Azerbaijan
Thomas Young

Beginning with this issue, Azerbaijan International intends to interview foreign Ambassadors in Baku to understand their country's goals, involvement, and impressions. Our series begins with British Ambassador, Thomas Young, a career diplomat, whom we interviewed on February 16th. At that time, Ambassador Young and his staff were deeply involved with preparations for Azerbaijan President Heydar Aliyev's first State Visit to the UK (February 22-25).

Mr. Ambassador, you've been here in Baku five months now, how did you come to be UK's first Ambassador to Azerbaijan?
When I first joined the diplomatic service 20 years ago, I volunteered to learn an unusual language. The list included Arabic, Turkish and Serbo-Croatian. When I couldn't make up my mind, they chose Turkish for me. I was very pleased as I've always been interested in the interface between Islam and Christianity. The decision enabled me to study Turkish culture and language in Istanbul. At that time, I'd always wanted to visit the Turkish-speaking parts of the Soviet Union and had imagined that one day I might even be posted to a Consulate in Tashkent, if such a position ever opened.

But last year while working in Australia, they asked if I would agree to cut my tour short and come to Baku. They wanted me to convert my Turkish to Azeri, which, unfortunately, I've not been able to do as much as I'd like since opening a Resident Embassy is very time consuming. But I'm pleased to be here and see the other side of what was once the "Iron Curtain."
What kind of relationships are the British trying to establish here in Azerbaijan?
Obviously, political relationships are of primary importance to a country like Azerbaijan which has a serious war on its hands. The political help that we are able to give within our limited means via the UN and the CSCE (Conference on Security and Cooperation in Europe) and other ways is always important.

And Azerbaijan has many resources -natural resources like oil, gas, and agriculture. Our goal is to involve British industry in helping unlock these resources. In that area, BP (British Petroleum), is leading the British industry and the support we can give them is important.
What kind of British businesses are interested in coming to Azerbaijan?
Apart from gas and oil, especially the "down stream" activities that will follow when the Oil Consortium agreement will be signed, there are other industries such as petro- and agro-chemicals. Some are trying to get involved with increasing the yields of cotton, milk, and sheep wool.

Have any business agreements been signed yet?

Just a few weeks ago, we reached agreement with the Azerbaijan government for Azerbaijan Airlines to fly directly to London. I hope in the future that a British airliner will also fly here.
Also, we've worked out a policy to prevent double taxation so companies don't have to pay tax both here and in the UK on profits they make here. This is important for building confidence in the industry.

We're presently negotiating a deal for road transport between the two countries so that ordinary people can move their goods easily from one country to another. I've personally been involved with all three of these. It's very good to see some progress, even in this short term.

I see that you're extremely busy with preparations for President Aliyev's first State trip to the UK in a few days? What's going to happen there in London? What is the significance of this trip?

First of all, it will demonstrate to President Aliyev and the Government of Azerbaijan that the British government, at the highest level of Prime Minister, is concerned that justice should be done in Azerbaijan in relation to Nagorno-Karabakh.
How are you defining "justice"?
Well, at the moment, there is a very large scale occupation of Azerbaijan territory by Armenian forces. The British government has always taken the position that Nagorno-Karabakh and other parts of Azerbaijan that are now occupied by Armenians (more than 20% of Azerbaijan) belong to Azerbaijan.

We maintain that any changes (territorial realignment) must be introduced through peaceful means, through negotiations, through the agreement of all the parties concerned. One of those parties happens to be the government of Azerbaijan. There can be no change in the status of Nagorno-Karabakh without agreement from the government in Baku. So we want to demonstrate that this is our policy and provide major political support for President Aliyev in the enormous problems that Azerbaijan faces. I hope a joint Declaration of Friendship and Cooperation will be signed in London between the countries.
And what would that mean if it were signed?
It would give a boost to the UN Charter and the CSCE (Conference on the Security and Cooperation of Europe) documents-all the things which themselves stand for the territorial integrity of Azerbaijan and for peace rather than war. Just recently, the Armenian President, Ter-Petrossian, was in London and signed the same Declaration.

How would the document that Armenia signed be like the one you are expecting Azerbaijan to sign? What is Britain's relation with Armenia?

It's important for us to demonstrate even-handedness. In another words, our policy is clear- there must be Armenian withdrawal. I have no doubt that the Prime Minister made that point to the Armenian delegation in London last week. I have no direct reports of that yet, but that was one of the main purposes in having Ter-Petrossian come to the UK.

It's a coincidence that these two visits are happening in the same month, but it gives the British government a chance to say the same thing to both delegations in order to promote a solution between the parties. It's also a coincidence, but a useful one, that British Prime Minister, John Major, is in Moscow as the guest of President Yeltsin the first three days of this week, (February 14-16). I have no doubt that the question of Russian involvement in the "Near Abroad"-Azerbaijan, of course, included-will be discussed there.

I hope also that there will be an agreement on education, science and culture. We want to facilitate exchange in these areas. For example, we want to make it more possible for people to learn English in Azerbaijan. Presently, the British Council is teaching selected students technical English and management studies. Half of the money for such a project is provided by BP and the other half by the British Council, the cultural arm of the British government abroad. These are six-month courses for about twenty people each session. From the last group of students who graduated just before Christmas, three have gone on to further studies in university in Britain.
What kind of preparations are you involved in regarding the Presidential visit?
We're involved with the entire program down to the very last precise detail. It's a three-day visit. We're organizing who will meet with the President. There will be a lunch at Number 10, Downing Street (Prime Minister) and the signing of the agreements that have been negotiated. That will be the centerpiece; but there all sorts of other events, too, like a big dinner given by one of our senior cabinet ministers, and a major political speech by President Aliyev at the Royal Institute of International Affairs, Chatam House, where Ter Petrossian made a speech last week. Maybe it's better to have Azerbaijan speaking the second week. Maybe the message that is left in their minds will be Azerbaijan's, but I don't want to over emphasize that point.

We have an Anglo-Azerbaijani Committee in the British Parliament now. There's six or seven members, most of whom have been here to meet President Aliyev. They're concerned about the course of the Karabakh Conflict. They want to set up Parliamentary exchanges and generally sensitize people in the two parliaments as to what is going on in the other country. I have no doubt that we'll be meeting Sir James Spicer and other members of that group.

We'll be visiting Oxford University. I'm particularly happy about that as I spent four years there myself. I didn't suggest Oxford. The idea came from the Foreign Ministry here as well as the Foreign Office in London. They wanted to visit a prestigious university.

There's a reception by the Confederation of British Industry as there is a lot of interest from businessmen, who want to help unlock the wealth, and help with development on terms that will be advantageous to both sides. There's a lot of interest in Britain in doing business here.
Since you've had experience in working in many countries (Turkey, Spain, US, Ghana and Australia), let me ask you what you find unique about Azerbaijan?
I would say, it's the hospitality of the local people. I've been to many countries and I've rarely been invited by so many people into their homes. Often you find that people in other countries are shy about inviting diplomats as they think they can't entertain us appropriately. Here, there's none of that. People develop such friendship that they'll invite you home, no matter what. That's one of the most refreshing aspects of life here.
So you get very close to what's happening in the everyday life of people here?
Yes, it's very easy to get close to people here. The other thing I would say is that Baku is a very safe and attractive city to be in and walk around in. It's a lot safer here than in any capital city in Europe in terms of security of people, goods and property. That's what makes Azerbaijan special for me. I like Baku. I like the people, the parks, the fact that it's on the sea...the architecture. It's a comfortable place to live and it's exciting to be here at this time in history.


From Azerbaijan International (2.2) Summer 1994.
© Azerbaijan International 1997. All rights reserved.
Back to Index AI 2.2 (Summer 1994)
Interviews
AI Home Page | Magazine Choice | Topics | Store | Contact us