World Class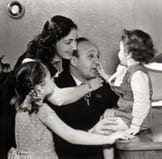 Fikrat Amirov with his wife Aida, daughter Sevil and son Jamil in 1959.

To order a specific magazine issue or to subscribe
Azerbaijanis have their share of brilliant, talented individuals that we think can be compared to some of the best in the world. Here are a few who excel in art, music and science that we've met in the course of producing this magazine.


Alakbarova, Shovkat - Beloved Singer of Azerbaijan's Folk Songs and Love Songs
Amirov, Fikrat - Composer. "Folk Melodies and Symphonic Masterpieces"

Aziza Mustafa Zadeh - Jazz pianist and vocalist
Babayev, Rasim - Artist

Behkalam, Akbar - Artist. "Behkalam and Berlin's Flying Cow"

Davidovich, Bella - Pianist
Garayev, Gara - Composer

Gasimova, Khuraman and Fidan (Kasimova in Russian) - Sisters who are both opera singers

Hajibeyov, Uzeyir - Composer. "Celebrating the 110 Anniversary (1995) of Composer Uzeyir Hajibeyov "Leyli and Majnun" opera; "Hajibeyov: His Real Genius"

Heyerdahl, Thor - Norwegian anthropologist and social scientist. "The Azerbaijan Connection: Challenging Euro-Centric Theories of Migration"; Scandinavian Ancestry
Ibrahimbeyov, Rustam - Screenwriter. 1995 Film Oscar for Best Foreign Film; and Cinema and Censorship: A Glimpse of the Former Soviet Union; Rustam Ibrahimbeyov - Then and Now
Javan, Ali - Physicist, Inventor of Gaseous Laser

Kasparov, Garry - World Chess champion who grew up in Baku
Khanmammadov, Haji - Composer for Tar
Kwan, Michelle - American world champion figure skater performs to the music of Azerbaijani composer

Malikov, Arif - Composer

Mirjavadov, Javad - Artist
Najafov, Fazil - Sculptor
Niyazi - Conductor
Rostropovich, Mstislav - Cellist

Vurgun, Samad - Poet

Zadeh, Lotfi - Computer systems theorist; Lotfi Zadeh, Creator of Fuzzy Logic


AI Home Page | Magazine Choice | Topics | Store | Contact us