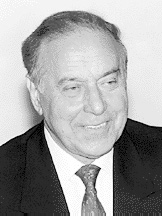 1. Multilingual Youth
"I would encourage our youth to learn as many foreign languages as possible. But prior to that ambitious goal, they all should know their own language - Azeri. They should feel it as a mother language and be able to think in it. I wish for the day when our youth can read Shakespeare in English, Pushkin in Russian, and our own Azerbaijani poets - Nizami, Fuzuli and Nasimi - in Azerbaijani."
Heydar Aliyev, Azerbaijan's President, in a televised forum on "Youth" in Baku on February 2, 1996.
From Azerbaijan International (4.4) Winter 1996.

2. Democracy - Not An Apple
"Some people think we should be able to establish democracy in a short time, but that's impossible. Azerbaijan is a young nation and democracy is a new concept. The U.S. has been advancing on the path of democracy for a long time - more than 200 years. You've achieved a lot, but you're still working on it. Democracy is not an apple you buy at the market and bring back home."
Heydar Aliyev, President of Azerbaijan, on his first official visit to the United States, speaking at an Open Forum sponsored by the US-Azerbaijan Chamber of Commerce (USACC) at Georgetown University in Washington, D.C. on July 30, 1997.
From Azerbaijan International (5.3) Autumn 1997.

3. Azerbaijan Opts for Turkey
"The decision of the Azerbaijani government and of the Azerbaijani president is known. There are many ways to transport the main oil to the international market. But for Azerbaijan - the only, only one - the most beneficial and the most reliable is via Baku-Georgia-Turkey to Jeyhan [a Mediterranean port of Turkey]."
Heydar Aliyev, President of Azerbaijan, on the occasion of his 75th birthday [May 10, 1998] when 19 state delegations including Eduard Shevardnadze of Georgia and Suleyman Demirel of Turkey came to Baku for a private commemoration. Alternative routes for main oil under consideration by AIOC [Azerbaijan International Operating Company] include north through Russia and south through Iran.
From Azerbaijan International (6.2) Summer 1998.
4. Khojali Massacre - Karabakh
"Seven years have passed since the Khojali tragedy. On that dreadful night [February 26, 1992], Armenian military units supported by Russia's 366th infantry regiment, razed the Azerbaijani town of Khojali and massacred its peaceful, innocent residents including a considerable number of the elderly, women and children. In reality, the Khojali tragedy is one of the greatest human atrocities of the 20th century. Every effort must be made to seek the world community's unbiased and resolute position regarding this genocide. On this day of National Mourning, I bow before the sacred spirit of these innocent victims and express my deepest condolences to their families and relatives and to our nation. May God rest their souls."

Heydar Aliyev, President of Azerbaijan, addressing the nation on the Seventh Anniversary of the Khojali Massacre (1999). Khojali was the first town to fall in Karabakh in the undeclared war with Armenia. Azerbaijan is appealing to the War Crimes Tribunal at the Hague to recognize the atrocities carried out in Khojali as war crimes against humanity.
From Azerbaijan International (7.1) Spring 1999.

5. Peace, not Military Intervention
"Azerbaijan does not plan to use the difficult situation in Armenia and Nagorno-Karabakh to achieve its own military objectives. This, despite the fact that in 1991-1993 Armenia took advantage of the internal tensions within Azerbaijan to occupy our lands. We support peace. We don't consider a military solution acceptable."
Heydar Aliyev, President of Azerbaijan, commenting about the latest in a series of terrorist acts by Armenians against their own leadership, when on March 22nd an assassination attempt was made against the top leader of the Armenian community of Nagorno-Karabakh. This region within Azerbaijan has been occupied by Armenian military forces since 1992 and has resulted in the displacement of nearly 1 million Azerbaijanis.

Six months ago on October 27, 1999, Armenian terrorists also attacked the Parliament in Yerevan, Armenia and killed seven of their own government leaders, including the Prime Minister and the Speaker of the Parliament. Investigation into these Parliament murders seems to be pointing to high-level Armenian government political connections.
From Azerbaijan International (8.1) Spring 2000.

6. Patience Has Its Limits
"We want peace between Armenia and Azerbaijan. We want peace in the Caucasus region. We want peace in Southern Caucasus. And, therefore, we are putting up with this difficult situation. But patience has its limits. You should know, the entire OSCE should know, the Minsk Group should know and the United Nations should know that an end must be put to this injustice against Azerbaijan."
President Heydar Aliyev addressing the visiting OSCE delegation headed by the chair, Austrian Foreign Minister Benita Ferrero-Waldner, on July 18, 2000 in Baku.
From Azerbaijan International (8.3) Autumn 2000.

7. Lexicon of Terrorism
As is well known, toward the end of the 20th century a new expression, "the Nagorno-Karabakh conflict," entered the lexicon of world politics as a result of aggression by Armenian separatists. Today the Nagorno-Karabakh conflict between Armenia and Azerbaijan is acknowledged as the second-longest running world conflict, after that of Israel and Palestine.

The Armenian-Azerbaijani conflict over Nagorno-Karabakh, in fact, was the beginning of a new stage in Armenia's open territorial claims and aggressive actions against Azerbaijan, which had been perpetrated for many years.

The bitter experience of the Nagorno-Karabakh conflict reflects the indecisiveness of mediators, their unprincipled stand and their attempts to strike a balance between the aggressor and the side subjected to aggression. This not only panders to the aggressor, but also poses a threat to the security and stability of the entire Caucasus region.

Azerbaijanis are a peace-loving people. Representatives of all peoples, regardless of their nationality, race, language or religion, have always lived in an open, kind and friendly way in Azerbaijan. Our history is rich with examples of enormous tolerance. The Azerbaijani people have shown great patience in regard to the Nagorno-Karabakh conflict, and they have devoted tremendous efforts to establish a stable and just peace in the region.

Today, there is no war in Azerbaijan, nor is there a permanent peace. We live in a state of "neither war, nor peace," which means that our territories are still occupied and our refugees are still under enormous pressure and suffer tremendously, especially elderly people, women and children. This situation deeply saddens us.

Since September 11th, when terrible acts of terrorism were committed against the United States, a new political consciousness has emerged that provides a new perspective for viewing world events. This creates, as well as necessitates, additional possibilities for resolving the Nagorno-Karabakh conflict between Armenia and Azerbaijan.

We hope that international organizations that have been commissioned to restore peace and security in the world will support us and will use their full potential to solve this troubled spot in the Caucasus. We trust they will resolve this conflict on the basis of mutual compromise and within universally accepted norms of international law.

We challenge Azerbaijanis to call upon the entire world community and all peace-loving people to support Azerbaijan's fair cause and to make continuous efforts to resolve the Armenian-Azerbaijani conflict peacefully within the framework of international laws and the principles of justice.
President Heydar Aliyev addressing the World Forum of Azerbaijanis in Baku on November 9, 2001.

From Azerbaijan International (9.4) Winter 2001.

8. International Policy - The Right Way
"You can't be friends with some countries and enemies with others, despite the fact that this is the way most countries function. You have to take into consideration the special interests of each country. Azerbaijan doesn't want to be enemies with any country. At the same time, we will not become victim to another country's policies. We have our own independent policy. As well, we are developing good relations with Europe and America and seek to benefit from their experiences, while preserving our own national identity and our own resources. Future leaders must pursue the policy that I have put in place. If they do, then they will succeed. If not, then Azerbaijan will face enormous tragedy."
Heydar Aliyev (May 10, 1923-December 12, 2003) who served as President of Azerbaijan (1993-2003) in an interview with Azerbaijan International's editor, Betty Blair, in 1999 when asked what advice he would give to future leaders of Azerbaijan in the 21st century in regard to foreign policy, given that Azerbaijan was a small country surrounded by Russia, Iran, Armenia, Turkey and Georgia?

From Azerbaijan International (11.4) Winter 2003.

© Azerbaijan International 2004.