Volume 15.1
Page 30-37
Student Tourism
Exploring Azerbaijan
Media Students from Norway Explore the Caucasus
All photo credits John Gjertsen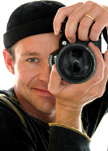 It's quite a novel idea - sending university-aged students on a study tour to the relatively unknown country of Azerbaijan. But what do you expect when the concept originated from a rather extraordinary school with a unique mission - in Norway.

Since 2004, the Danvik School of Media and Communications in Drammen, Norway, has sent a group of students each year to the Caucasus to hone their skills in journalism, filmmaking, and international relations. Danvik is what Norwegians call a "folk high school" (Folkehøgskole), which provides unique educational experiences for youth, ages 19-21, who have earned their high school diploma but who wish to further develop their creative and technical skills before pursuing studies in journalism or film school, or before being hired directly by the media industry.

Danvik does not give grades. Rather, the staff tries to foster an atmosphere of self-discovery without the usual judgmental critiques from adults. They hope that the result is "true competence". Taking a year or two off from academic studies and getting involved at Danvik also looks good on student resumes.
But why Azerbaijan?
What are the dots that connect Danvik with Azerbaijan? The human link can be traced back to the initiative of Tore Seierstad who directed the Norwegian Humanitarian Enterprise (NHE) in Baku from 2000-2003. Today, Seierstad is the Director of Danvik, but that hasn't stopped him from further developing those early ties with Azerbaijan by creating opportunities for young people to take these study excursions. Seierstad immersed himself in the community while living in Baku and has a great attachment to the place. Seierstad learned a bit of Azeri while living in Baku, but, more importantly, he says he learned a lot of culture and has friends and helpers all over the country.

Seierstad notes that for many years it was impossible to visit Azerbaijan since it was part of the Soviet Union (1920-1991). He feels privileged to have been able to live in Baku and discover what he calls a "treasure trove of culture, history, ethnic groups, some of which speak rare languages and live quite isolated in remote mountain villages."

Seierstad also credits Steiner Gil, former Ambassador to Azerbaijan along with the Norwegian Embassy staff in Baku with helping to open doors and help him establish good relations.

Heyerdahl and Azerbaijan
There is another link as well. Seierstad is from Larvik, Norway, which is the hometown of the world-renowned archaeologist and explorer Thor Heyerdahl (1914-2002) who led the Kon-Tiki expedition across the Pacific from Peru to the Polynesia on a balsa raft in 1947.

Heyerdahl had his own ideas about early man's links between Norway and Azerbaijan. He was convinced that early man migrated via seas and rivers from the region of Azerbaijan to what is now Scandinavia. [See "Scandinavian Ancestry: "Tracing Roots to Azerbaijan," by Thor Heyerdahl in Azerbaijan International, 8.2 (Summer 2000). Search at AZER.com.]

On Thor Heyerdahl's last trip to Azerbaijan with his wife Jacqueline in 2000, it was Tore Seierstad who organized a visit for him to Nij, a small village in the Caucasus mountains which is home to the Udi people who claim descendancy from the early Christian Caucasian Albanians of the 4th and 5th century. [See "Udins Today: Ancestors of the Caucasian Albanians" by Zurab Konanchev in Azerbaijan International 11.3 (Autumn 2003). Search AZER.com.] On that same trip, Heyerdahl and Seierstad continued their journey to Georgia to meet Dr. Zaza Alexidze of the Institute of Manuscripts in Tbilisi, who was responsible for discovering and deciphering the long lost written script of these ancient Caucasian Albanians. [See "Quick Facts: Caucasian Albanian Script" by Dr. Zaza Alexidze and Betty Blair in Azerbaijan International, 11.3 (Autumn 2003). Search at AZER.com.]

Planning Student Tours
It wasn't long before Seierstad as headmaster invited me - a teacher of photography at Danvik - to do a feasibility study for college tours in the mountain areas of Azerbaijan. That's how I became Project Coordinator. I have since made seven trips to the region. In the beginning we experimented with various concepts for the tour, exploring various regions throughout the country, particularly in the Caucasus around Guba, Shaki and Nij in north central Azerbaijan, and Ganja in western Azerbaijan.

On the first tours we camped high in the Caucasus and visited the remote village of Khinalig along with the mountainous regions of Shahdagh Yaylaghi. A small expedition even hiked to the top of Shahdagh during the summer of 2005. As Norwegian mountaineers, we enjoyed the pristine mountains, but soon discovered that all the hiking and camping proved to be too time consuming for our other more important goals. Today, the trips primarily concentrate in visiting Baku, Ganja, Shaki and Nij.

Study projects
Students carry out various project requirements while on location in the Caucasus region. On our most recent trip in February 2007 trip, the group (consisting of 13 students who were mostly girls), concentrated on independent photography or film projects, media studies or cultural studies. Students pay for these trips themselves but because we are quite familiar with the territory, we are able to keep the expenses down.

Students at Danvik College can also choose to take part in study trips to the United States or England. The trips to Azerbaijan require additional preparation. Actually, students start planning during the fall semester with country and regional studies, project planning and technical training.

Since most of our students are fluent only in Norwegian and English, while on assignment in Azerbaijan, they have to rely on interpreters to communicate in Azeri or Russian. This provides an added dimension for them. It's valuable field experience that would be difficult to have in Norway.

Similarities
As countries, Norway and Azerbaijan share many similarities. Both are relatively small. Both have mountainous terrain and, until recently when oil became the primary economic base, both relied upon an agrarian way of life, based on farming and sheep herding. But now, as both countries are involved heavily in the oil sector, wealth is having an enormous and not always positive effect on everyday life. Therefore, Norwegian students enjoy understanding more about Azerbaijan. Many students express a desire to return to visit their newly found friends again.

Danvik hopes to continue developing relations with Azerbaijanis. Because of potentially close ties that can be fostered in education, trade and culture, the school would like to invite some students from Azerbaijan to learn Norwegian and vice versa. They hope that this exchange program will continue long into the future.

As Seierstad observes: "When our young people develop friendships with other youth, we are building relations which will last for long time. And it is relations such as these that provide the building blocks for a better tomorrow."

Note: Should anyone wish to do serious mountaineering or camping in the Caucasus, it's really important to take along a professional mountain guide. Highly recommended: Alexander Najafov, Tel: (994-50) 335-9930, E-mail: jnajafova@mail.ru.

Since 2005, John Gjertsen has been a teacher at the Danvik School of Communications and Media in Drammen, Norway. He is Project Coordinator for the Caucasus project and took all photos in this article. Contact John Gjertsen:post@danvikfhs.no. See DANVIKFHS.no
____
Back to Index AI 15.1
AI Home | Magazine Choice | Topics | AI Store | Contact us

Other Web sites created by Azerbaijan International
AZgallery.org | AZERI.org | HAJIBEYOV.com