Volume 15.1
Page 14
Editorial
Mud Volcanoes & Creativity
Beauty from the Depths of Human Resources

"Artists are like volcanoes. Those who are able to erupt, should do it.
Those who can't, should keep silent."
-Azerbaijani Artist Rasim Babayev (1927-2007)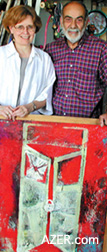 Left: Editor Betty Blair with Azerbaijani artist, the late Rasim Babayev (1927-2007). This painting of "Locked Doors" is one in a series. Rasim depicted these doors as always barred and obstructing entrance, despite the fact that they were not affixed to any walls.

If we can use mud volcanoes as a metaphor for human creativity, the fact is that sometimes out of the depths of human despair, profound beauty bursts forth - a type of beauty that makes us even more conscious of the meaning of life.

Let me suggest a few parallels in this issue. First of all, Mstislav Rostropovich (1927-2007), the world-renowned cellist and conductor, who passed away in April. He was born in Baku where he lived until age four when his family moved to Moscow. But since 1997, Rostropovich had been returning quite frequently since President Heydar Aliyev celebrated Rostropovich's 70th birthday on the state level. After that, "Slava" as his friends called him, was very generous with his concerts - both in performing as well as conducting, and in challenging Azerbaijan's budding musicians with his Master classes.

Mstislav and his wife Galina Vishnevskaya, the famous soprano opera singer, faced severe difficulties themselves after offering the dissident writer Solzhenitsyn a place to stay in their winter "dacha" in the 1970s. The decision led to Soviet authorities canceling their concerts and stripping them of their rights as citizens. But when you listen to the Maestro play his cello, beauty and consciousness transcend description.

Azerbaijani artist Rasim Babayev (1927-2007) also left us this April. During the Soviet period, authorities sometimes directed guests to his studio to prove that there was a place for dissident voices in Soviet art. All his life, Rasim refused to bow to the dictates of the Socialist Realism style - which meant that content had to propagate the tenets of Socialism, and style had to be natural or "realistic".



Left: Rasim Babayev. Much of Rasim Babayev's work was introspective. He often painted numerous portraits of himself. Here, on his 79th birthday (December 31, 2006), he stands in front of the door to his studio loft in Baku.

Quote by Arabic philosopher Yakzan Ibn Tureyli reads (in Russian):
"Those who are not skeptical are not seekers of truth. And those who don't open their eyes remain in darkness and hesitation."

But Rasim loved to fill his canvases with brilliant colored "divs" and dragons, which to him represented evil forces that he believed deprived and demeaned individuals of their rights as human beings. Visit Rasim's studio - it's still possible - and see how out of his depths of pain, he made explorations in the beauty and consciousness.

Then there's Zara Imayeva, journalist who now writes and directs children's drama. She was caught up in the devastating tangles of war in her homeland Chechnya and arrived in Baku, widowed, and psychologically broken. It's been a difficult slow process back to normalcy. Zara realized that many young people also were suffering from traumatic memories of the war and disabilities.

She felt it was unfair that they would have to carry such baggage throughout their lives. With the help of friends, she created an art drama studio called "Didi" which means "Baby" in Chechen.

For the last three years, she has been using drama and dance to help restore "childhood" and the "joy of play" to these children's life. And, in the process, surrounded by love, she is gradually recovering her own self-worth and ability to make plans and dream for the future. The miracles that she has produced in these children's lives are truly ones of beauty and consciousness.

Who among us can take the "Bubbles, bubbles, toils and troubles" (to misquote Shakespeare) - meaning life's misfortunes that often erupt into volcanoes of life-threatening and life-altering circumstances? Who are the rare individuals who can take these experiences and create beauty - a genuine beauty that leads to greater responsibility and consciousness throughout society? This is the challenge.
______

Back Index AI 15.1
AI Home | Search | Magazine Choice | Topics | AI Store | Contact us

Other Web sites created by Azerbaijan International
AZgallery.org | AZERI.org | HAJIBEYOV.com