Autumn 2003 (11.3)
Pages 52-55

Zaza Alexidze. Decipherer
Glimpses of Childhood
by Betty Blair

Also spelled Zaza Aleksidze

Related Articles
1 Caucasian Albanian Alphabet: Ancient Script Discovered in the Ashes - Zaza Alexidze and Betty Blair
2 Udi Language: Compared with Ancient Albanian - Alexidze
3 Quick Facts: Caucasian Albanian Script - Alexidze and Blair
4 Albanian Script: How Its Secrets Were Revealed? - Alexidze and Blair
5 Caucasian Albanian Script: Significance of Dechipherment - Alexidze
6 Udins Today: Ancestors of the Caucasian Albanians - Zurab Konanchev
7 Heyerdahl Intrigued by Rare Caucasus Albanian Text - Alexidze





Left: Historian/Decipherer Zaza Alexidze.

There's no magic in deciphering an unknown ancient script. Georgian historian Zaza Alexidze will certainly vouch for that. In Spring 2001, after working several years on a text that was barely visible which had been found in a remote monastery in Egypt, the first words of the Caucasian Albanian written language began to speak to him.

Perhaps today, those manuscripts would still be waiting to be deciphered had it not been for Zaza's vast knowledge, cross-disciplinary studies and his immeasurable patience and persistence. When you look back over Zaza's life, you see that this journey of discovery started when he was a young boy. It was his immense love for books, his knowledge of languages and alphabets - both modern and ancient, his research into paleography and epigraphy, church history and traditions of liturgical writing in the region - all these things taken together that enabled him to crack the code of this strange alphabet.

Here's a glimpse of Zaza's childhood and the path that prepared him to dare to undertake the monumental task of deciphering this unknown ancient script that for more than a thousand years had disappeared from Azerbaijan.

Ancient Town
Zaza Alexidze was born on August 3, 1935, in Telavi, one of the most ancient towns in what is now known as the Republic of Georgia. Townspeople pride themselves that their town, identified as Teleda was included on one of the maps in Ptolemy's eight-volume Guide to Geography, written in the 2nd century.

Located about 100 kilometers northeast of Tbilisi, Telavi has a current population of about 25,000 inhabitants. The town is the political, economical and cultural center of Kakheti, and according to Zaza, is one of the richest and most beautiful regions of Georgia. Centuries earlier, Kakheti had been an independent principality and, at one time, even a kingdom. "Everything had a feeling of continuity in time for me when I was growing up in this small town. Perhaps, that's what first made me so conscious of history at a very early age," says Zaza.

For example, the school where he studied had had an uninterrupted history of more than 260 years. The building itself is located adjacent to the great fortress-like stone walls, which surrounded an ancient palace where the kings of Kakheti once lived.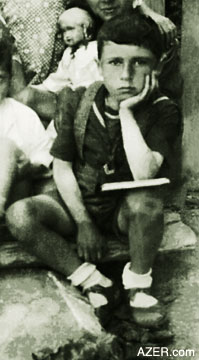 Left: Zaza Alexidze on his first day of school. Early 1940s.

Everything about that school was impregnated with history, including the fact that many prominent political figures, scientists, artists and writers had studied there. Some of the most illustrious names who graduated from the same school as Zaza include: Vazha Phavela, one of Georgia's greatest poets (1861-1915); Academician and world-famous physiologist Ivane (John) Beritashvili (1884-1965); and director and reformer of the Georgian theater Sandro (Alexander) Akhmeteli (1886-1937).

The Alexidzes were three brothers - Thengiz, Zaza and Guram. Today Thengiz is a geologist, and Guram, following in his father's footsteps in agricultural science, became a Professor Doctor, and then was elected as an Academician at the Agricultural Academy of Georgia.

The family lived in an apartment of only two rooms - the three kids, their mother, father and grandmother's sister. During the Soviet era (1920-1991), it wasn't so unusual for so many people to be crammed into such a small living space in Georgia, nor, for that matter, any of the other Soviet republics. "Maybe that's why we developed such close family bonds," says Zaza. We lived so closely together, confined in such narrow living quarters.

Influence of Mother
His mother Eugenia played a tremendous role in his life. "There has never been another person in my whole life with whom I've had a deeper spiritual and intellectual bond than my mother," he admits.

She was a musician - a pianist. She loved Mozart, Beethoven, Chopin, Schubert and Liszt. The portraits of these composers adorned the wall next to their grand piano. "I remember the warm, tranquil autumn evenings in Telavi when she would play Beethoven's Sonata No. 8 'Pathetique' just for me. I have tried to foster this same love and knowledge of classical music and opera in my own children," he says.

But his mom's influence on his cultural development was not limited to music; she also had an insatiable interest in literature and had read widely. Zaza credits his mother with the reason he became familiar with classical literature from early childhood.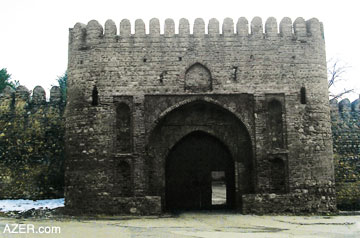 Left: Citadel entrance and fortress walls in Telavi, the historical town where Zaza grew up. Telavi is mentioned in 2nd century documents.

As a child, Zaza loved to sit on the floor, playing with alphabet blocks, constructing words and short sentences. "I must have been about three years old when the letters started to take on meaning for me," Zaza recalls. These blocks were his first introduction to the puzzles and mysteries of language.

More than 50 years later, he would have the same experience when he began to work with the barely visible mysterious letters on a charred manuscript discovered in a remote monastery in Egypt. His persistence paid off and the Caucasian Albanian language began to speak to him.

Books became Zaza's greatest joy in childhood. By age four, he had started to read. It seems he had a special affinity for old books. The list of books that he had read before he was 10 years old seems is quite impressive. By the time he was five or six, he had already read Mark Twain's "The Adventures of Tom Sawyer" (1876), Harriet Beecher Stowe's "Uncle Tom's Cabin" (1852) and Jules Verne's "Mysterious Island" (1875).

One of his most vivid family memories during World War II (1941-1945) was of him and his brothers sitting around the table at night, gathering close to their Mother as she leaned close to the lamp to catch the dim light falling on the pages of the book. As it was wartime, the windows were blackened so that no light could be detected from outside. "Mother would read aloud to us boys," Zaza reflects. "Of course, by then, we were all quite capable of reading on our own, but we loved those moments together with her and the lively discussions that followed."

Below: School in Telavi which Zaza attended, which had a continuous uninterrupted history of 260 years.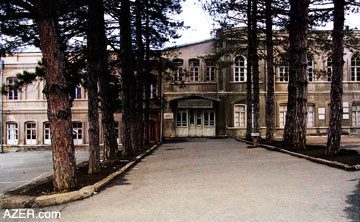 By age eight, Zaza had read Tolstoy's "War and Peace" (1865-69) in Russian and a Georgian translation of Cervantes' "Don Quixote" (1605). "I loved 'Don Quixote' most of all and memorized much of it," Zaza recalls fondly. "To this day, it still remains one of my favorites."

There were days when the future historian balked at going to school simply because he was so deeply immersed in a book and didn't want to tear himself away. Fortunately, his Mother didn't insist. "Even when I was quite young," he recalls, "Mother always trusted my judgment. That's the way she raised her children."

This was just about the time that Zaza discovered Shakespeare. He had borrowed a 19th century deluxe edition of the Complete Works of Shakespeare from his neighbor. Zaza plunged into reading all of the tragedies and comedies, the adult versions - not abridged or children's versions. They were in Russian.

There was one exception - Hamlet. He can't remember exactly why he had put off reading that specific work. But then one day at school, he discovered that one of the girls in his class-one whom he had "his eye on" had already read that drama. Not to be outdone, he left class and ran home to read Hamlet that very same day. He was in second grade at the time, not quite 9 years old.

Some of the families of Telavi had remarkable collections of books in their personal libraries. When the brothers wanted to read a certain book that they didn't have at home, their Mother would ask around among friends and neighbors and was almost always able to find it.
Above: Zaza Alexidze's mother Eugenia had a tremendous influence on his life, especially in literature and music. His father Nicolas was one of the first graduates of the University of Tbilisi.

But there was another library in their town that intrigued Zaza. During the war, their school had been converted into a military hospital. Somehow Zaza and his elder brother Thengiz had heard that somewhere in that building there was quite an extensive old library. In 1943 when the hospital was transferred to another location, the boys saw their chance to set out in search of it. Sure enough, they found their treasure downstairs in the basement.

Stacked up on the floor were piles and piles of books. The boys were even able to browse through a number of magazines lying around and even found articles featuring Trotsky (1879-1940) and Bukharin (1888-1938). At that time, articles featuring such revolutionaries who had resisted Stalin were absolutely forbidden. Obviously, no one knew of the existence of these old magazines, stashed away forgotten in a basement room in a small town far from Moscow, the center of Soviet bureaucracy.

Zaza remembers being so absorbed in the books that they didn't budge from that makeshift library until they were made to leave. Then they gathered up some of those forgotten books and headed home. One of Zaza's finds was a purely philosophical work: "Atomistic Philosophy of Democritus in Ancient Greece" written by Georgian philosopher S. Danelia. He was going on nine at the time. During the years that followed, at school he started reading intensely in philosophy, history, logic and psychology, although he had already determined that he wanted to become a historian.

Surprisingly, as a child, despite his voracious reading habits, he seldom read past midnight. That's the pattern he has generally maintained throughout his adult life as well. "Even today," he admits, "I rarely work past midnight. I treasure the nights. Lying in bed is when I do my deepest thinking. That's the time when so many fragmented pieces of information fall into place." Zaza admits that nearly all of his own writings and projects, including the decipherment of the Albanian alphabet, have been thoroughly deliberated and mulled over in his head at night - away from his desk, reference books and computers.

"One shouldn't think that the only thing I did in childhood was read," says Zaza, concerned that someone might get the wrong impression. "Like any kid, I spent a great deal of time outside in the fresh air, playing with friends. I was seriously involved with sports such as soccer, gymnastic and chess and took part in competitions and whenever possible, I went horseback riding."

Zaza is quick to admit to a mind - body relationship. "It's essential for the entire body to be involved if you want to excel in intellectual pursuits. The physical body must be strong and well trained, not only the mind," he says.

Though Zaza's father did not directly influence his academic interests in the profound way that his mother did, Zaza is convinced that the academic milieu in which he grew up did influence his own career later on. His father Nicholas was a scientist and professor, having earned a doctorate in agriculture and specialized in plant protection.

Nicholas Alexidze was among the first graduates of Tbilisi State University, an institution that was founded in February 1918 during that brief window of time when Georgia had gained its independence from the Russian Empire (1918-1921), prior to the Bolsheviks taking control and imposing the Soviet regime (1921-1991). Georgia was the first country in the Caucasus to establish a university. Its founder Ivane (John) Javakhishvili (1876-1940) is revered as Georgia's finest historian. His indisputable authority was, and still is, deeply felt in Georgia. Javakhishvili's complete set of works occupied the most esteemed place on the shelves of their quite extensive family library although no one had yet become a historian in the Alexidze family.

From early childhood, Zaza used to pore over these works. Javakhishvili was primarily concerned with the Caucasus, especially research related to Georgian and Armenian studies. Zaza believes that it was Javakhishvili's influence that made him conscious of the need to approach his studies from an interdisciplinary perspective.

I'm sure all of these factors played upon my subconsciousness," admits Zaza. "Even to this day, I'm convinced that genuine workmanship, in any field, can best be achieved when there is synthesis of thought between related fields. A cross-disciplinary approach is absolutely essential: all knowledge is related."

"Over the years," continues Zaza, "I've gradually arrived at the conclusion that any person who wants to make a serious contribution 'to sail in deep waters', as we say doesn't have to be a great specialist in every field related to his own. However, it's crucial that he acquires a knowledge that is broad enough so to make him extremely conscious of relationships that exist between various fields and disciplines."

Zaza suggests that for historians this might mean philology and linguistics. But, in addition to understanding these broader relationships, further subdivisions in history might include paleography, epigraphy, codicology, textology, grammatology and etymology.

Georgian Church
Despite the fact that neither Zaza nor any of the members of his family were religious, the church did play a significant role in those early formative years. In Telavi, their house was located directly behind the Georgian Orthodox church known as "Ghvtaeba" (St. Saviour's). This 5-6th century building doubled as the residence of the Bishop of Alaverdi, who oversaw the main diocese of Kakheti.

"As a kid, it was only natural that I spent many hours playing in the churchyard, and had regular contact with the clergy," says Zaza. The great religious celebrations fascinated him. Despite the fact that the Communist Party forbade Party members and Young Communist Union members (Komsomol) from getting involved with religion during the Soviet period, the common people, especially in rural areas were able to gather and worship quite freely, especially in those early years during and immediately following World War II. Zaza thinks that these restrictions and contradictions served to pique his curiosity.

"Enormous crowds would gather in the churchyard and spill over into our backyard and onto our balcony when the major Christian celebrations, such as Christmas, Easter, Christ's Ascension and Transfiguration were commemorated. When the weather was bad, townsfolk used to come and sit on our balcony and even come inside our home. So, although I didn't actually participate in those commemorations and celebrations, I was exposed to things that not everyone had the chance to see and know," observes Zaza.
Fortunately, during the Soviet period, the atheist government had not destroyed all the church buildings. In Georgia, many of the oldest churches (dating back to the 5th century) were declared historic monuments and were put under the protectorate of the State.

Academic Work
When it comes to research, Zaza remembers what his first "academic paper" was entitled, "The Origin of Georgian Script". At the time, he was about 13 or 14 years old. It was a paper that he read at a school conference. By that time, he had already read Javakhishvili's "Georgian Paleography" and "Ancient Armenian Historical Literature" which provided their own detailed analyses and perspectives of these issues.

Then he took a fascination in Gremi, the city where his mother's ancestors had come from. It had been the ancient capital of Kakheti before Telavi was. Again, Zaza was involved with research that would relate to future research. His report dealt with inscriptions that could be found in Gremi in the Georgian, Greek, Armenian and Persian languages as well as with other historical sources.

Zaza was only 14 years old when Ilia Abuladze's "Paleographic Album of the Old Georgian Script" was published. The term, "Old Georgian Script", refers to the early Georgian alphabet used between the 5th to 11th centuries, which differ considerably in appearance from the Georgian alphabet that is in use today.

This is the same script that would be on the top layer of the palimpsest under which Zaza would discover the Albanian written script at the Orthodox monastery on Mt. Sinai. Though the Old Georgian and Modern Georgian languages are relatively close to each other, their alphabets differ considerably. Years later, Professor Abuladze who studied the Old Georgian and Armenian texts would become the founding Director of Tbilisi's Institute of Manuscripts, and would go on to direct some of Zaza's future academic there.

Further academic pursuits began when Gabriel Chachanidze, the Bishop of Alaverdi, visited Zaza's home in Telavi. Zaza remembers the occasion: "When he saw me holding Abuladze's 'Paleographic Album', he took a deep interest in me and suggested that we work together, as he had been a professor of Georgian History at Tbilisi State University. And, indeed, we spent many hours in his place, which was located under the dome (cupola) of the church, overlooking our backyard." Zaza was 14-15 years old at the time.

Almost as forerunner of what was to come, whenever the Bishop could find time, he and Zaza would pore over photos from those Old Georgian texts. This was the beginning of Zaza's interest in epigraphy, paleography, especially in relationship to the study of alphabets. Of course, even then Zaza knew about the issues related to the Albanian alphabet.

"It was nigh impossible to know about Georgian and Armenian alphabets and yet be unaware that the Albanian language had existed, although no extensive text had ever been found," says Zaza.

In 1937, Ilia Abuladze, had discovered a sample of the Albanian alphabet in a 15th-century Armenian grammar text, which illustrated what various alphabets in the region looked like: Armenian, Greek, Hebrew, Georgian, Syrian, Coptic, Arabic and Albanian. That same year, Akaki Shanidze identified the Albanian script with the contemporary Udi language.

More than 60 years would elapse from the time a relationship had been shown to exist between the Caucasian script and the contemporary Udi language, and when Zaza would find a sample of the extended text and identify it as Albanian.

Another person who influenced Zaza during his childhood and high school years was Givi Machavariani. Though eight years his senior, Givi became his closest friend and already was a promising scholar and developing into one of the great linguists of Georgia. Unfortunately, Givi died rather young, at the age of 40. Nevertheless, the two managed to publish several works together both in Georgian and in English. At the time, they were giving serious thought to developing a program that would combine history, philology and linguistics into a single united discipline, in an attempt to search for new ways to study the development of the Georgian nation.

Givi lived in Tbilisi. During the summer, he would come to the countryside in Telavi and stay with the Alexidzes, as he was also a relative. In turn, whenever Zaza went to Tbilisi, he would spend time with Givi. Zaza credits this friendship with the development of his interest in linguistics. "At that time, my fascination with languages became so intense, that it nearly rivaled my desire to become a historian," admits Zaza. "I'm sure that had I become a linguist, I would have wanted eventually to focus on problems related to Georgian ethnogenesis - understanding the beginnings of the Georgian people."

By that he means studying issues related to the origins of the Georgian people: whether they were indigenous to the region and which other nationalities were Georgians related to genetically, culturally and linguistically?

Zaza didn't become a linguist. But over the course of his studies and academic pursuits, he ended up having to deal with numerous languages and alphabet scripts. He is incredibly modest when it comes to acknowledging his expertise in ancient and modern languages, noting that there are other scholars who know more than he does. But his humility reminds one of the Azeri proverbs: "The tree heavy laden with fruit bends low."

Zaza recalls how his teachers in high school were very keen to find out which direction he would pursue as a career. When he finished high school [an 11-year course], each of his humanities teachers approached him regarding his future academic studies, hoping that he would choose their own specific field. As Zaza looks back on those days, he reflects, "Today, I'd like to think that I have not betrayed a single one of their expectations.

Zaza Alexidze went on to pursue studies in the History and Philology of the early Middle Ages in the Caucasus at the University of Tbilisi. He earned his Doctorate (1969) and Post Doctorate (1984) in Historical Science. He is now Professor at Tbilisi State University where he heads the Department of Armenian Studies. He is an Academician-Secretary of the Department of Language and Literature of the Georgian Academy of Science and directs Tbilisi's Institute of Manuscripts. In 2001, he succeeded in deciphering the ancient Albanian written script, the ancestor of contemporary Udi, which is spoken today by the Udins, who mostly reside in present-day Azerbaijan.

Below is a list of some of the major books he has written that somehow relate to the decipherment process of the Albanian written language. Most of these are in the Georgian language.
(1) Materials on the Historical Geography and Place Names of Georgia. Tbilisi, 1964.
(2) The Book of Epistles, Ancient Armenian Text, Georgian Translation, Analysis and Commentaries. Tbilisi, 1968.
(3) Ukhtanes: History of Separation of Georgians from Armenians, Ancient Armenian Text, Georgian Translation, Analysis and Commentaries. Tbilisi, 1973.
(4) Arseni of Saphara: On The Separation of the Georgia and Armenia, Ancient Georgian Text, Analysis and Commentaries. Tbilisi, 1980.
(5) Armenian Inscriptions of Ateni Sioni. Tbilisi, 1978.
(6) Four Inscriptions of Ateni Sioni. Tbilisi, 1983.
(7) Methodological Problems of Analysis of the Georgian Sources (Hagiography). Tbilisi, 1983.
(8) Georgian Fresco Inscriptions, Vol. I, Tbilisi, 1989.
(9) Breakthrough in the Study of Caucasian Albania, Tbilisi, 1998.
(10) Le Nouveau Manuscrit Georgien Sinaitique No. 50, Edition en facsimile, Introduction par Z. Aleksidze: Corpus Scriptorum Christianorum Orietalium, Lovanii, 2001.
(11) Caucasian Albanians Begin to Speak: The Deciphering and Identification of the Albanian Palimpsest. These publications in Azerbaijani and Georgian are anticipated in late 2003. Plans for an English translation are also underway.

Back to Index AI 11.3 (Autumn 2003)
AI Home | Search | Magazine Choice | Topics | AI Store | Contact us

Other Web sites created by Azerbaijan International
AZgallery.org | AZERI.org | HAJIBEYOV.com