Autumn 2002 (10.3)
Page 18

Newsmakers
Remembering Zuleykha Asadullayeva
by Igor Effimoff




As the granddaughter of an exceptionally wealthy oil magnate, Zuleykha Asadullayeva Weber (possibly born in 1907) was one of the last few remaining descendants of a Baku Oil Baron to have experienced the pre-revolutionary period firsthand. She led a privileged childhood up until the Red Army seized Baku in 1920 and completely turned her life upside down. Zuleykha's father was arrested and never heard from again. She, her mother, brothers and sisters fled to Turkey.

After the Soviet Union collapsed in 1991, more than 70 years later, Zuleykha decided to return to Baku to revisit her birthplace. In all, she made nearly a dozen trips back to Baku, reclaiming her identity, discovering more about her family's history and finding ways to contribute to the lives of children and refugees. Her final visit to Baku was for the June 2002 Oil Show.

Zuleykha passed away in Ankara, Turkey on July 22, 2002. According to her wishes, she was buried in Amirjan, a suburb of Baku, next to her grandfather, the great oil magnate Shamsi Asadullayev (1840-1913).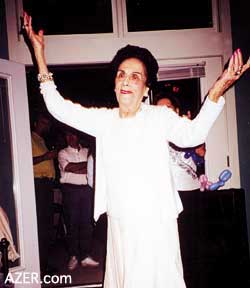 Even Zuleykha's closest relatives are not certain how old she was because she had two passports with different birthdates - 1907 and 1916. Regardless of her actual age, she amazed everyone with her boundless energy and spunk.

Photo: (left and below) Zulie dancing with children from the Bone Tuberculosis Sanatorium. She always loved to dance whenever she had the opportunity.
"Zulie", as we knew her by her Westernized name, was undoubtedly one of the most remarkable people I've ever known. We met in the spring of 1997, while I was working in Baku for Pennzoil Caspian Corporation. One morning, she walked into our office and announced that she was going to help us with our humanitarian, cultural, educational and social support programs. She was not asking if she could help; she was telling us that she was going to do so. Of course, I had already heard about Zulie and knew what she was capable of doing, so I immediately accepted her assistance. That was that!

Zulie was always very direct. She knew what she wanted. You always knew exactly where you stood with her, yet she managed to do everything with a certain graciousness. I observed that same style when she was with presidents, ministers, ambassadors, company executives, taxi drivers, orphans, cooks, refugees, journalists or children.

Over the years, we worked together closely. Zulie lived part of the year in Baku and the remaining part near Washington, D.C. at a retirement center. Whenever she was in Baku, we met or spoke with each other nearly every day.

Zulie's social agenda was extremely busy because she served as a living icon Baku's glorious Oil Boom, when the city was at its zenith of fame and wealth. Everybody wanted to meet her or entertain her. People clamored for her autograph. And she could never say no. Her energy seemed inexhaustible. I found her to be generous to a fault.

Her Personal World
The inner Zulie was even more impressive. When we traveled throughout Azerbaijan, to the towns of Guba, Husara, Sabirabad or elsewhere, she revealed more of her inner self. We had our deepest conversations on those long trips over bumpy roads. She told me about growing up in the lap of luxury at her grand-father's palatial residence and about some of the oil barons she had known as a child-their personal habits, their generosity, their frugality.
She recalled their escape - her mom with the four children - from Baku to Istanbul in 1922. She told me about her life in Turkey, in the United States and even for a while in Brazil.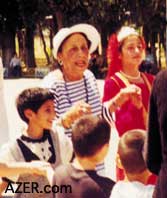 She shared her pain of being widowed three times and her misgivings of ever marrying again. She was strong and did not accept any of the defeats that life had dealt her. She was always attuned to personal relationships and loved young people. It wasn't the saccharine type of love exhibited in flowery, "gushy" words; but rather one of genuine concern for their well-being and physical, educational and mental development. Zulie had no children of her own; she considered all children to be her own. She often would challenge them to study hard and behave themselves. Then she would compliment them on their appearance or grades or other achievements.

I remember the holiday parties we hosted at the Children's Bone Tuberculosis Sanatorium in Zagulba, down by the sea. Of course, we would all dance - Zulie loved to dance. In fact, many of the photos left in her own albums show Zulie dancing Azerbaijani style, her hands raised high in the air.

Many of the buildings that once belonged to Zulie's family are still standing a century later. The family's residence on Samad Vurghun Street, was immediately confiscated by the Bolsheviks and divided into numerous apartments. Today, the Iraqi Ambassador's residence occupies the third floor. The family's large summer home in Mardakan was also taken away from them and eventually provided the basis for the National Cardiology Sanatorium.

When asked about what it felt like to be stripped of so much wealth, Zulie was always quick to reply: "About our family's wealth-well, it's gone. I don't really care that it's gone. Let it be gone. Money is not happiness; happiness comes from relationships with others, and in what we can do for others, especially when they're in need. " Zulie's ever-gracious, ever-energetic, and ever-caring presence is greatly missed.
_______
Igor Effimoff served as President of Pennzoil Caspian Corporation (now Devon Energy Caspian) in Baku from 1996-2001.

To read Zuleykha's personal account of her family's flight from Baku in 1920, see the article "When the Bolsheviks Came: An Oil Baron's Daughter Revisits Baku" in AI 7.3 (Autumn 1999). Available in both English and Azeri Latin; Search at AZERI.org.

Back to Index AI 10.3 (Autumn 2002)
AI Home | Search | Magazine Choice | Topics | AI Store | Contact us

Other Web sites created by Azerbaijan International
AZgallery.org | AZERI.org | HAJIBEYOV.com