Autumn 2002 (10.3)
Page 15

Newsmakers
Teymur Beats Former Chess World Champion
by Jean Patterson




The world's youngest Grandmaster of chess, 15-year-old Teymur Rajabov from Azerbaijan, has had an astounding year. Recently, he pulled off a surprise victory against former World Champion Anatoly Karpov (1951-) during the "Russia vs. the World" competition held September 8-11 at Moscow's Kremlin Palace. Russian chess master Karpov had held the world championship for 10 years, from 1975 to 1985.

In these games, dubbed as "Match of the Century 2002", Teymur also tied with chess great Garry Kasparov (1963-), who grew up in Baku and now makes his home in Moscow. Kasparov became the world's top chess player in 1985, after winning that title from Karpov. He held onto the number one position until 2000, when he lost the world championship during a 16-game match against his former protégé Vladimir Kramnik. The Russia vs. the World tournament has been held only twice before-during the Cold War era, when the competition was known as USSR vs. the World. The Soviets won both series: in Belgrade by a slim margin of one point in 1970, and in London by two points in 1984.

This time around, Russia was favored to win the global competition, since three of its 12 team members had been world champions: Karpov, Kasparov and Kramnik. Notably, out of the 12 members on the World team, all but four were from former Soviet Republics or Eastern Bloc countries - in particular, Azerbaijan, Ukraine, Georgia, Armenia, Latvia and Hungary. Other countries represented were India, Israel and England.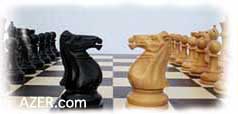 Russian President Vladimir Putin opened the "Russia vs. the World" competition at the Kremlin Palace with a brief address, welcoming the world's greatest chess players to Moscow. After four days and 10 rounds of competition, the World beat Russia, 52-48.

Out of the 24 players, Teymur ranked 12th - a superb showing, considering he was by far the youngest player in the competition. The next oldest competitors were Russian player Alexander Grischuk and Ukrainian player Ruslan Ponomariov, who are both 18. Teymur scored a total of five points for the World team, with three wins, four ties and three losses. Overall, Alexei Shirov from Spain (an ethnic Russian originally from Latvia) ranked first in the competition, Boris Gelfand from Israel ranked second and Vassily Ivanchuk from Ukraine ranked third. Karpov and Kasparov placed ninth and 16th, respectively. Vladimir Akopian from Armenia placed 22nd.

Moscow Grand Prix
Teymur had another unexpected success at the FIDE (International Chess Federation) Moscow Grand Prix earlier this year on June 1-5, 2002. During the competition, Teymur defeated Peter Svidler (three-time Russian champion), Vladimir Akopian (Armenia's best chess player and the 1999 Vice Champion of the World), Vassily Ivanchuk (2002 Vice Champion of the World from Ukraine) and Alexander Belyavsky (four-time USSR Champion). Teymur and Kasparov emerged in the final round as the two strongest players out of the 32. "I played two matches against Kasparov," Teymur said. "I lost the first match. Then, in the second, I had the advantage of playing White [meaning, he had the first move], but I wasn't able to defeat him. We ended up tying that match."

Kasparov was declared the winner, and Teymur placed second. After the competition, Teymur was featured in Robert Byrne's weekly Sunday chess analysis column in the New York Times (NYT). The article, "Another Rising Star From Kasparov Country," ran on June 23, 2002. Referring to the fact that both Teymur and Kasparov are from Baku, Byrne joked, "Maybe there's something in the water."

What does the future hold for Teymur? "I haven't quite decided yet if I will make a career out of chess," Teymur told Azerbaijan International. "Whatever I do, I want to continue my education and have an interesting profession besides chess."
______

To learn more about Teymur Rajabov (often spelled Teimour Radjabov or Racabov), visit FIDE.com. See also "All the Right Moves: Teymur Rajabov, International Chess Master" in AI 7.4 (Winter 1999).
On Garry Kasparov, see "Kasparov: The World's Chess Champion" and "Computer Challenges: IBM's Deep Blue to Play Garry Kasparov" both in AI 3.3 (Autumn 1995).
For an in-depth analysis of the Grand Prix matches, visit KASPAROV.com.
____

Back to Index AI 10.3 (Autumn 2002)
AI Home | Search | Magazine Choice | Topics | AI Store | Contact us

Other Web sites created by Azerbaijan International
AZgallery.org | AZERI.org | HAJIBEYOV.com