Autumn 2002 (10.3)
Page 20

Newsmakers
Muslim Magomayev Celebrates 60th Jubilee
by Aida Huseinova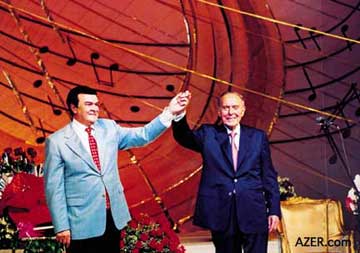 Azerbaijani singer and composer Muslim Magomayev (August 17, 1942-October 25, 2008), one of the most famous pop stars of the former Soviet Union, recently celebrated his 60th Jubilee in Baku. Muslim Magomayev represents one of the most respected artistic dynasties in Azerbaijan. His grandfather Muslim Magomayev (1885-1937), a friend and contemporary of Uzeyir Hajibeyov (1885-1948), was one of the founders of Azerbaijani composed music. Magomayev's father, Mahammad Magomayev, who died during World War II, was a gifted painter.

Muslim became famous as an opera singer with Rossini's "Barber of Seville". He also became known for his arias from Puccini's "Tosca", Hajibeyov's "Koroghlu" and "Shah Ismayil", which was composed by his grandfather.Then the singer turned to popular music, becoming a pop idol for several generations of music lovers in the Soviet Union.

Photos: Muslim Magomayev, a well-known Azerbaijani pop singer who resides in Moscow, was honored on his 60th birthday with a Jubilee celebration in Baku. On September 6, 2002, in honor of Magomayev's 60th Jubilee, President Heydar Aliyev awarded him the Medal of Istiglal (Independence), the country's highest honor. Photos by Rafig Baghirov, President's photographer.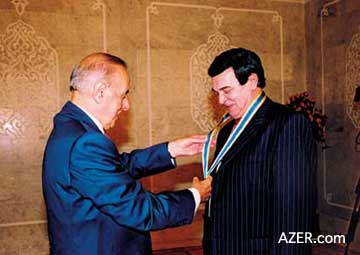 Then the singer turned to popular music, becoming a pop idol for several generations of music lovers in the Soviet Union. At the very young age of 31, he was awarded the Soviet Union's highest artistic title - People's Artist of the USSR.

In 1997, in recognition of Magomayev's professional successes, a Russian astronomical society named two stars in honor of him and his wife, Tamara Sinyavskaya (1943-), a prominent Russian opera singer who was also awarded People's Artist of the Soviet Union and worked as a soloist at the Bolshoi Theater.

Magomayev has been living and working in Moscow since the early 1970s. He maintains permanent ties with the artistic world in Azerbaijan and participates in important musical events in Baku. One of the songs that he is most famous for is "Azerbaijan", which he composed and performed all over the world.

On September 6, 2002, in honor of Magomayev's 60th Jubilee, President Heydar Aliyev awarded him the Medal of Istiglal (Independence), the country's highest honor. During the award ceremony at the President's Residence in Baku, Aliyev declared that he was a great admirer and supporter of Magomayev's talent. He also marked the significant contribution that Magomayev has made to the development of musical life in Azerbaijan and the Soviet Union.

President Aliyev also delivered a speech at the gala celebration held September 7 at the Respublica Palace. He recalled many humorous anecdotes that happened to the two of them throughout the the past 35 years.

The musical tribute to Magomayev included performances by Azeri musicians such as Fidan and Khuraman Gasimova, Lutfiyar Imanov, Azer Zeynalov and Rashida Behbudova. These opera singers were accompanied by the State Symphony Orchestra conducted by Rauf Abdullayev. Pianist Chingiz Sadikhov, who had accompanied Magomayev between 1964 and 1971, traveled to Baku from San Francisco specifically for the occasion (see article about Sadikhov in this issue). The gala also featured performances by Iosif Kobzon and Lion Izmailov (Russia), Mariya Biyeshu (Moldova), Dmitri Gnatyuk and Mariya Stefchuk (Ukraine) and Nani Bregvadze (Georgia).

Magomayev received letters of congratulation from several presidents, including Vladimir Putin (Russia), Leonid Kuchma (Ukraine), Eduard Shevardnadze (Georgia) and Mintimer Shaimiev (Tatarstan). President Putin's decision to award Muslim Magomayev the Medal of Slava (Glory) was also announced at the celebration. The audience enjoyed a slide-show of photographs reflecting the various stages of Magomayev's life and career. They also watched videos of his early performances and scenes from the movie "Nizami", in which Magomayev played a leading role.

Magomayev's Jubilee was also marked at Baku Music Academy, his alma mater. On September 5, at a conference devoted to Magomayev's life and career, Rector Farhad Badalbeyli, Vice Rector Gulnaz Abdullazade, composers Vasif Adigozal and Azer Rezayev, singer Lutfiyar Imanov, musicologist Elmira Abbasova and others drew their attention to Magomayev's vocal performing style in the fields of opera and popular music, his lyrical and patriotic songs, as well as his books "Great Lantsa" and "Melody, My Love".

On September 9, at an extended session of the Research Council of the Baku Music Academy, Muslim Magomayev was awarded the title of Honorary Professor. The concert held at the Museum of Art before the event included performances by young artists, Baku Music Academy faculty member Farida Mammadova (vocal) and international contest piano laureates Murad Adigozalzade [2002 Tchaikovsky Piano Competition], Murad Huseinov [2002 Francis Poulenc Piano Competition] and Ali Asgarov [Grand Prix, Bulbul International Vocal Competition].

During the jubilee activities, Muslim Magomayev expressed his sincere gratitude to Azerbaijan, President Aliyev and all his friends and colleagues who had contributed to making these events possible.
____

Back to Index AI 10.3 (Autumn 2002)
AI Home | Search | Magazine Choice | Topics | AI Store | Contact us

Other Web sites created by Azerbaijan International
AZgallery.org | AZERI.org | HAJIBEYOV.com