Autumn 2002 (10.3)
Page 16

Newsmakers
Paganini Violin Played at Fire Worshippers' Temple
The Italian Embassy in Baku held a "Concert for Peace" at sunset on August 31, 2002 at Atashgah ["Place of Fire" in the Persian language], the fire worshippers' temple in the town of Surakhani near Baku. This structure was built in 1810 by Zoroastrians-specifically Parsees from India - who worshipped fire and made pilgrimages to Baku to marvel at the fires created as natural gas escaped through fissures in the ground's porous limestone. This was the first time that the temple complex, now a museum site, was used as an evening concert venue.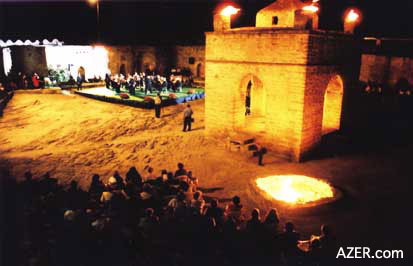 "The Italian ambassador, Margherita Costa, and I thought that the Fire Temple would be a magical, romantic setting for a concert," said Nicolo Tommaso Portacci, head of the Italian mission in Baku. "We also chose it because Zoroaster's philosophy related to peace. The main reason for this concert was to promote peace for Nagorno-Karabakh and bring attention to Azerbaijan."

The "Concert for Peace" featured performances by the Baku State Chamber Orchestra named after Gara Garayev, conducted by Teymur Goychayev. Specific pieces included Waxman's "Carmen Fantasy for Violin and Orchestra", after the opera by Bizet; Saint-Saens' Rondo Capriccio; Pablo de Sarasate's Gypsy Melodies; Jules Massenet's "Reflection", Paganini's Capricci and "Eternal Movement" and Gara Garayev's Violin Concerto.

Above: Concert goes enjoy an alfresco "Concert for Peace" hosted by the Italian Embassy at the Fire Worshippers' Temple near Baku.

Left: Italian Ambassador Margherita Costa (center) holding the priceless Paganini violin that was brought to Azerbaijan specifically for the event.
Right: Young Azerbaijani violinist Anar Ibrahimov performed on Guarnieri Paganini's violin.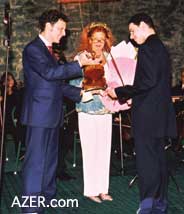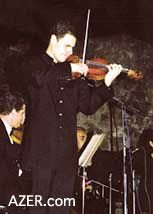 One of the highlights of the evening took place

when the young Azerbaijani violinist Anar Ibrahimov performed on an 18th-century Guarneri violin that had once belonged to Niccolo Paganini (1782-1840), who is widely considered to be the greatest violinist of all time. Anar competed in this year's Tchaikovsky Competition, which was held in Moscow June 6-23. He is the first violinist from Azerbaijan who has ever qualified to participate in this esteemed world-class event.

"Paganini was unique in the world of the violin," Portacci said. "He had very unusual fingers." In his day, Paganini astounded audiences with techniques that included harmonics, double stops, pizzicato with the left as well as the right hand, and nearly impossible fingerings and bowings.

Paganini's Guarneri violin was brought from its home at the Palazzo Tursi, seat of the Municipality of Genoa, Italy. Paganini called this violin "il Cannone" (the Cannon) because of its powerful, sonorous voice. Today, the violin is only performed on very special occasions. It is a great honor for any violinist to be granted permission to perform on it.

Originally, the concert's organizers had hoped to bring Paganini's Stradivarius violin to Azerbaijan, but after the September 11, 2001 terrorist attacks on the United States, the Italian government no longer allows such a priceless violin to be transported out of the country.

The invitation-only concert at Atashgah attracted close to 500 guests. All of the expenses for the concert, including transportation of the Paganini violin, were covered by the embassy.

"This concert was a dream come true for us," said Portacci. "Being able to have Paganini's violin come to Azerbaijan and then hear it played at the Fire Temple was a once-in-a-lifetime experience."
____

Back to Index AI 10.3 (Autumn 2002)
AI Home | Search | Magazine Choice | Topics | AI Store | Contact us

Other Web sites created by Azerbaijan International
AZgallery.org | AZERI.org | HAJIBEYOV.com