Autumn 2002 (10.3)
Page 84

Petroleum: Pipeline Contracts
McDermott Nearly Finished with Upgrades of SPS Facility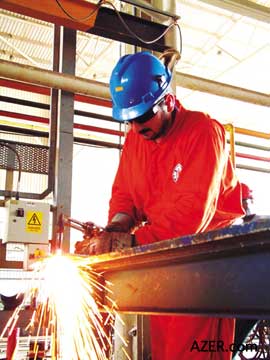 On November 1, 2001, McDermott Caspian Contractors (MCCI), the Caspian arm of J. Ray McDermott, S.A., signed contracts with the Azerbaijan International Operating Company (AIOC) for the fabrication and installation of a 14,000-ton integrated deck and offshore installation of 186km of export pipeline and three shorter in-field pipelines for AIOC's Azeri-Chirag-Gunashli Phase 1 project.

Before construction began on the deck, MCCI had to undertake major upgrades of SOCAR's ShelfProjectStroy (SPS) fabrication yard, which included building offices, refurbishing workshops, purchasing equipment and constructing medical facilities, canteen and dedicated training facilities, altogether an investment of more than US$20 million. In addition, MCCI has invested more than US$80,000 in a welding school to develop skills for new welders.

The KMNF shipyard's pipelay barge, the Israfil Huseinov, and the quayside at SPS were also upgraded. In a refurbishment costing more than US$30 million, the barge underwent dry dock repairs, and new equipment was purchased and installed to upgrade its capabilities. Handled safely and efficiently by Azerbaijan's local subcontractors, upgrades of SPS are almost complete, although work on the barge will continue until April 2003.

Along with the upgrades, a specialist workforce had to be recruited and trained to operate the facility and handle project work. By hiring from a pool of qualified Azerbaijani craftsmen and professionals, MCCI was able to draw heavily from the local workforce; more than 82 percent of its skilled craftsmen come from Azerbaijan.

"At MCCI we recognize that our employees are our most important asset. We are committed to taking all necessary measures to ensure the success of the entire project for AIOC, its partners and the people of Azerbaijan," said Clint Anderson, general manager of MCCI. "We are dedicating a great deal of time to recruiting the best Azerbaijani craftsmen and professionals, and we are committed to their training, development and fair treatment, at all levels.

"To ensure that our workforce can work safely and efficiently according to international standards, we have developed training programs for craftsmen, engineers and project management personnel in Baku and at our regional headquarters in Dubai.

"This training adds to the competency of the individual and the group as a whole, and leads to safer, more efficient workers and working environments," explained Anderson.

MCCI's training department has developed a detailed plan based on thorough Training Needs Analysis. Specific programs address theoretical and practical requirements covering safety, scaffolding, welding, fitting, electrical wiring, firefighting, first aid and English­to name but a few. Employees choose the language of their instruction: Azeri, Russian or English. During these training periods, workers receive full wages.

Safety Training
"We want everyone involved with this project to be aware of the dangers that are ever-present in the construction industry," said Anderson. "As always, safety is our top priority. We conduct a five-day safety induction for all personnel working at the yard, including full-time MCCI employees and subcontractors."

This orientation covers company policies and procedures, quality, safety and medical issues, as well as craft - specific "safe working practices". Participants sign a contract confirming that they will follow a safety code of conduct and watch out for serious safety breaches. Personnel who do not pass the test are counseled and immediately retrained. The orientation is followed by skill assessments and a minimum of 80 hours of craft - specific training.

At the start of the project, more than 200 Azerbaijani personnel visited McDermott's "working" fabrication yard in Dubai for on-the-job training. "There was some initial resistance by employees to undertake these courses," Anderson said, "but they soon realized that they had something positive to learn and that there were better, more productive and safer ways of working." Employees also found that by enhancing their skills and abilities with training programs, they bettered their chances of promotion and salary increases. Some employees have already been acknowledged and promoted.

MCCI encourages employee participation in HSE (Health, Safety and the Environment) awareness and accident/incident prevention. Trained observers within the workforce study and document work situations to identify safety-related trends so that proactive safety programs can be developed. Employees' proactive efforts are recognized and rewarded.

"More than 1,000 Azerbaijanis have already been employed by MCCI since we started work at SPS," Anderson said. "Thanks to the training and experience of our safety plans, there have been no lost-time accidents." In AIOC's Phase 1 Full Field Development project, MCCI plans to provide jobs for more than 1,300 Azerbaijani personnel.

Back to Index AI 10.3 (Autumn 2002)
AI Home | Search | Magazine Choice | Topics | AI Store | Contact us

Other Web sites created by Azerbaijan International
AZgallery.org | AZERI.org | HAJIBEYOV.com