Winter 2001 (9.4)
Page 10
Reader's Forum
New Music Website

I'm an ethnomusicologist working at the Azerbaijan National Academy of Sciences. For more than 20 years of my life, I've been studying the history and theory of Azeri music culture, especially Azeri traditional modal music - the mugham. In 1984 I defended my dissertation, the first ever in Azerbaijan dealing with Azeri mugham from a scientific point of view.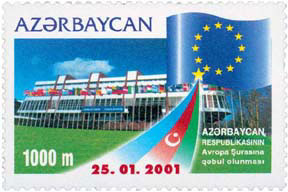 I have a special interest in the music and personality of Uzeyir Hajibeyov that you feature on your new Web site - HAJIBEYOV.com. Since childhood, I've heard so many stories about him from my aunt, who was his first student, composer Aghabaji Rezayeva, and her sister, my stepmother, Rugiyya Rezayeva, who also attended his classes and performed in the first "Decade of Azerbaijani Music" in Moscow in 1938 when Hajiybeyov's "Koroghlu" was performed.





You've done such a large and serious work in popularizing Azerbaijani music and culture via this Web site that it deserves our deepest respect and gratitude to you and your staff. Thanks.

Sanubar Baghirova
Baku

Editor: The new Web site HAJIBEYOV.com created by Azerbaijan International magazine celebrates the legacy of the great Azerbaijan's composer, Uzeyir Hajibeyov. It includes more than 30 samples of music, plus librettos of some of his major works (such as "Arshin Mal Alan" and "Koroghlu"), which are produced here for the first time ever in Azeri Latin and English translation.

This site was created in conjunction with the production of the new seven-CD set - "Koroghlu", "Arshin Mal Alan", "Mashadi Ibad" ("O Olmasin, Bu Olsun"), and "Leyli and Majnun" produced by Azerbaijan International with the sponsorship of Statoil from Norway. Available at AZER.com, click on AI Store.

____
From Azerbaijan International (9.4) Winter 2001.
© Azerbaijan International 2002. All rights reserved.
Back to Index AI 9.4 (Winter 2001)
AI Home | Magazine Choice | Topics | AI Store | Contact us

Other Web sites created by Azerbaijan International
AZgallery.org | AZERI.org | HAJIBEYOV.com