Summer 2001 (9.2)
Pages 20-23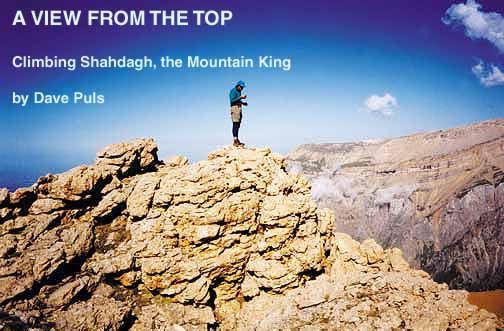 Shahdagh is not the tallest peak in the Caucasus - that would be Elbrus in the Russia Federation at 5,642m (18,619 feet). Nor is it the highest point in the vicinity of Azerbaijan - that would be Bazarduzu at 4,466m (14,738 feet), located on the border with Dagestan. But Shahdagh qualifies as the highest mountain point completely within the borders of Azerbaijan, and indeed, it's a pretty decent challenge for the novice climber. Its summit peaks at 4,243m (14,002 feet).

As an American expatriate working in Baku, I had spent a couple of years exploring for the elusive hydrocarbons of the Caspian offshore. I was aware of the Caucasus, but knew more about the rugged roads of Baku and the people's struggle to rise above their Soviet past and all of its burdensome legacies. Climbing a mountain in Azerbaijan was not something I had planned to do, but my son and I were ready for a challenge greater than crossing the busy streets of Baku or maneuvering its equally hazardous politics, plus you couldn't ask for better climbing companions!

My friends and I accepted the Shahdagh challenge last June [2000]. Under the guidance of experienced Azerbaijani mountain guide Elchin Mammadov and our enthusiastic leader, Dave Askeland, who had attempted Shahdagh once before, 13 of us set off from Baku on a warm summer's morning for the four-hour drive to Laza.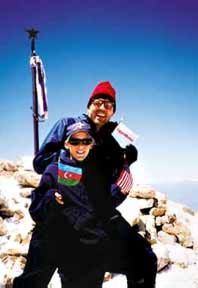 Laza

Left: Dave Puls with his son Nathan at the top of Shahdagh

I should mention that there are at least two locations known as Laza in Azerbaijan. This Laza can be reached via the northern highway through Guba, to the west of Gusar. The drive beyond Gusar was rewarding in itself, as we passed vast, lush green meadows running to the edge of sheer drop-offs and spectacular waterfalls along the way. The famous "Gates of Laza" are formed by a crack in a rock wall, through which the road passes and frames a breathtaking vista of sheer cliffs and waterfalls cascading along the far side of the valley.

Just beyond Laza, the road ends. It's there that an enterprising family has built a lodge at the foot of a waterfall. At the time we went, the accommodations were still under construction, but they intended to open them for business by the fall of 2000. In our situation, they willingly kept watch over our vehicles for the few days that we would be hiking, but I can imagine that this lodge could provide a restful night's sleep prior to a climb or even for just a weekend trip to Laza itself.
Golden Peak
Soon after arriving there, we sorted out our gear one more time, slung on our packs (averaging 40 pounds apiece), and started up the trail. The narrow path hugged the left side of the valley as we headed upward. We figured walking for just half a day would be a good way to break in our climbing legs - not to mention our backs!

We camped that night on a grassy hillside at the very foot of Gizilguy, which translates as Golden Peak, although we had no clue of what a spectacular view it really would offer, as low gray clouds had hung over us for most of that day.

But that evening we "got our socks knocked off" as we discovered the real meaning of the peak's name when we took a stroll along one of the ridges and watched the clouds part just before the final moments of daylight. The setting sun lit up the mountain peak like a golden flame. We took it as a promise of great things to come.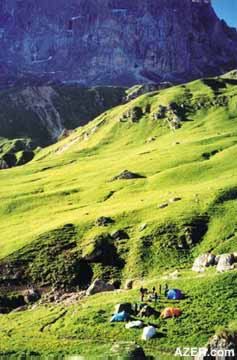 Shahdagh in View
The morning brought blue skies that delighted us for the rest of the trip. I'll never forget the breathtaking views of treeless, emerald grassy slopes interrupted only by bare limestone rocky peaks against the deep blue, high-altitude sky. What an unexpected impressive delight!

Left: Camping below the summit of Shahdagh, the highest mountain completely within the borders of Azerbaijan.

By mid-morning of the second day, we were finally staring at our destination, the sheer south face of Shahdagh itself. It looked so formidable. It was hard to imagine an easy route to the summit. All we could do was trust our guide to get us to the top.

Elchin rigged up a rope to convey both packs and climbers across the boulders and the muddy river below. Somehow he succeeded in making the river crossing seem simple. Beyond, we paused to take in the expansive green meadow at the foot of the vertical mountain face, where sheep were grazing on fresh June grass. A small brook of clear spring water trickled nearby. This meadow in itself would have made a fantastic endpoint for any backpacker interested in a serene destination that was just one day's hike from the trailhead. There was plenty of grass to share with the sheep!

The ascent beyond was a grueling climb as we lugged our full packs up to the first point above 3,000 meters. Our steps became shorter; our breaths, deeper; and our breaks, longer. The air, now much thinner, made us mount more slowly. Camp that night was a grassy perch nestled beside snow-covered rocky cliffs and the drone of a waterfall. Looking back on the elevation that we had gained that day and the towering peaks to the south, we gained a great sense of satisfaction for all our efforts.

Birthday Celebration
Celebrations come in many shapes and in many places. That day we commemorated my son's "coming of age" - his 13th birthday - with a backdrop of one of the grandest views I have ever enjoyed. Nor had we forgotten to bring refreshments to mark the event - instant cheesecake - from a box, of course! That night, we slept soundly at Birthday Base Camp, readying ourselves for the all-day climb the next day to the summit - our ultimate destination.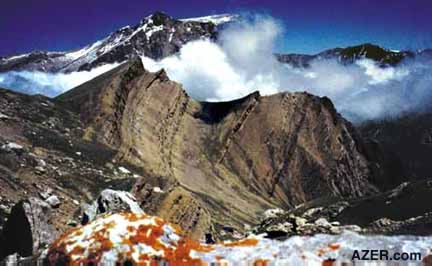 Above: Approaching the 4,243-meter summit of Shahdagh.

Grueling Climb
Some trails are obvious. You simply follow a well-worn path. Others are so daunting that it's best to fix your eyes on the person directly in front of you who, in turn, doggedly follows the guide. The trail beyond our base camp definitely fell into the latter category. At first glance, it seemed there would be no other way up the cliff face other than a technical, rope-assisted climb to the top. But Elchin once again demonstrated his ingenuity and knowledge of the area by leading us between boulders and rock walls along a narrow path around a precipice and up to the stark plateau above.

From there, the summit of Shahdagh was visible and would only require a short amble along a gradual incline, followed by a brief scramble up a narrow snow chute further on. But distances, like our breath, seemed short at this altitude. It turned out that we still faced several hours of physical and mental challenges. Fortunately, the weather was kind to us. Our trek continued under warm, windless conditions, the clear skies giving us views of snowy peaks in the far distance to the south and into the Dagestani Caucasus range to the north.

Crampons (climbing irons) and ice axes were helpful when we reached the steep, snow-covered route prior to a final, gradual grade to the summit. At this point we met our greatest challenge. Steps had to be kicked and hacked out in the snow one by one to ascend the steep glacier on its north face. Those of us hikers tailing the end of the line certainly had the advantage of the leaders' efforts, but even so, each step was an arduous chore. But falling behind was its own mental torture to the point of quitting. In fact, we almost did, twice, but the thought of watching others reach the summit and listening to their stories of triumph later on drove my son upward, determined to conquer the summit despite the grueling, step-by-step effort. Admittedly, it was an invaluable lesson in perseverance.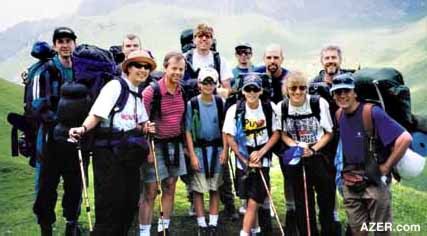 Above: Dave Puls and his son Nathan joined a dozen other climbers on a June 2000 climb up Shahdagh, Azerbaijan's highest mountain.

Shahdagh Summit
Gradually, the severity of the incline decreased and we found ourselves just 200 meters from the nondescript, rounded summit. Our spirits rose as Elchin announced that we had made it and pointed to a small pile of stones and the summit marker just ahead. I'm sure we would have lurched into a run to the spot if the lack of oxygen had not held us back. A metal pole crowned by a single star marks the summit. Numerous keepsakes marked the spot, including two white and black busts of Lenin, obviously left by hikers of earlier eras, metal signs with greetings in Russian and an empty champagne bottle. We planted the flags of Azerbaijan, the United States and a prominent U.S. oil company!

From the top of Shahdagh, you really can't discern that it's not the highest peak in the Caucasus. From that point, we were able to see the Caspian Sea far beyond the mountain ranges. The view brought pause as I reflected back on my hectic, harried life in Baku. My thoughts turned to the war that was going on just beyond the horizon to the north over in Chechnya. It was so hard to imagine war so close when nature seemed so peaceful and tranquil from our vantage point. What a contrast!




Left: The ascent to the top of Shahdagh, the "Mountain King", passes several spectacular waterfalls.

Sitting there on the Mountain King, my view had changed. My perception of Azerbaijan suddenly rose above the dry, brown, sea-level life on the Absheron Peninsula to which I had become so accustomed. Here was fresh air. Here was verdant green and the deep, azure blue sky unique to high altitudes. Here was nature at its finestright here in Azerbaijan! As in so many summit experiences, there was more to it than simply reaching the top.

Returning to Camp
The fair weather continued. And we basked in the sun, drinking in the view. Soon it would be time to make our way back to base camp. It was amazing how easy the return trip seemed. Slopes that had been so imposing on the way up were transformed into snow slides with the help of our crampons and ice axes on the way down. That evening was spent recalling the challenges and lessons learned.

Morning's sore muscles and blistered feet reminded us of the miles traveled. Nonetheless, we were able to pack up and hike the entire distance back out to our vehicles by 3 p.m. the same day. The shepherds we had met earlier in the trip waved to us as if we were old friends. Even the sheepdogs seemed less threatening on our descent. Perhaps a visit to the top, where one can see most clearly, is something we all need from time to time.

Itinerary
Day 1
Depart Baku at 7 a.m. and take the main highway north, along the Caspian Sea. Pass through Guba, continue on to Gusar and take the east road up the north side of the river valley into the mountains. Along the way to Laza, we passed through Chilagar and Jagar, crossed a bridge and continued on to Zindanmurug and the fabulous Gates of Laza before descending the hillside into the village of Laza itself. By noon we had reached our trailhead, a short drive beyond Laza at the foot of a beautiful waterfall and small creek. Our first camp was an easy-to-moderate, four-hour hike up the trail.

Day 2
Broke camp and began hike by 9 a.m. We caught our first glimpse of Shahdagh up close at mid-morning. Continued on the left side of the main drainage until the river crossing, which we made at a bend in the river adjacent to a huge grassy meadow at the foot of the south face of Shahdagh (this route to the top is also a possibilityin about two days by a very experienced rock climber). We crossed the river with the aid of a rope and some rappelling over boulders. The trail beyond the meadow follows a double stream drainage just to the east of Shahdagh. The hike to the base camp from the meadow is deceptive. It took us more than two hours to climb less than two kilometers.
Day 3
Base camp to summit and return. Left camp at 6 a.m., summit at 1 p.m., and returned to camp by 5 p.m. Slow pace according to our guide; most do this trip in eight hours. We had clear weather, but frequent clouds can make finding the return trail difficult. A GPS device (global positioning system) could come in handy. Bring sunscreen, extra clothing and lots of water.
Day 4
Base camp to trailhead. Left camp at 8 a.m. Arrived at trailhead by 3 p.m.

Helpful Tips
1. Hire a guide
There are many experienced hikers and climbers in Azerbaijan, many of whom have climbed world-class peaks throughout the region. Baku even has an Alpine Club. Contact Saredan Mirsakulov at (994-12) 93-81-10. (Elchin Mammadov, our guide, can be reached on his mobile phone at 850-318-6390).
2. Acquire maps
Information contained in topographic maps is still fairly sensitive in Azerbaijan, but according to the Institute of Geodesy and Cartography in Baku, maps with a 1:100,000 scale can be purchased through them fairly easily (be sure to carry your receipt with you in case you are asked where you obtained the map by local officials). More detailed maps exist, but may be more difficult to purchase through official means.
3. Be prepared physically
Though non-technical, this is not a casual stroll up the hill. Oxygen becomes noticeably diminished above 3,500 meters, and you can be at risk for altitude sickness. Know how to prevent it and what to do if you feel symptoms (headache, disorientation, fatigue and vomiting).
4. Be prepared with gear
Lighten the pack, but make sure you have everything you'll need to wait out some fierce weather. We were lucky with sunshine and no wind, but that can change quickly. Leave the cotton outer clothes at home! An ice ax and crampons are recommended for safety. Your guide should be able to help you rent these, or you can try the Alpine Club, which rents ice axes, boots and crampons (old).
5. Drinking water
There are lots of streams and springs along the way up until base camp, but filtering and/or chemical treatment is recommended. Summit day requires carrying all your water, and we would recommend at least five liters per person. You can stash a liter or two on the way up for the return journey, but make sure you save some for the top. Altitude sickness and dehydration are a dangerous combination.
6. Watch out for sheepdogs
They see very few climbers, so you are an automatic threat. Keep your distance, bunch together and have your ice axe, walking staff or a big rock handy to ward off attacks. In most cases the shepherds are close enough to control the dogs and, in general, you can count on them being just as friendly as the dogs are menacing.
7. Litter Control
Many of us from the West have an innate sense about controlling our litter and have made a commitment to "Pack it in, Pack it out". Even though these trails and camps are little used by the recreational backpacker, you will find that they are used by the local working folk (shepherds) and the occasional hunter, who do not share the same standards (i.e. you will see vodka bottles, old tin cans and plastic wrappers scattered about in places). If you do find yourself in the high Caucasus, I challenge you to make an impact by not only packing out what you carry in but a little (or a lot) of what others have left behind before you. Respect for the environment is contagious.

Dave Puls is a geologist who has worked in Baku since August 1998. Besides studying rocks, he enjoys touring the countryside of Azerbaijan and meeting the people who live there. Others who joined this trip were Nathan Puls, Dave and Bonnie Askeland, Mike Dublin, Tina Ohmann, John and Jay Adams, Calvin Tiessen, Jay Randall, Tammie Lenert, Todd Huegenin and, of course, their guide, Elchin Mammadov.

_____
From Azerbaijan International (9.2) Summer 2001.
© Azerbaijan International 2001. All rights reserved.
Back to Index AI 9.2 (Summer 2001)
AI Home | Magazine Choice | Topics | Store | Contact us