Winter 2000 (8.4)
Page 81


World Chess Champion
Zeynab Mammadyarova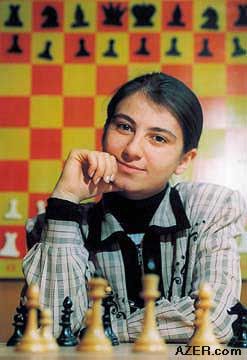 Chess is still extremely popular in Azerbaijan despite the fact that since the collapse of the Soviet Union, there are far more pastimes than previously available to distract youth. According to Fuad Jafarov, Director of the National Azerbaijan Chess Center and a qualified judge at international competitions, there are chess schools in nearly every region of the country. "You'll even find chess schools among the refugee camps representing specific occupied regions of Karabakh, such as Aghdam and Kalbajar," he says.

Azerbaijan is not a stranger to chess, even on the world level. Garry Kasparov (1963-), who reigned as the world's chess champion for 15 years before losing to Vladimir Kramnik this past November, grew up in Baku. Kasparov started playing chess at Baku's Children's Pioneer Palace when he was seven years old; six years later, he was competing internationally.

On several occasions in the 1980s, Heydar Aliyev used his position in Moscow's Politburo to facilitate Kasparov's chances to play in international competitions. Eventually, this led to his toppling the Russian Karpov. Kasparov, whose mother is Armenian, moved to Russia after the outbreak of the Karabakh war.

The youngest ranks of Azerbaijani chess players are also gaining international acclaim. BP sponsored the Azerbaijani team this year to World Youth Chess Championship in Spain.

World Match
This past October, 17-year-old Zeynab Mammadyarova brought home the gold in the World Youth Chess Championships in Spain in the category of "Women Under-18". Zeynab had often won matches in Azerbaijan, but this was the first time she had ever competed for the world championship, though she had competed in several European championships - France, Estonia, Belarus, Spain and Turkey. In 1998, she was slated to compete in Austria, but arrived too late at the airport and missed her plane. "I cried a lot," Zeynab remembers.

For the 2000 World Championships, she competed against players from 56 countries in her age category. "Actually, I played really well - I couldn't believe it - especially since the other players had much more experience. Others had taken part in many international competitions and had higher ratings than I did," admits Zeynab.

In her final match, she was up against Georgian Sopico Khukhashvili. At the next table, a Chinese girl was playing a Romanian. All of them were tied with 7.5 points each. "I beat the Georgian, and the Chinese and Romanian had a draw," Zeynab remembers. "Altogether I won seven games, made three draws and lost the game to the Chinese player."

Winning Strategy
Zeynab says she has a new strategy that seems to have paid off. "Every year I usually place second or third in Azerbaijan's Championship. But this year, I made a very poor showing. When I returned home, Dad talked to me and asked me a lot of questions. In the end, we concluded that I had spent too much time thinking through each move. In chess matches, you have only two hours to make 40 moves. But I had created a situation where I ended up having to make my last 20 moves in five minutes. Obviously, I made a lot of mistakes and lost the game.

"Dad taught me how to gain the advantage step by step, by making fast, simple moves. It took me about three months to master this technique. Then I had the chance to compete with men in the international competition that took place in Azerbaijan this past September. My father never lets me take part in weak competitions, insisting that to become a great chess player, you have to play with men because you'll become stronger psychologically. He says you have to have a man's character, believe in yourself, be strong and independent."

Father is Trainer
Zeynab's family lives in Sumgayit, a satellite city on the shores of the Caspian about 40 minutes north of Baku. The city used to be known for its petro-chemical factories, though most of them have been closed down since the collapse of the Soviet Union. Zeynab began playing chess at age 10. It all started one summer in Zangelan when she visited her uncles, who are avid chess-players. "All of my father's brothers play good chess," she says. "Dad, too, has always been keen about chess and followed the Kasparov-Karpov games very closely."

Zeynab's father, Hamid Mammadyarov, decided to encourage his children's interest in the game. "He knew that we were strong in mathematics," Zeynab says. "We could multiply two- and three-digit numbers in our heads."

Today Mammadyarov coaches Zeynab, her brother Shahriyar, 15, and her sister Turkan, 11. Jafarov admires the three siblings' determination: "Zeynab is very hard-working. It's interesting that all three children play chess. They compete at home and push each other. All of them have won gold in Azerbaijan national championships in their respective age categories."

"Our father trains us," Zeynab says. "He gets chess books describing the moves of great players like Botvinnik. But most of the time we analyze our own games. After every game, no matter whether you win or lose, you need to analyze it. Only then can you correct your mistakes and move on to the next game."

Their training also involves exercising together, she says. "You need to be physically strong to sit and concentrate for so many hours. After playing chess, we go to the seaside to run, exercise and play soccer for a few hours."

After the World Youth Championships in Spain, Zeynab was named to Azerbaijan's team for the adult World Chess Competition in Istanbul, Turkey. Jafarov explains, "We have a very young team. For example, the oldest player on our men's team is 24, whereas other teams have players in their 60s. We hope that chess will develop more in the future, especially now, as our youth are making such a strong showing."

To read more about chess in Azerbaijan, see "All the Right Moves: Teymur Rajabov, International Chess Master", AI 7.4, Winter 1999. SEARCH at AZER.com. Zeynab Mammadyarova and Fuad Jafarov were interviewed by AI staff member Arzu Aghayeva.

_____
From Azerbaijan International (8.4) Winter 2000.
© Azerbaijan International 2000. All rights reserved.
Back to Index AI 8.4 (Winter 2000)
AI Home | Magazine Choice | Topics | Store | Contact us