Summer 1999 (7.2)
Pages 84-85
Just for Kids
A Century of Children's Art

by Katana Sharifova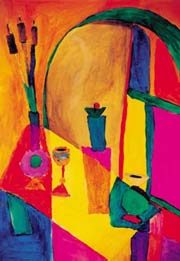 For nearly a century, children's art education has been emphasized and encouraged in Azerbaijan. During the Soviet period, each region had a Pioneers' Palace with a fine arts studio where children could go to learn drawing and other art skills. Many great Azerbaijani artists got their start at these Pioneers' Palaces.

For example, painter Rasim Babayev, now in his late 60s and recognized throughout the world, remembers his first art experiences at the Pioneers' Palace in Baku: "I was about ten years old when Asaf Jafarov brought me to the Pioneers' Palace for the first time. (Now the Turkish Embassy is located in that building.)
Above: Alexander (Sasha) Dinets, 10, "Still Life"
I was very timid. When the teacher, Kamil Khanlarov, asked Asaf if he was alone or if he had come with someone else, I hid behind the door because I was so shy." Rasim received his first introduction to art at the Palace along with other artists who later became very well known, including Gorkhmaz Afandiyev, Togrul Narimanbeyov, Hafiz Zeynalov, Faig Ahmadov and Tagi Tagiyev.

After the collapse of the Soviet Union in 1991, teachers began offering private lessons. However, the Children's Art Gallery, the only children's art program still run by the government, still plays an important role in today's art education by offering children free classes in art, carpet-weaving and toy-making.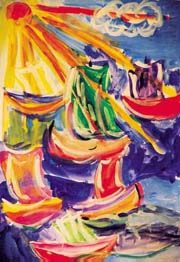 The Children's Art Gallery displays the children's works to the public. When you walk inside, you enter a world illumined with children's fantasies and viewpoints. Bright, colorful pictures hang on the walls, showing surprise, joy and even suffering. If it were left up to children, the world would be a cheerful, optimistic place-at least, that's what their paintings reflect.

The Gallery also organizes events, contests and exhibitions for the young artists. Exhibition themes have included "Children's Perceptions of War," "Refugee Children are Drawing," "Let's Save Our Caspian" and "Noruz". Through the Gallery, children from Azerbaijan have been able to participate and win medals in international art contests in Japan, the Ukraine, the U.S., Switzerland and Spain.

Right: Vugar Talibov, 8, "Boats"

These days the Art Center has expanded its programs to include handicapped children as well as those who are afflicted with genetic blood diseases such as thalassemia and hemophilia.

Katana Sharifova is the Director at the Children's Art Gallery in Baku. You can visit the Gallery at 28th of May Street, No. 21. For more examples of Art from the Children's Art Gallery, see the article "Children's Art: Perception of War." Summer 1995 (AI 3.3). Children's art will be exhibited on the AZ Art Gallery on the Internet that is being organized by Azerbaijan International magazine. Visit www.azer.com beginning in mid-summer 1999.



| | |
| --- | --- |
| | |
Left: Ilgar Talibov, 7,"Pushkin's Grandma"

Right: Urkhan Bagirov, 11


Left: Javid Mammadov, 8, "Inner City"

Right: Kamilla Hajiyeva Tsiperovich, 9, "Girl in National Dress"


From Azerbaijan International (7.2) Summer1999.
© Azerbaijan International 1999. All rights reserved.

Back to Index AI 7.2 (Summer 99)
AI Home | Magazine Choice | Topics | Store | Contact us